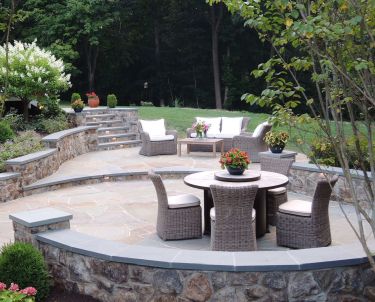 Landscaping Company in Great Falls, VA
Wheat's Landscape is an award-winning full-service Northern Virginia landscape company, providing exterior solutions to discerning homeowners who desire personalized attention, creativity, quality craftsmanship, and lasting relationships. Wheat's provides the highest quality service and designs at a great price to clients in Great Falls and beyond.
If you're looking for quality, expertise, and service, look no further than Wheat's Landscape. Call 703-641-4790 or send a message today to transform your Great Falls lawn into an oasis.
Great Falls-Area Landscape Design and Care
When planning and maintaining a gorgeous landscape for your Great Falls home, it's best to work with a company like Wheat's that has experts for every stage of the process. Our architects will help design your vision, our landscape artists will make it a reality, and our diligent maintenance crew will keep that dream healthy and growing, season after season and year after year.
Our landscape design-build services in Great Falls include:
Click here to see our gallery of landscape design-build projects.»
Ready to get started on your dream outdoor space? Contact Wheat's Landscape today!
Great Falls-Area Hardscape Design and Care
If your dream outdoor oasis involves structural elements, Wheat's still has you covered. As your single-source lawn provider in Great Falls, we understand the difference that water features, sidewalks, and other hardscape details make.
To make your vision a reality, we offer the following hardscape services in Great Falls:
Feeling inspired? Contact Wheat's Landscape today!
Lawn and Garden Care in Great Falls
At Wheat's, we believe that a perfectly manicured lawn is a luxury that every homeowner should enjoy. To make the perfect lawn even more attainable for every Great Falls homeowner, we offer landscape maintenance packages to ensure you get consistent professional landscape care.
Our lawn care and property maintenance services in Great Falls include:
Crabgrass control
Winter landscaping (including snow and ice management)
Seasonal edging and mulching
Trimming and pruning
And more!
Click here to see our gallery of property maintenance photos.»
Make your yard your sanctuary with the help of Wheat's Landscape. Call 703-641-4790 or send a message today to get started with expert lawn and garden care in Great Falls.
Pest Control in Great Falls
With the beauty and life that nature brings to your yard, pests are an unwelcome side effect. While pests are nothing to be ashamed of, you certainly don't want to keep them around (especially those that can damage your home or carry diseases). That's why we offer Wheat's pest control in Great Falls.
With either a one-time visit or bi-monthly inspections and treatments, we'll work with you to determine what's best for your home's needs. We also offer mosquito control and deer control using safe, natural products.
Keep your lawn as safe as it is beautiful with pest control in Great Falls. Call 703-641-4790 or send a message today to get started!
Choose Wheat's Landscape for All Your Lawn and Landscape Needs
Whether you need regular lawn mowing, a complete backyard overhaul, or anything in between, Wheat's Landscape has just the team for the job. We pride ourselves on providing custom landscape design and maintenance services to fit any homeowner's needs. We know that you want a reliable and knowledgeable landscaping team, which is why our experts always show up on time and treat you and your home with respect.
Get peace of mind with the vacation-worthy lawn you deserve. Call 703-641-4790 or send us a message today!
have a project?
Let's Start Today!
Testimonials
"Everything always exceeds our expectations. Everything was done perfectly. Everyone was happy to be there. You have an excellent crew and business."
M.L.
"We were fortunate enough to find a company that has just finished doing a fabulous job in our back yard. Wheat's did exceptionally high quality work, were extremely responsive and wonderful to work with."
D.G.
"I really like the communication, and the responsiveness. It is great to have a company that is there when you need them, and to have the comfort of knowing the property is well-maintained."
M.B.
"Well you all have quite a reputation for the quality of your work in my neighborhood. It's just beautiful! Wheat's is a legend around here."
R.B.
Proudly Serving
Northern Virginia, Maryland,
& NW Washington, DC
Let's Start Today