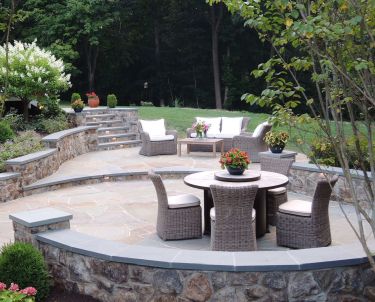 Custom Pool House Design & Installation in Northern Virginia, Maryland & Washington, DC
Even the most beautiful, well-maintained swimming pool could benefit from an accompanying pool house to make outdoor living more convenient and enjoyable. Your custom pool house can serve any need, from simply adding an attractive, serviceable storage space for pool necessities or to building a luxurious addition suitable for entertaining and housing guests.
At Wheat's Landscape, our Landscape Architecture & Design team will work with you to design a stunning pool house that is unique to your needs and can serve as the focal point of your outdoor entertaining area. The Wheat's Landscape team prides ourselves on our keen attention to detail. We'll use our expertise to design a gorgeous pool house that melds seamlessly with your pool's architectural design and provides the amenities you want to get the most enjoyment from those precious summer days.
Would you like to learn more about building the pool house of your dreams? Schedule a consultation with one of our landscape designers today.
Benefits of Installing a Custom Pool House
A pool house can serve as more than a generic space to stash extra towels and pool floaties. When you let the award-winning landscape design team at Wheat's Landscape design your new pool house, the sky's the limit in the amenities you can choose to boost your summer fun. In addition to providing a shaded area near the pool, a well-designed pool house can offer these fun, convenient features:
Showers
Changing areas
Outdoor bars
Outdoor fireplaces
Bathrooms
Guest bedrooms
Additional outdoor entertainment space
Home gym space
And much more
No matter the scope of your project, we'll go the extra mile to make sure your pool house is constructed with the highest quality materials while offering all of the features you want for your custom pool house. Landscaping is our specialty, so we'll make your pool house even more distinct by surrounding it with the perfect selection of trees, shrubs, plants, and flowers that will transform your pool area into a magnificent oasis.
Call Wheat's Landscape today at 703-641-4790 today to get started on your new pool house for your Northern Virginia, Maryland, or Washington, DC home.
Why Choose Wheat's to Build Your New Pool House?
From planning to completion, the experts at Wheat's Landscape will walk you through the process of building the pool house of your dreams. Our team has the experience and skill set to ensure your new pool house lives up to your expectations while adhering to local building and zoning codes. We won't just construct any pool house—we'll take the time to learn about your lifestyle and personal taste so that your new pool house blends seamlessly into your surroundings and provides you many years of useful service.
Contact the design team that homeowners in Northern Virginia trust the most for superior custom pool house design and installation. Call Wheat's Landscape today at 703-641-4790.
Additional Landscape Design Build Services
Interested in a custom inground swimming pool or outdoor kitchen? Need to transform your entire backyard? The Landscape Architecture & Design Team at Wheat's can help you with any landscape design project you have in mind. Some of our services include:
have a project?
Let's Start Today!
Testimonials
"Everything always exceeds our expectations. Everything was done perfectly. Everyone was happy to be there. You have an excellent crew and business."
M.L.
"We were fortunate enough to find a company that has just finished doing a fabulous job in our back yard. Wheat's did exceptionally high quality work, were extremely responsive and wonderful to work with."
D.G.
"I really like the communication, and the responsiveness. It is great to have a company that is there when you need them, and to have the comfort of knowing the property is well-maintained."
M.B.
"Well you all have quite a reputation for the quality of your work in my neighborhood. It's just beautiful! Wheat's is a legend around here."
R.B.
Proudly Serving
Northern Virginia, Maryland,
& NW Washington, DC
Let's Start Today