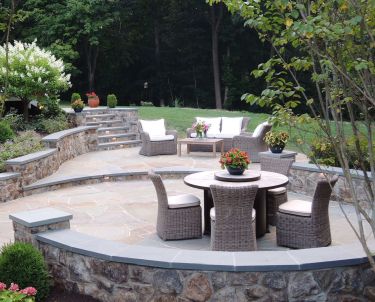 Seasonal Mulch Application in Northern Virginia
Beautify Your Landscape and Nurture Your Plants
Your garden and landscaping require year-round attention to ensure the health and appearance of your plants. Seasonal mulching is particularly beneficial and can be successfully performed several times a year, including the spring and late fall/early winter. Northern Virginia homeowners who hire Wheat's Landscape for seasonal mulching enjoy pristine flower beds and happy, healthy trees and shrubs.

For mulching services in Northern Virginia, contact Wheat's Landscape, or give us a call at 703-641-4790 to set up an appointment with one of our skilled landscape professionals.
Landscape Mulch
Mulch comes in a variety of forms, including bark chips, stones, grass clippings, wood shavings, compost, straw, and shredded leaves, and while some materials are preferable to others, the principal of application is the same. In the late spring and early fall, a layer of mulch is laid on top of the soil around bedding plants and throughout at the base of trees and shrubs, keeping the soil beneath warmer in the winter and cooler in the summer.
The Benefits of Seasonal Mulching
Seasonal mulching is a common practice throughout Northern Virginia, with a number of significant benefits, including:
Moisture conservation. Plants need light, water, and nutrients in order to survive. Mulching significantly increases the amount of moisture your plants have access to, as exposed surface water is no longer left to evaporate, while reducing the amount of water you need to provide.
Weed prevention. Weeds also need light to grow. A layer of mulch prevents light from reaching these unwanted plants, though it's important to pull existing weeds prior to application.
Increased fertility. Nutrients typically lost through soil erosion or evaporation remain within the soil.
Beautification. A uniform application of mulch is aesthetically pleasing and adds uniformity to your landscaping.
Increased aeration. Soil compaction is a concern during times of heavy rains, but with the added layer of protection, soil remains well aerated.
Protection. The application of mulch around trees and shrubs, provides a barrier from mowers and weed trimmers, which may otherwise damage plants.
When to Apply Mulch in Northern Virginia
Mulch can be applied at any time, but the most beneficial times for the climate in Northern Virginia are as follows:
Late Spring
Application is preferred once the soil has begun to warm. Under normal soil conditions, a layer between two and four inches deep (after settling) is applied to the top layer of soil, one to two inches from the base of trees and shrubs. For plant beds, mulch is applied to the entire area for best results, after weeding and watering.
Early Winter
Before the soil has frozen, but after it has cooled from the heat of the summer sun, mulch may be applied, after a final weeding. Fertilizer can be applied directly over the mulch and will be carried down through the soil with precipitation.
Mulch made from organic materials breaks down over time and reapplication is necessary to maximize benefits. Old mulch should be removed and a new layer applied as older material will be void of nutrients and material that has matted may prevent light and water from getting through.
Northern Virginia's Landscape Mulch Professionals
Our licensed and certified property maintenance professionals are committed to keeping your yard lush, green, and healthy with quality landscape services in Northern Virginia and the entire DC area. Regularly scheduled site visits allow our lawn care team to closely monitor your lawn conditions and adjust treatments accordingly. We offer customized programs that suit the various needs of yards throughout Northern Virginia. Whether you're looking for potted plants, leaf removal, or professional mulching, we're the landscaping company to call!
For full service mulching projects in Northern Virginia, Maryland, and Washington, DC, trust the professional landscapers at Wheat's Landscape. Contact us today!
---
Our service area includes the following cities near Washington, DC, Maryland, and Northern Virginia:
| | | |
| --- | --- | --- |
| Alexandria, VA | Centreville, VA | Potomac, MD |
| Annandale, VA | Fairfax, VA | Reston, VA |
| Arlington, VA | Falls Church, VA | Washington, DC |
| Bethesda, MD | McLean, VA | And more! |
have a project?
Let's Start Today!
Testimonials
"Everything always exceeds our expectations. Everything was done perfectly. Everyone was happy to be there. You have an excellent crew and business."
M.L.
"We were fortunate enough to find a company that has just finished doing a fabulous job in our back yard. Wheat's did exceptionally high quality work, were extremely responsive and wonderful to work with."
D.G.
"I really like the communication, and the responsiveness. It is great to have a company that is there when you need them, and to have the comfort of knowing the property is well-maintained."
M.B.
"Well you all have quite a reputation for the quality of your work in my neighborhood. It's just beautiful! Wheat's is a legend around here."
R.B.
Proudly Serving
Northern Virginia, Maryland,
& NW Washington, DC
Let's Start Today