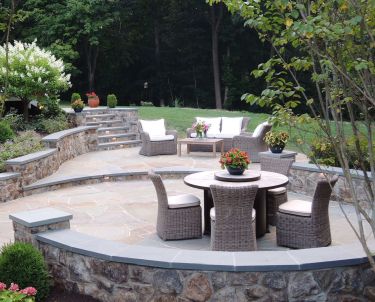 Drainage Repairs in Northern Virginia, Maryland & Washington, DC
The drainage systems in place around your Virginia home play a critical role in both the health of your landscape and the health of your home. When something goes awry with these systems, it can mean serious water damage and harm to your personal investments, and it can impinge on your life in a variety of other ways. That's why the team at Wheat's Landscape offers superb drainage repair services, helping you to restore your home and landscape to normalcy as fast as possible.
Wheat's Landscape has been the leading team in landscape design and service in Maryland, Virginia, and the DC area for years. Our team is made up of industry-leading professionals, and we always place your needs above all else!
Give the team at Wheat's Landscape a call at 703-641-4790, or contact us online today!
Drainage Repair Services in NoVa
Everything from minor drainage damage to full-blown yard ponds can do serious damage to your landscape and home. Our team meets your needs by providing comprehensive repair services that can cover any situation, no matter how small or how large.
Our experts employ the use of top-class landscape equipment and tools. Coupled with our years of extensive experience, we can provide your drainage system with the services, attention, and care it deserves. And due to the nature of drainage problems, we always prioritize an immediate response, never leaving you stuck in the mud for days on end!
Signs You Need Our Drainage Repair Services
Indications of a drainage issue span a particularly wide range. The problem itself may be small, but it could have a dramatic impact. Or your issue could seem insurmountable, but it might only require the simplest of solutions. Our team can tell the difference and provide the services you need, when you need them most.
Keep an eye out for these signs, and if you spot them, go ahead and give our experts a call:
Standing water. If your yard has rapidly become a commercial-sized pool (without your permission), then you have a clear indication that something has gone seriously wrong.
Damage to your home's foundation. Water damage can manifest as sudden cracks or it can be as simple as efflorescence—the whitish, sandy deposits left behind by evaporating water. Keep an eye on your foundation and the walls of your basement so that you can stay on top of this!
Shifting soil and moving mulch. If your soil or mulch is migrating with no obvious cause in sight, you're probably dealing with shoddy drainage. When a storm or heavy rain hits, that water is moving through your yard fast enough to carry around dirt and similar materials.
Water damage low on hardscape features. Rotting wood on the lower walls of a gazebo (within a foot of the ground) or mushy patches on a bench or similar structure could indicate that standing water is sticking around longer than it should.
Common FAQs on Landscape Drainage Repair
What are some of the telltale signs that I have a drainage problem?
Common signs of drainage issues include:
Noticeable pools of water in the yard
Areas of turf that seem to take days (or even weeks) to dry out after storms
Gutters that spill out lots of water during rainfall
Plants continuously dying from oversaturated soil that leads to root rot
Water pooling on basement floors
Rotting wood around the foundation
Damp carpet next to baseboards
Warping and discolored drywall
Damp insulation (or even mold)
Do drainage systems require any sort of maintenance?
Like any part of your home, proper upkeep will ensure that your drainage system keeps operating as efficiently as possible. Oftentimes, maintenance can be as simple as keeping drainage grates free of debris or ensuring turf does not grow over the daylight end of a pipe.
If you have more questions on our landscape drainage services, don't hesitate to contact us online or call our team at 703-641-4790.
Get Drainage Repair Services in MD, VA & DC with Wheat's Landscape
When you need drainage repair services in Virginia or Maryland, we're the team to call! We have a history of perfect service, and our team would love nothing more than to help you get the care and service you need to keep your landscape looking its best. 
Contact us online or call us at 703-641-4790 today to learn more or to schedule drainage repair service!
have a project?
Let's Start Today!
Testimonials
"Everything always exceeds our expectations. Everything was done perfectly. Everyone was happy to be there. You have an excellent crew and business."
M.L.
"We were fortunate enough to find a company that has just finished doing a fabulous job in our back yard. Wheat's did exceptionally high quality work, were extremely responsive and wonderful to work with."
D.G.
"I really like the communication, and the responsiveness. It is great to have a company that is there when you need them, and to have the comfort of knowing the property is well-maintained."
M.B.
"Well you all have quite a reputation for the quality of your work in my neighborhood. It's just beautiful! Wheat's is a legend around here."
R.B.
Proudly Serving
Northern Virginia, Maryland,
& NW Washington, DC
Let's Start Today