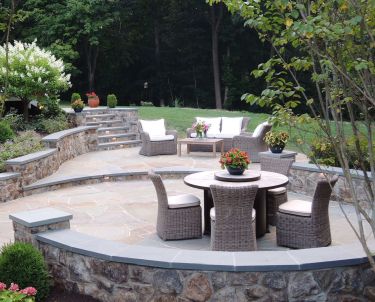 Turf Care Services in Vienna, VA
Keep Your Lawn Healthy with Fertilizer Application & Weed Control
Every homeowner wants a beautiful lawn, but the first step to a beautiful lawn is a healthy one. You have to have a solid (and green!) foundation before you can build on it. The underpinnings of a strong, healthy yard are lawn fertilizer and weed control. Fertilizer makes sure grass has the nutrients it needs to grow, which in turn helps fight off weeds. Additional weed control and removal strategies help reduce competition in your yard so your grass has room to grow. You can't use one strategy without the other!

Wheat's Landscape has years of experience with turf care services, so our team has the knowledge to prevent a healthy lawn from turning brown and becoming infested with weeds or to make an unhealthy lawn full, thick, and green. Our services include crabgrass removal, weed killing service, commercial weed control services, and more.
Looking for lawn weed control services "near me"? For expert turf care services in Northern Virginia and the surrounding areas, contact us online today!
Lawn Fertilizer Services in Northern Virginia
Lawn fertilizer is one of the most important components of a healthy lawn. It doesn't matter how much design work you put in—you can't have a beautiful landscape if your yard isn't healthy and green! You can trust Wheat's Landscape for all of your lawn fertilization needs, from analysis of what type of fertilizer is best for your grass to application and follow-up. We use slow-release fertilizers that keep your lawn fed between applications, so you don't have to worry about whether your yard has the nutrients it needs before your next professional visit!
Need the best lawn fertilizer company in the Northern Virginia area? Learn more about lawn fertilizer services with Wheat's Landscape.
Northern Virginia Weed Control Services
Have you ever admired how green and lush your lawn looks after a nice rain, only to look closer and notice it's infested with weeds? Weed control is probably the most frustrating part of lawn maintenance for the average homeowner because sometimes it feels like weeds just won't go away. You pull them out—they come back. You try to kill them—you kill your grass, too. Companies that spray for weeds and do nothing else will never succeed.
Wheat's Landscape has been applying effective weed control and removal strategies for years, and we know how to get rid of weeds while keeping your healthy grass intact. We can expertly remove broadleaf weeds like dandelions, ragweed, and milkweed as well as grassy weeds like crabgrass.
On the hunt for the best weed control company in the area? Whether you're looking for Learn more about Wheat's Landscape's weed removal services in Northern VA, Maryland, and the DC area.
Wheat's Landscape for Expert Turf Care Services in Northern VA, Maryland & DC
Many homeowners think they can take care of weed control and lawn fertilizer on their own, only to discover how tough it is. Few homeowners enjoy turf care tasks, and even fewer have the time to put into them to do the job effectively. Why waste time, money, and frustration on an activity you probably don't even like very much? Let the professionals handle it!
The Wheat's Landscape team will analyze your lawn and help determine which turf care solutions are best for you. After we agree on a plan, we can set up a regular schedule of maintenance to check up on your lawn and ensure it stays lush and green!
Searching for "lawn weed control services near me"? For all your turf care needs, call Wheat's Landscape at 703-641-4790 today!
have a project?
Let's Start Today!
Testimonials
"Everything always exceeds our expectations. Everything was done perfectly. Everyone was happy to be there. You have an excellent crew and business."
M.L.
"We were fortunate enough to find a company that has just finished doing a fabulous job in our back yard. Wheat's did exceptionally high quality work, were extremely responsive and wonderful to work with."
D.G.
"I really like the communication, and the responsiveness. It is great to have a company that is there when you need them, and to have the comfort of knowing the property is well-maintained."
M.B.
"Well you all have quite a reputation for the quality of your work in my neighborhood. It's just beautiful! Wheat's is a legend around here."
R.B.
Proudly Serving
Northern Virginia, Maryland,
& NW Washington, DC
Let's Start Today