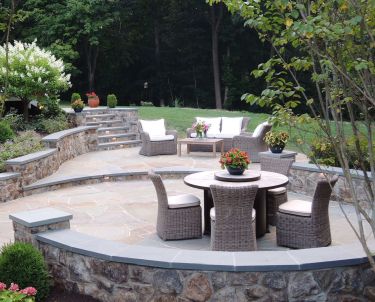 Garden Design Services in Northern VA
Make Your Dream Garden a Reality With Wheat's
At Wheat's, we provide custom garden design service that will turn your dream into a reality. No matter how unique or creative your idea may be, our team will help you construct it. We know what works and what doesn't work in Virginia, Maryland, and Washington, DC, and will help you create it in your own yard. Once we've created a concept that captures your design idea, our installation and landscaping professionals can go to work to bring it to life. Whether you wish to grow vegetables or want to create a whimsical space full of beautiful flowers, we can help!
Contact Wheat's Landscape today to get started.
The Trusted Garden Design Professionals of Northern Virginia
When you're designing a garden, you want the right team on your side. Since 1978, Wheat's Landscape has been providing garden design and landscaping installation services in Northern Virginia, Maryland, and Washington, DC. You can trust our design team to partner with you to make your dreams a reality. With our help, you can have a beautiful garden you will be proud to show off.
Contact us today to get started!
Have you been picturing a beautiful garden in your yard, but find that you lack the green thumb or design capabilities to make it a reality? Let Wheat's Landscape help! Our design professionals know just how to take your idea for a garden and make it come to life. From vegetable gardens to flowers, we are ready to assist!
Contact Wheat's Landscape to learn more about our garden design services or to schedule a design consultation.
Garden Features
When you partner with Wheat's for garden design services in Northern Virginia and the DC area, you have a number of design choices to consider. Gardens can range from practical places that grow edible items to beautiful places to sit back and relax. Some of the features you'll need to consider include:
Plants – What type of plant will your garden have? The Wheat's team will help you select plants that go with your design ideas and also work well with the local growing capabilities.
Trees – A beautiful garden needs shade to be fully enjoyed, so why not plant some trees in it?
Seating – How will you enjoy your garden? Adding a place to sit ensures you can enjoy it to the fullest. A patio or other seating area within view, or even directly inside, your garden will give you the fullest possible enjoyment.
Irrigation – While not a pretty part of your garden, you'll need to consider irrigation if you want the fullest enjoyment out of your outdoor space. Irrigation ensures that you will have a garden that grows well, and the right irrigation can even put watering on auto-pilot.
Walkways – Having a way to get to and move around in your garden can be important to enjoying it fully. Let the Wheat's Landscape team help you plan this aspect of your garden.
Lighting – Do you want to enjoy your garden at night? Add some lighting to make it something you can enjoy even after the sun goes down.
If you are ready to start planning your garden, the Wheat's Landscape team is here to help. Give us a call at 703-641-4790 or contact us online to schedule a free consultation.
Frequently Asked Questions
have a project?
Let's Start Today!
Testimonials
"Everything always exceeds our expectations. Everything was done perfectly. Everyone was happy to be there. You have an excellent crew and business."
M.L.
"We were fortunate enough to find a company that has just finished doing a fabulous job in our back yard. Wheat's did exceptionally high quality work, were extremely responsive and wonderful to work with."
D.G.
"I really like the communication, and the responsiveness. It is great to have a company that is there when you need them, and to have the comfort of knowing the property is well-maintained."
M.B.
"Well you all have quite a reputation for the quality of your work in my neighborhood. It's just beautiful! Wheat's is a legend around here."
R.B.
Proudly Serving
Northern Virginia, Maryland,
& NW Washington, DC
Let's Start Today