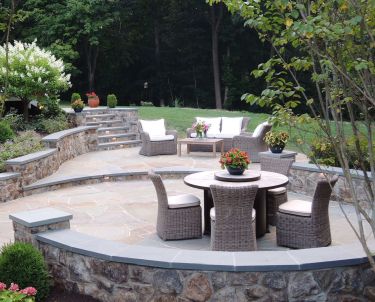 Sprinkler System Design & Installation in Northern Virginia, Maryland & Washington, DC
Having problems delivering the right amount of water to your lawn?
When you don't have a sprinkler system, your main option for getting extra H2O to the grass in your yard is standing outside with a hose early in the morning or late in the afternoon — which, let's be honest, is a bothersome and inconvenient task. And if you forget to do it, you're left with parched, dead grass that requires extra effort to bring back to life. Make your life easier — and your lawn greener — by installing a sprinkler system from Wheat's Landscape!
Top-Rated Lawn Maintenance and Irrigation System Installation
Our highly trained and certified specialists will create a custom sprinkler system for your unique landscaping needs. An automated sprinkler system can be pre-programmed to manage the watering schedule of your entire Northern Virginia property and landscaping.
Our services include:
Installation of new sprinkler systems
Upgrades and modifications to existing systems
Maintenance
Our sprinkler system experts have been serving McLean, Great Falls, Vienna, and the surrounding areas with superior customer service and quality workmanship since 1978. We take great pride in our work, and it shows!
Call Wheat's Landscape at 703-641-4790 today for a consultation!
How Much Does a Sprinkler System Cost?
Cost varies depending on the size of your yard and other factors, including:
Size of your property
Site conditions and slope of your yard
Soil conditions
Number of zones required to water your lawn properly
Type of controls (basic vs. smart systems)
Types of landscaping on your property
Quality of the sprinkler system components
Add-ons and upgrades like freeze or flow sensors
Labor and materials
Permits (if required)
No matter the size of your property or what conditions you're dealing with, the professionals at Wheat's Landscape will design and install a budget-friendly sprinkler system for your Washington, DC area home that will keep your lawn and garden looking their best.
Your lawn deserves the top-rated irrigation company in Northern Virginia and Maryland. Make the best choice and call Wheat's Landscape today at 703-641-4790 for an appointment!
Benefits of Installing a Sprinkler System for Your Yard
Northern Virginia homeowners understand the value landscaping can add to your home's curb appeal. The benefits of installing a new or upgraded sprinkler system are enormous when it comes to your landscaping continuing to look its best. Here's how:
Say "goodbye" to weeds & plant disease. With a proper sprinkler system and irrigation installation, you should see a drastic reduction in the number of weeds in your yard. Your ground sprinklers are designed to target specific areas in your landscaping. With your new system, you no longer have to worry about overwatering.
Save time & money. How much time have you spent watering your lawn, gardens, and flowerbeds? With a newly installed or upgraded sprinkler system, you can spend more time on the things that matter most. Sprinklers are designed to conserve water, using only what is needed and making every ounce count. All it takes to water your landscaping is a push of a button — it's really that simple!
Preserve nutrients & soil structure. If you normally use a garden hose to water your lawn, gardens, and flower beds — you could be doing more harm than good. There is such a thing as too much water. When excess water seeps into the soil, the runoff will take the soil's nutrients along for the ride. Your plant health depends on these essential nutrients. Without these nutrients, your plants may wither or develop issues like root disease.
What You Should Know About Installing Home Sprinkler Systems
Installing a lawn sprinkler might sound like a project you could complete over a couple of weekends, but it's not as easy as a DIY video makes it out to be. Consider this:
Digging Trenches
Trenches to accommodate water pipes must be at least 6 to 12 inches deep, depending on how cold the climate is. The trenches also have to be deep enough for the sprinkler heads to withdraw underground when not in use.
Selecting Pipes
Most sprinkler systems use PVC or polyethylene pipes to transport water to the different sprinkler heads. Depending on your system capacity, you typically need piping between 1/2 of an inch to 2 inches in diameter.
When you let the professionals of Wheat's take the reins, rest assured that we use only the highest quality materials and use our expertise to ensure your home sprinkler system operates seamlessly and stands the test of time. Our pros will also come to your home at the end of the growing season to perform sprinkler winterization tasks to prevent damage to your system from freezing temperatures and ice.
Why Choose Wheat's Landscape?
Wheat's Landscape is a full-service company serving McLean, Great Falls, Vienna, Tysons, Oakton, Arlington, Northwest and Southwest DC, Chevy Chase, Bethesda, and Potomac. Our highly trained, professional team will create a custom design and layout for your new sprinkler system based on your unique landscaping needs.
We take pride in the high-quality services we offer and are committed to earning your repeat business. Reliability and efficiency are the fundamentals of our business, and our certified team of professionals can handle services for all types of sprinkler systems, regardless of manufacturer.
Keep Your Lawn Lush with Sprinkler Systems from Wheat's Landscape!
Contact our friendly landscaping professionals for answers to all your sprinkler system installation and repair questions.
We can't wait to listen to your ideas and help you discover the perfect sprinkler system solution for your beautiful Northern Virginia landscape!
have a project?
Let's Start Today!
Testimonials
"Everything always exceeds our expectations. Everything was done perfectly. Everyone was happy to be there. You have an excellent crew and business."
M.L.
"We were fortunate enough to find a company that has just finished doing a fabulous job in our back yard. Wheat's did exceptionally high quality work, were extremely responsive and wonderful to work with."
D.G.
"I really like the communication, and the responsiveness. It is great to have a company that is there when you need them, and to have the comfort of knowing the property is well-maintained."
M.B.
"Well you all have quite a reputation for the quality of your work in my neighborhood. It's just beautiful! Wheat's is a legend around here."
R.B.
Proudly Serving
Northern Virginia, Maryland,
& NW Washington, DC
Let's Start Today