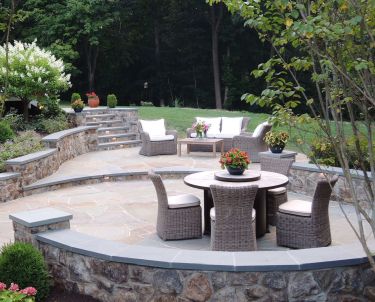 Retaining Wall Design & Installation
Landscapers Serving Northern Virginia, Maryland & Washington, DC
As you may already know, a retaining wall is a structure that holds or retains soil behind it. Whether you want one installed for structural or aesthetic purposes, Wheat's Landscape is more than happy to help you create the perfect retaining wall for your backyard. There are many types of materials that can be used to create retaining walls like concrete blocks, poured concrete, treated timbers, rocks, or boulders—it all depends on the look, style, and type of retaining wall you are hoping to create!

Our multi-faceted team of landscape architects, designers, certified horticulturalists, experienced project managers, and skilled craftsmen provide every landscape job with professionalism and friendliness. With personalized customer service and design, we offer attention to detail from conception of your retaining wall to completion. By bringing quality, personalized service and design to every project, we are the premier single source landscape design-build provider in the Northern Virginia, Maryland, and Washington, DC area.
Are you interested in starting your retaining wall installation project for your Virginia, Maryland, or DC home? Contact the professionals at Wheat's Landscape today!
Types of Retaining Walls
Depending on your particular needs, Wheat's Landscape can craft your ideal retaining wall. In order to do so, we will begin by asking you about your landscape. Is your backyard comprised of soil sand, clay, or another material? What is above the wall? Will the ground above or below the wall be level or sloped? What is the ideal height of the wall? All of these questions will help determine which type of retaining wall is the best fit for your Northern Virginia home. Your options include:
Gravity retaining wall
Reinforced retaining wall
Gabion retaining wall
And more!
If you know what you're looking for, contact Wheat's Landscape. Our team will do our best to create the retaining wall you've been envisioning in your backyard!
Retaining Wall Design & Installation in Northern Virginia
Often times, a wall can define your landscape more clearly while creating privacy and comfort for your home. Whether entertaining friends or enjoying family time, a retaining or seating wall can create an intimate atmosphere for your household. We understand that no retaining wall is a one-size-fits-all project. Which is why with Wheat's Landscape by your side, you can work together to create a retaining wall that is customized to your backyard landscape. From the layout, material, and overall design, your vision will be the number one priority every step of the process.
Benefits of a Retaining Wall
Have you been toying with the idea of installing a retaining wall in your backyard? If you live have a sloped backyard that is prone to flooding, need to keep soil in place, or are simply looking for an aesthetic element to enhance your backyard, a retaining wall is a great choice. Retaining walls help to:
Provide functional support for keeping soil in place
Prevent sink holes and eliminate dirt piles and hills
Reduce flooding
Reduce maintenance and prevent erosion
Prevent damage to property or surrounding structures
Ready to install a retaining wall in Virginia, Maryland, or Washington, DC? Contact Wheat's Landscape!
Northern Virginia's Retaining Wall Design & Installation Experts
Adding a retaining wall to your backyard is a beneficial investment. Allow our design and installation team at Wheat's Landscape to transform your backyard into an outdoor entertainment area for you, your family, and your guests to enjoy. We specialize in retaining wall design and installation and we've been helping Northern Virginia homeowners enhance the exterior of their homes since 1978.
Wheat's Landscape can help with all your outdoor design build needs! Contact us online or call us at 703-641-4790 to schedule an appointment for retaining wall installation.
have a project?
Let's Start Today!
Testimonials
"Everything always exceeds our expectations. Everything was done perfectly. Everyone was happy to be there. You have an excellent crew and business."
M.L.
"We were fortunate enough to find a company that has just finished doing a fabulous job in our back yard. Wheat's did exceptionally high quality work, were extremely responsive and wonderful to work with."
D.G.
"I really like the communication, and the responsiveness. It is great to have a company that is there when you need them, and to have the comfort of knowing the property is well-maintained."
M.B.
"Well you all have quite a reputation for the quality of your work in my neighborhood. It's just beautiful! Wheat's is a legend around here."
R.B.
Proudly Serving
Northern Virginia, Maryland,
& NW Washington, DC
Let's Start Today