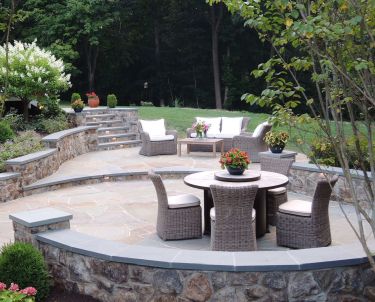 SportScapes
SportScape Design Services
SportScapes range and vary wildly according to the intended use of the location and the needs of those looking to build. From a simple Pitching Mound to a complex Batting Cage or enclosed Tennis Court, your needs are entirely unique!

With Wheat's Landscape, our design services seek to meet exactly that. Your unique needs! We put our years of service and skill to use, generating a design that encompasses and fulfills all of your requirements, no matter the scale or intention. Work with Wheat's to find a superior solution for SportScapes such as:
Pitching Mounds
Batting Cages
Basketball Courts
Tennis Courts
And More!
Expert Landscaping Professionals Serving Northern Virginia, Maryland & Washington, DC
For superior lawn care and maintenance services, our patrons in Northern Virginia, Maryland, and DC have been counting on Wheat's Landscape for decades. We have a long-running and time-honored reputation for bringing our consumers comprehensive and personalized care, focusing on custom solutions and services to suit your unique needs!
For SportScapes, our services extend from the initial design and implementation, all the way to the routine maintenance and care it deserves! Our attention to detail and dedication to meeting your every need is guaranteed to satisfy your needs—no matter how small or large.
Looking for SportScape services that never disappoint? Contact Wheat's Landscape today!


Why Hire a Professional for SportScape Design and Installation?
Essentially, the same reason you would hire a professional for any other form of service. Our team has been handling the optimal design and maintenance of SportScapes, both residential and commercial, for decades. And we bring all of this experience to bear in bringing you the absolute best results possible.
Your professionally designed and maintained SportScape is guaranteed to serve your needs absolutely perfectly, and look exceptional while doing it! You work with professionals to find finest in quality and utilize it to receive a superior, longer-lived, and more beautiful result than you would otherwise. And when working with Wheat's Landscape, we can guarantee exactly that.
SportScape Design & Installation in Northern Virginia
Our licensed and certified SportScape design and installation experts are dedicated to making your outdoor area match your dreams. Since 1978, our award-winning team has become a trusted company for landscaping services in the Northern Virginia, Maryland, and Washington, DC area. You can trust that our landscape design professionals will leave you with a SportScape design that matches your dreams.
For SportScape installation services in Northern Virginia, Maryland, and Washington, DC, give the reliable experts at Wheat's Landscape a call today or fill out a contact form.
have a project?
Let's Start Today!
Testimonials
"Everything always exceeds our expectations. Everything was done perfectly. Everyone was happy to be there. You have an excellent crew and business."
M.L.
"We were fortunate enough to find a company that has just finished doing a fabulous job in our back yard. Wheat's did exceptionally high quality work, were extremely responsive and wonderful to work with."
D.G.
"I really like the communication, and the responsiveness. It is great to have a company that is there when you need them, and to have the comfort of knowing the property is well-maintained."
M.B.
"Well you all have quite a reputation for the quality of your work in my neighborhood. It's just beautiful! Wheat's is a legend around here."
R.B.
Proudly Serving
Northern Virginia, Maryland,
& NW Washington, DC
Let's Start Today