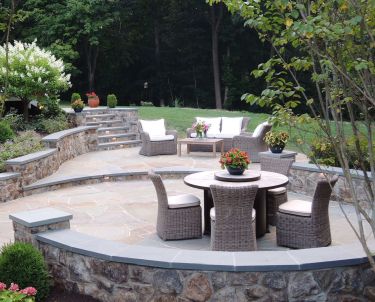 Virtual Landscape Design Consultations with Wheat's Landscape
Finding a time to discuss your landscape design needs in person can be difficult. And with concerns surrounding the coronavirus continuing, scheduling an in-person consultation for your landscaping project can seem outright impossible. But social distancing shouldn't have to mean pushing your landscaping dreams to the side. Luckily, the team at Wheat's Landscape provides 100% virtual consultations to accommodate your personal safety and keep your landscaping goals on track.
At Wheat's, our sales and support staff are able to service and collaborate with current and prospective clients without the need for in-person consultations.
Simply schedule a virtual session and begin creating the design for your outdoor oasis by contacting us at 703-641-4790 today!
Virtual Landscaping Consultations for Your Dream Design
During your virtual landscaping consultation, our team will guide you through each step of the design process right in the comfort of your own home. Our knowledgeable sales and support staff will assist you with the following:
Plant, tree, flower, and shrubbery design and selection
Hardscaping features
Water features
Irrigation
And much more!
Once you've settled on a design plan, our team will work around your schedule to bring your outdoor fantasy to fruition. At Wheat's, we take the guidelines set forth by the CDC seriously, which is why our landscaping team takes extra precautions to ensure your personal safety and health. We'll deliver on our promise to bring you the plant-filled paradise you always dreamed of while adhering to social distancing recommendations in order to mitigate your risk and help slow the spread.
Allow our team to create home exterior you always imagined having without worrying about taking time away from your personal schedule or placing yourself at unnecessary health risk. Contact our team to schedule your virtual consultation today!
Contact Wheat's for Your Virtual Landscape Design Consultation
Are you ready to get started creating a breathtaking landscape design for your home? The team at Wheat's has the virtual services you need to keep your landscaping goals on track without sacrificing your time or personal safety.
Get started on your landscaping project by calling 703-641-4790 to schedule a virtual consultation with Wheat's today.
have a project?
Let's Start Today!
Testimonials
"Everything always exceeds our expectations. Everything was done perfectly. Everyone was happy to be there. You have an excellent crew and business."
M.L.
"We were fortunate enough to find a company that has just finished doing a fabulous job in our back yard. Wheat's did exceptionally high quality work, were extremely responsive and wonderful to work with."
D.G.
"I really like the communication, and the responsiveness. It is great to have a company that is there when you need them, and to have the comfort of knowing the property is well-maintained."
M.B.
"Well you all have quite a reputation for the quality of your work in my neighborhood. It's just beautiful! Wheat's is a legend around here."
R.B.
Proudly Serving
Northern Virginia, Maryland,
& NW Washington, DC
Let's Start Today