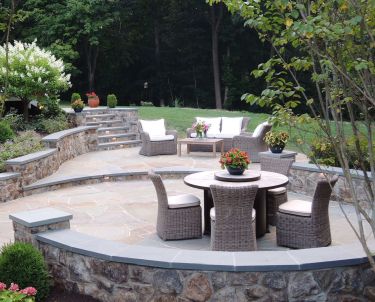 Professional Lawn Mowing
Landscapers Serving Northern Virginia, Maryland & Washington, DC
Have you ever driven through a neighborhood and noticed the one house that obviously didn't care about their lawn's appearance? You know which one we're talking about—the one where the grass is reaching nearly a foot in height. Don't let that be your yard! We understand that not everyone likes to mow their yard, but that's why companies like Wheats Landscape offer professional lawn mowing services.

Wheats Landscape has an honored reputation for enhancing Northern Virginia, Maryland, and Washington, DC area homes with comprehensive year-round lawn service and landscape care, including lawn mowing.
When you need professional mowing in the Northern Virginia area, Wheats expert landscapers can help! Contact us today!
Lawn Mowing Services
When you need a haircut, do you make an appointment with a professional or do you attempt to cut it yourself? Sometimes it's easier to ask a trained specialist for help. That's where we come in. We make sure we use the best equipment to care for your lawn, which pieces of equipment we use will depend on the size of your yard. We can have your lawns taken care of quickly and carefully so that you can just sit back and enjoy your weekend.
When you hire Wheats Landscape for professional lawn mowing, you receive:
Mowing of entire landscape
Edging along sidewalks, driveway, and defined flower beds
Blowing of debris away from driveway, sidewalks, patio, and curbs
Collecting of grass clippings on lawn and hardscapes
Benefits of Hiring a Lawn Care Professional
If you're considering hiring a professional to mow your home's lawn, consider the following factors:
It's no secret that mowing the lawn can seem like a tedious chore—but not for us! We spend our time mowing and maintaining your home's landscape so you can spend your valuable time focused on things more important to you.
While some people might see hiring a professional as an added expense, it's important to remember that you are reducing the costs you will need to spend on lawn mowing equipment (and repairs), and other lawn maintenance essentials.
If you have grass or plant allergies, the last place you want to spend a Saturday afternoon is immersed in grass clippings. A professional mowing company can help care for your lawn so that you don't have to expose yourself to allergens.
When you hire Wheats Landscape, we treat your yard as if it were our own. We can help you care for other aspects of your landscape by giving you advice on how to care for your lawn.
Professional Lawn Mowing in Northern VA
When you need a professional mowing company in Northern Virginia, Maryland, or Washington, DC, you can count on Wheats Landscape for top notch lawn mowing services. When you choose us, you can rest assured knowing our specialists trim around everything in the yard, trim along sidewalks and driveways, blow leaves and debris off driveway and sidewalks, and will leave your yard looking neat and clean.
For professional landscaping in Washington, DC, Maryland, and Northern Virginia, including McLean, Arlington, Reston, Annandale, and surrounding areas, you can trust the professional landscapers at Wheats Landscape. Contact us today!
have a project?
Let's Start Today!
Testimonials
"Everything always exceeds our expectations. Everything was done perfectly. Everyone was happy to be there. You have an excellent crew and business."
M.L.
"We were fortunate enough to find a company that has just finished doing a fabulous job in our back yard. Wheat's did exceptionally high quality work, were extremely responsive and wonderful to work with."
D.G.
"I really like the communication, and the responsiveness. It is great to have a company that is there when you need them, and to have the comfort of knowing the property is well-maintained."
M.B.
"Well you all have quite a reputation for the quality of your work in my neighborhood. It's just beautiful! Wheat's is a legend around here."
R.B.
Proudly Serving
Northern Virginia, Maryland,
& NW Washington, DC
Let's Start Today