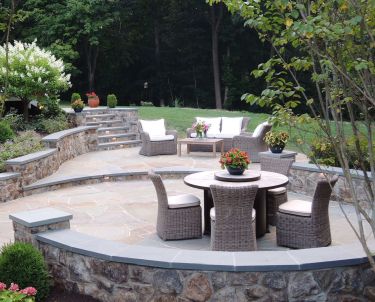 Walkway & Driveway Design
Landscape Designers Serving Northern Virginia, Maryland & Washington, DC
The exterior of your home sets the foundation for which designs, textures, and colors you choose for your walkways and driveways. Wheat's Landscape can help you add a welcoming touch to your home while making it more accessible to visitors with gorgeous cobblestone, brick, and more!
When considering your walkway and driveway design, it's important to compliment the architectural features and other landscaping elements of your home. This will help you to create an overall cohesive look and feel to the exterior of your home. As professional landscaping experts, the designers at Wheat's Landscape will analyze your home's exterior and make a comprehensive plan to create a cohesive landscape aesthetic.
To get started with your new walkway or driveway, contact us online or call us at 703-641-4790 today!
Walkway Design
The possibilities are endless when it comes to walkway design. When creating the design for your walkway, there are plenty of things to consider during the creative process. The geometry of your walkway is generally determined by the relationships and locations of the places that are to be connected. You can choose straight or curvilinear geometry depending on available space and desired aesthetics. Straight walkways are simply that— a straight path connecting your front door and the street, for example.
Curvilinear walkways offer a meandering aesthetic for your exterior, helping to create a more naturalistic look and feel within your landscaping. Providing the space is ample enough, you may choose to incorporate multiple curves, and even switchbacks for a more interesting design. To accommodate for steep areas in your landscaping, you can opt for the addition of steps, intricate landings, and varying shapes, widths, and designs for your walkway to create depth and interest.
Driveway Design
Your driveway helps to add character and aesthetics to the overall look and feel of your home's exterior. A customized driveway design allows you to transform an open and barren space into a gorgeous (and valuable) addition to your home.
The addition of a custom-designed driveway not only offers immediate value in aesthetics and comfort, but if you ever decide to place your home on the market, your custom driveway will add a significant return on your investment through increased property value. Additionally, the improved exterior aesthetics could prompt more serious offers and help your home sell more quickly. 
Custom Walkway & Driveway Design in Northern Virginia
Wheat's Landscape's team of experts has created custom designs for our valued residents throughout Northern Virginia, Maryland, and Washington, DC. Whether you already have a vision for your custom walkways and driveways or need some help with ideas, our team can help craft the perfect hardscape design and installation plan for your home. 
No matter what your vision is, our professional landscape architects can turn your dreams into reality. Our award-winning team has experience with every size project from large-scale properties to intricate plans for small spaces.
If you are looking for custom walkway or driveway design and installation services, contact us today to speak with one of our experienced professionals and get started on your dream space today! 
have a project?
Let's Start Today!
Testimonials
"Everything always exceeds our expectations. Everything was done perfectly. Everyone was happy to be there. You have an excellent crew and business."
M.L.
"We were fortunate enough to find a company that has just finished doing a fabulous job in our back yard. Wheat's did exceptionally high quality work, were extremely responsive and wonderful to work with."
D.G.
"I really like the communication, and the responsiveness. It is great to have a company that is there when you need them, and to have the comfort of knowing the property is well-maintained."
M.B.
"Well you all have quite a reputation for the quality of your work in my neighborhood. It's just beautiful! Wheat's is a legend around here."
R.B.
Proudly Serving
Northern Virginia, Maryland,
& NW Washington, DC
Let's Start Today