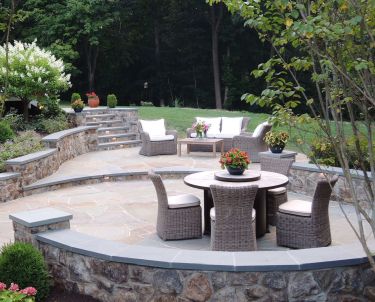 Irrigation System Repairs in Northern Virginia
Providing Top Rated Irrigation Repair Services in McLean, Great Falls, Tysons & More
The irrigation system in use at your home is one of the most effective means of keeping your landscape lush and gorgeous. That being said, an irrigation system is certainly an investment and one you want well-protected. Has something gone awry with your irrigation system? If so, our repair services are just the solution for you!
Wheat's Landscape has been a leading provider of landscape and irrigation services in Maryland, DC, and Virginia since 1978. We're the team to turn to when you don't know what to do! With our leading service and customer-focused approach, you're certain to get the best solution to meet your needs.
Give the team at Wheat's Landscape a call at 703-641-4790 or contact us online today for prompt and professional irrigation system repair.
Signs You Need Irrigation Repair
Knowing what to keep an eye out for can save you a lot of headache down the line. Many issues compound over time, meaning the faster you get professional care, the simpler the repair and the less it's likely to cost you. Keep an eye out for these common signs that you have an ailing irrigation system, and contact our experts right away when you spot them:
Your sprinkler range is diminishing. Some spots not getting the attention they used to? This commonly happens when there's an issue with water pressure or something is interfering with your sprinkler's ability to issue water.
Some of the sprinkler heads are clogged or not operating. Is your irrigation system only doing half of the job? This can be due to mineral buildup, debris, or even age. But no matter the cause, our experts will find and fix the problem right away.
You're noticing ailing plants and grass. If your grass or plants are beginning to die off, it's a clear sign that something is amiss. You may notice dried out and brown greenery or plants wilting and dying quite suddenly.
There are patches of standing water or mud on your landscape. There is such a thing as overwatering. If your sprinkler is trying to transform your yard into a recreational pool, give our team a call.
If you're noticing one of these problems, then give us a call at 703-641-4790. We can have one of our landscaping professionals at your home quickly to diagnose and repair your irrigation system.
Irrigation & Sprinkler Repair Services in Northern VA
Our expertly trained and certified irrigation system team knows the ins and outs of home irrigation systems. Armed with leading tech, exceedingly thorough knowledge, and a will to bring you the best care possible, we can get your irrigation system back up and running quickly.
If you need irrigation repair services for your home in Northern Virginia or nearby areas, call Wheat's Landscape today at 703-641-4790!
Trust the Professionals at Wheat's for Complete Landscaping Services
In addition to irrigation system repair, Wheat's Landscape offers a full range of landscaping services to homes and businesses in Virginia, Washington DC and Potomac, MD. Since 1978, we have been providing reliable service to the area with a passion for giving back to the local community. When you partner with Wheat's, you can be confident that you will get the service you desire from a company who is passionate about helping others. Contact us today to schedule a consultation to discuss irrigation repair or your other landscaping needs.
We offer irrigation repair and more to all of the following cities:
McLean, VA
Great Falls, VA
Vienna, VA
Tysons, VA
Oakton, VA
Arlington, VA
Northwest/Southwest Washington, DC
Chevy Chase, MD
Bethesda, MD
Potomac, MD
have a project?
Let's Start Today!
Testimonials
"Everything always exceeds our expectations. Everything was done perfectly. Everyone was happy to be there. You have an excellent crew and business."
M.L.
"We were fortunate enough to find a company that has just finished doing a fabulous job in our back yard. Wheat's did exceptionally high quality work, were extremely responsive and wonderful to work with."
D.G.
"I really like the communication, and the responsiveness. It is great to have a company that is there when you need them, and to have the comfort of knowing the property is well-maintained."
M.B.
"Well you all have quite a reputation for the quality of your work in my neighborhood. It's just beautiful! Wheat's is a legend around here."
R.B.
Proudly Serving
Northern Virginia, Maryland,
& NW Washington, DC
Let's Start Today