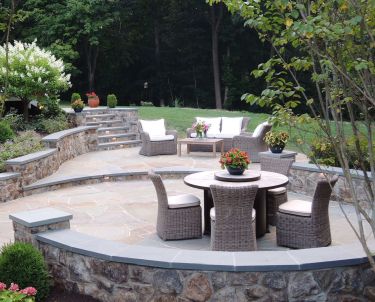 Tree Removal
Landscapers Serving Northern Virginia, Maryland & Washington, DC
Many obstacles can stand in the way of homeowners looking to create the ideal landscape. Some are simple, such as weed removal or routine mowing. But others can present some particularly challenging issues that are nearly insurmountable by the average homeowner in Maryland, DC, and Virginia. Having trouble with a stubborn or unsightly tree? The experts at Wheat's Landscape can help!
Our experts have been providing comprehensive, personalized lawn care to homeowners and their landscapes since 1978. Our dedication to superior service means dependable, top-quality projects with each and every appointment, guaranteed.
Need a tree or stump removed from your lawn in Maryland? Contact Wheat's Landscape today!
Tree Removal Services
Why have our experts handle your tree removal needs? Because proper removal requires the best skill, knowledge, and experience you can get! Inaccurate or poor tree removal practices can destroy your landscape and can even be dangerous without the aid of professionals. Wheat's Landscape uses industry-leading techniques that are guaranteed to make tree removal totally pain-free!
Our experts are fast, efficient, and never sacrifice quality for expediency. We'll handle your tree removal needs with perfect accuracy, and when we're done, you'll hardly know there was ever a tree there at all! And if you're looking to fill in that new bald spot, we can offer design services that can make your landscape sing.
When Do I Need Tree Removal Service?
This question partly answers itself, sure. When trees begin to die, become ugly, or are obstructing your landscape design and planning, it's time to have them removed. But there are some other situations you may have never considered for tree removal. Here's how to tell when it's time to hire the professionals to take care of that tree:
When the tree is in your way. This is the most obvious, so we'll start here. You don't necessarily need an excuse to remove a tree. Sometimes they're just causing trouble where they are; obstructing views, getting in the way of vibrant plant growth, etc.
When you have potentially dangerous trees. Generally, we would advise that trees of certain species never be planted too close to the home. Larger trees, particularly ones that will grow taller than the peak of your roof, can pose some serious risks. Fallen branches may damage the roof, bust windows, or cause harm to the siding or exterior of your home. If you have a tree too close to the house or you're worried about the height, have it removed!
When you have unhealthy trees. Look out for signs of discoloration, odd moldy growths, premature loss of leaves, insect infestation, and fungal growths. What do all of these have in common? Each and every one is a clear indication that your tree might be a little less healthy than you'd like. Diseased or inflicted trees pose a danger and often become unsightly. If treatment isn't available (and our experts will know!), then it's probably wise to seek tree removal services.
Northern Virginia's Professional Tree Removal Services
Our licensed and certified property maintenance professionals are committed to keeping your yard lush, green, and healthy with quality landscape services in Northern Virginia and the entire DC area. Whether you want a tree (or trees!) removed for improved functionality, increased safety, or enhanced aesthetics, Wheat's Landscape is the company to know.
For tree removal in Washington, DC, Maryland, and Northern Virginia, including McLean, Arlington, Reston, Annandale, and surrounding areas, you can trust the professional landscapers at Wheat's Landscape. Contact us today!
have a project?
Let's Start Today!
Testimonials
"Everything always exceeds our expectations. Everything was done perfectly. Everyone was happy to be there. You have an excellent crew and business."
M.L.
"We were fortunate enough to find a company that has just finished doing a fabulous job in our back yard. Wheat's did exceptionally high quality work, were extremely responsive and wonderful to work with."
D.G.
"I really like the communication, and the responsiveness. It is great to have a company that is there when you need them, and to have the comfort of knowing the property is well-maintained."
M.B.
"Well you all have quite a reputation for the quality of your work in my neighborhood. It's just beautiful! Wheat's is a legend around here."
R.B.
Proudly Serving
Northern Virginia, Maryland,
& NW Washington, DC
Let's Start Today