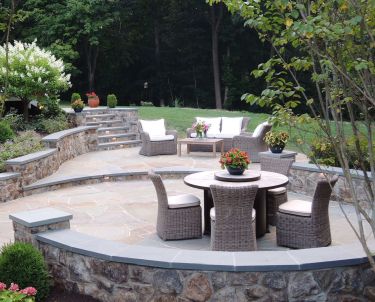 Front Yard Landscaping in Northern Virginia, Maryland & Washington, DC
Front yard landscaping is one of the best ways to boost your home's curb appeal and value. Whether your reasons for updating your front garden are personal or you're looking to attract buyers for the sale of your home, a professionally designed landscape can help you achieve your goal of a more aesthetically pleasing outdoor environment.

The dedicated team of experts at Wheat's Landscape has provided top-quality services to homeowners throughout Northern Virginia since 1978. Our exceptional attention to detail and use of high-quality materials have earned us our reputation as an industry leader, as evidenced by our numerous awards and designations.
Contact us to learn more about our landscape services, including landscape maintenance, design, and construction, or call 703-641-4790 to schedule a consultation. 
Elements of Front Yard Design in Northern Virginia
Whether you want to build on your existing design or start from scratch, there are several elements to consider to ensure the result suits your lifestyle, budget, and home style.
Consider Your Surroundings
Before planning your front yard landscaping design, look at the other homes in your neighborhood to ensure your property fits in with the scale and scope of landscaping in the surrounding area. Determine what you may be missing or can change to improve the beauty or functionality of your front yard.
Navigation & Entryway
The front of your home is used for access for vehicles and pedestrians and should be efficient and safe to navigate. Consider the layout and condition of your driveway, pathways, stairs, and porch, and determine if they need revamping or updating.
Trees & Shrubs
These plantings give a look of permanence to your home while providing shade, structure, and color.
Defining Features
Whether you opt to install a fence, retaining wall, flagstone path, or border of lush flowers or greenery, these elements can help outline your property or identify any unique, intimate, or formal areas of your front yard landscape.
Lighting
Outdoor lighting is necessary for safety and security, but by layering the lighting in your front yard, it can also be used to illuminate a focal point or architectural features or help visitors find your home.
Interested in backyard landscape design? We've got you covered »
Landscaping Ideas for Front of House
Regardless of the size of your property or budget, you can enhance the appearance of your front yard with these design ideas:
Natural Stone Landscaping
One of the best landscaping ideas with rocks is incorporating them into a stunning waterfall that adds visual interest, helps absorb sound, and attracts birds and wildlife to your front yard.
Keeping it Simple
Simple ideas that can add a lot of punch to your front yard without breaking the bank include:
Window boxes
Flagstone pathways
Pathway lighting
Concrete planters at the entryway
Perennial border along the driveway or walkway
Landscaping Without Grass
If you have a small front yard with no room for grass, want a low maintenance front garden, or have an area of your front yard without grass, your options include:
No-mow groundcovers such as sedge, mondo grass, or lilyturf
And more!
Schedule a Consultation for Front Yard Landscaping in Northern Virginia
Our full-service landscape company can transform the look and feel of your front yard landscape using cutting-edge design, the finest quality materials, and superior installation techniques.
Call 703-641-4790 today to book your complimentary landscape consultation or contact us online to let us know how we can help. 
have a project?
Let's Start Today!
Testimonials
"Everything always exceeds our expectations. Everything was done perfectly. Everyone was happy to be there. You have an excellent crew and business."
M.L.
"We were fortunate enough to find a company that has just finished doing a fabulous job in our back yard. Wheat's did exceptionally high quality work, were extremely responsive and wonderful to work with."
D.G.
"I really like the communication, and the responsiveness. It is great to have a company that is there when you need them, and to have the comfort of knowing the property is well-maintained."
M.B.
"Well you all have quite a reputation for the quality of your work in my neighborhood. It's just beautiful! Wheat's is a legend around here."
R.B.
Proudly Serving
Northern Virginia, Maryland,
& NW Washington, DC
Let's Start Today