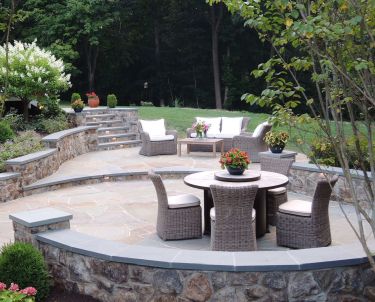 Weed Control Services in Northern Virginia
Have you ever admired how green and lush your lawn looks after a nice rain, only to look closer and notice it's infested with weeds? Weed control is probably the most frustrating part of lawn maintenance for the average homeowner because sometimes it feels like weeds just won't go away. You pull them out—they come back. You try to kill them—you kill your grass, too.
Wheat's Landscape has been applying effective weed control and removal strategies for almost 40 years, and we know how to get rid of weeds while keeping your healthy grass intact. We can expertly remove broadleaf weeds like dandelions, ragweed, and milkweed as well as grassy weeds like crabgrass.
If you need weed control or removal services in Northern VA, Maryland, or the D.C. area, contact Wheat's Landscape today!
Broadleaf Weed Control in Vienna, VA
Broadleaf weeds can be some of the most frustrating types of weeds because they stick out like sore thumbs in your yard. Broadleaf weeds, like dandelions, look completely different from grass, so they're usually easy to identify. Though they're easy to spot, they're not always easy to remove for the average homeowner. That's where we come in! The types of broadleaf weeds we remove and control include:
Broadleaf plantain
Dandelion
Field bindweed
Honeyvine milkweed
Mayweed
Morning glory
Ragweed
Virginia pepperweed
And more!
If you need broadleaf weed control in Northern Virginia or the Washington, D.C. area, call Wheat's at 703-641-4790 today!
Northern Virginia Crabgrass Control Services
Crabgrass is a nuisance that plagues many lawns in Northern Virginia and the surrounding areas. The best time to employ crabgrass prevention strategies is in the spring before summer's hot, dry conditions help the crabgrass germinate and spread.
How to Remove Crabgrass
One of the best ways to control crabgrass is to make sure the rest of your lawn is healthy. A strong, full, well-fertilized lawn is less likely to contain crabgrass than an unhealthy one. Our ideal crabgrass removal strategy involves:
Pulling small clumps out of the lawn and laying down preventatives in the spring, when the weed is least invasive.
Cultivating a healthy lawn with seasonal mulching, appropriate amounts of fertilizer, and a well-maintained irrigation system that keeps your landscape's immune system in top shape.
For fertilization services and crabgrass control throughout Northern Virginia, contact Wheat's Landscape in Vienna today!
Benefits of Professional Weed Control
Comprehensive & personalized plans: We will take into account removing any weeds currently infesting your lawn as well as prevention strategies to stave off future problems. We have experience using various strategies for different types of weeds and yards.
Complete weed removal: It can be frustrating to remove every single weed from your yard on your own—and sometimes you can't even tell whether they're all gone! Let the experts handle this painstaking task for you.
Better tools & solutions: We're professionals for a reason—we have the tools and knowledge to solve your lawn care problems. Unless you've invested a significant amount of money in your lawn care tools, ours are much more likely to be effective.
Protection for your grass: We'll get rid of troublesome weeds while taking into consideration the health of your lawn and any trees or shrubs nearby.
Choose Wheat's Landscape for Weed Control Services in VA, MD & D.C.
Our licensed and certified lawn care professionals are committed to keeping your yard lush, green, and healthy with quality lawn care services in Northern Virginia and the entire D.C. area. Regularly scheduled site visits allow our lawn care team to closely monitor your lawn conditions and adjust treatments accordingly. We offer customized programs that suit the various needs of yards throughout Northern Virginia. You can trust that our lawn care professionals will blow off all hard surfaces including driveways and walks after each visit ensuring your property looks its best.
If you need weed control services in Northern Virginia, Maryland, or Washington, D.C., call Wheat's Landscape today!
have a project?
Let's Start Today!
Testimonials
"Everything always exceeds our expectations. Everything was done perfectly. Everyone was happy to be there. You have an excellent crew and business."
M.L.
"We were fortunate enough to find a company that has just finished doing a fabulous job in our back yard. Wheat's did exceptionally high quality work, were extremely responsive and wonderful to work with."
D.G.
"I really like the communication, and the responsiveness. It is great to have a company that is there when you need them, and to have the comfort of knowing the property is well-maintained."
M.B.
"Well you all have quite a reputation for the quality of your work in my neighborhood. It's just beautiful! Wheat's is a legend around here."
R.B.
Proudly Serving
Northern Virginia, Maryland,
& NW Washington, DC
Let's Start Today