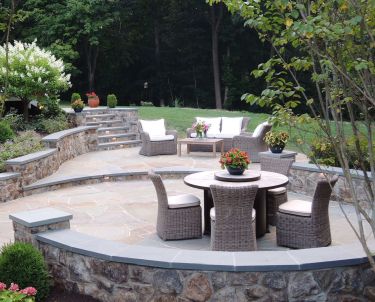 Leaf Removal Services in Northern Virginia, Maryland & Washington, DC
Landscapers Providing Top-Rated Leaf Removal
There is a great deal of beauty in each season, from the first buds of spring to the changing leaves in the fall. However, once those multi-colored leaves begin to drop, they quickly lose their appeal. In addition to their unsightly appearance, an abundance of leaves can have a negative impact on your lawn, making it imperative that they be removed in a timely manner—but who has the time?
Wheat's Landscape offers the perfect solution, with leaf removal services that will leave your lawn looking healthy and spotless throughout the fall.
Contact us online today or call 703-641-4790 to learn more or to schedule your free consultation.
Leaf Removal Services
Our team of lawn care professionals uses a variety of methods to effectively and efficiently remove fallen leaves from your property in preparation for cooler weather, including:
Mobile vacuuming (curbside leaf vacuum service)
Backpack leaf blowing service
Hand raking
Depending on the scope of your property, number and type of trees, and personal preference, you can choose from the following services:
Progressive leaf pickup throughout the fall (recommended)
End of season fall yard clean up services
Once the leaves have been collected you can opt to have them turned in to a fine mulch for use in your garden or lawn or have the debris bagged and removed. In keeping with our commitment to the community and the environment, leaves are later recycled into mulch or compost.
Looking for local leaf removal companies "near me" in Northern Virginia or a nearby area? Contact Wheat's Landscape today.
Benefits of Professional Leaf Removal
There are a number of great reasons to trust your leaf removal to Wheat's Landscape that benefit both you and your lawn.
Save Your Back
Raking leaves can be great exercise—for about 5 minutes. After that, it becomes backbreaking work as the repetitive motion can strain muscles that are unaccustomed to twisting, turning, and bending.
Save Time
We'll bet you can find dozens of things to do with your spare time, besides raking leaves. Enjoy your time off and leave the leaf removal to us.
Save Your Lawn
From the moment fallen leaves land on your lawn they have a negative impact, blocking the suns rays and decreasing the evaporation rate of moisture. As they sit and absorb the trapped moisture from your lawn they begin to decompose, creating the perfect environment for mold and fungus growth and a breeding ground for mosquitoes and other pests. Once fungus, mold, or other diseases take hold, they can wipe out an otherwise healthy lawn over the course of just a few seasons, a problem easily avoided with professional leaf removal from Wheat's Landscape.
Leaf Removal Services in Northern Virginia
The health of your lawn is dependent on a number of factors, including the timely removal of leaves and other debris. Our team of trusted professionals will customize a schedule for leaf removal services in accordance with your unique landscape and needs, making adjustments as needed. At the end of each visit, all materials and debris will be removed from your property, leaving you with a clean lawn you can be proud of.
For professional leaf removal and lawn cleanup services throughout Northern Virginia and the DC Metro area, contact Wheat's Landscape today!
have a project?
Let's Start Today!
Testimonials
"Everything always exceeds our expectations. Everything was done perfectly. Everyone was happy to be there. You have an excellent crew and business."
M.L.
"We were fortunate enough to find a company that has just finished doing a fabulous job in our back yard. Wheat's did exceptionally high quality work, were extremely responsive and wonderful to work with."
D.G.
"I really like the communication, and the responsiveness. It is great to have a company that is there when you need them, and to have the comfort of knowing the property is well-maintained."
M.B.
"Well you all have quite a reputation for the quality of your work in my neighborhood. It's just beautiful! Wheat's is a legend around here."
R.B.
Proudly Serving
Northern Virginia, Maryland,
& NW Washington, DC
Let's Start Today