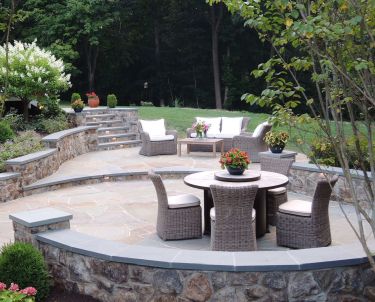 Lawn Fertilizer Services in Northern Virginia
In the DC area, we have the advantage of living with four distinct seasons. But we welcome spring with exceptional pleasure! The cold winter winds become warmer, and the world returns to cheerful shades of green.
When you feel the excitement of a new spring season, it's instinctive to want to get outside and work in your yard. But before you tackle a fertilization project in Fairfax County, understand the workings of spring fertilization in our region.
Contact Wheat's Landscape when you need lawn fertilizer application in Northern Virginia, Maryland, or the DC area!
Benefits of Lawn Fertilization
Lawn fertilizer contains the nutrients your grass needs to survive and thrive. Fertilizing your lawn is a component of basic lawn maintenance that every lawn should have, but lawn fertilization has specific benefits most people don't think about. Benefits of lawn fertilization include:
Weed reduction: When your grass has all the nutrients it needs to grow, weeds don't have as much room to compete. Strong, healthy grass can fight off weeds and is less susceptible to pest and insect problems.
Uniform grass growth: Well-fertilized grass grows better across the length of your lawn and reduces the risk of bare spots. This makes routine lawn maintenance like mowing and trimming easier.
Soil fertility and protection: Well-fertilized soil is less likely to be depleted of nutrients during severe weather like heavy rain.
Increased ability to resist disease: Healthy grass operates almost like a healthy human—it's not impossible to get sick when you're healthy and strong, but it's much less likely.
Call Wheat's at 703-641-4790 today if you're ready to get started with lawn fertilization services in Northern Virginia or the greater Washington, DC area!
Fertilization Tips for VA, MD & DC
You may want to cultivate a backyard garden or rejuvenate your flower beds and landscaping areas. Perhaps you'd like a lusher lawn than last year's. Spring fertilization in Northern Virginia depends on several factors.
Lawns
Many lawns in this area have what's called "cool-season grass." Our most important lawn fertilization is done between September and November every year. Fall fertilization might include nitrogen and a pre-emergent (herbicide), but spring lawn fertilization needs to be carefully considered and professionally applied, or you may have a problem.
The first step is testing the soil to learn exactly what your yard needs. For example, lime is usually needed to balance our acidic soil. The fertilizer application itself should be light. We may even recommend you skip spring lawn fertilization.
Gardens
It's tempting to jump right in and start digging! Will you plant tomatoes? Peppers or broccoli? It's exciting, but your family's garden should be carefully planned.
Create a "map" of the area where you wish to develop a garden. Fertilizer needs to be mixed with the soil before planting. One type of fertilization is called "green manure," which is organic matter (compost) that should be applied and "turned over" in your garden area.
Flower Beds
The bulbs you've been tending indoors are ready to be planted! We test the soil to learn what levels of nitrogen, phosphorous, and potassium (NPK ratios) exist. After testing the soil, we may recommend organic, slow-release, or liquid fertilizers for your flower beds.
Why Hire a Professional Landscaping Company for Lawn Fertilizer Application?
Fertilizer application sounds easy, but there's more involved than you might think. The turf care experts at Wheat's Landscape have years of experience making and keeping Northern Virginia lawns healthy and beautiful. You can do your own research on the best options for your yard, but there's no substitute for experience.
Some of the reasons you should hire a professional landscaping company to apply fertilizer to your lawn include:
Landscaping professionals can determine which fertilizer is best for the type of grass on your lawn and the size of the application area.
A lawn care expert has more experience applying the fertilizer, so they know how to apply the product evenly across the length of your lawn.
With a professional landscaper, you can set up a routine maintenance schedule that will ensure your lawn is healthy throughout the season.
Choose Wheat's Landscape for Lawn Fertilizer Service in VA, MD & DC
Our licensed and certified lawn care professionals are committed to keeping your yard lush, green, and healthy with quality lawn care services in Northern Virginia and the entire DC area. Regularly scheduled site visits allow our lawn care team to closely monitor your lawn conditions and adjust treatments accordingly.
We offer customized programs that suit the various needs of yards throughout Northern Virginia. You can trust that our lawn care professionals will blow off all hard surfaces, including driveways and walks after each visit, ensuring your property looks its best.
If you need lawn fertilizer service in Northern Virginia, Maryland, or Washington, DC, call Wheat's Landscape today!
Wheat's cannot service the entirety of DC, Maryland, and Virginia. Call 703-641-4790 to inquire further if your residence is within our service area.
have a project?
Let's Start Today!
Testimonials
"Everything always exceeds our expectations. Everything was done perfectly. Everyone was happy to be there. You have an excellent crew and business."
M.L.
"We were fortunate enough to find a company that has just finished doing a fabulous job in our back yard. Wheat's did exceptionally high quality work, were extremely responsive and wonderful to work with."
D.G.
"I really like the communication, and the responsiveness. It is great to have a company that is there when you need them, and to have the comfort of knowing the property is well-maintained."
M.B.
"Well you all have quite a reputation for the quality of your work in my neighborhood. It's just beautiful! Wheat's is a legend around here."
R.B.
Proudly Serving
Northern Virginia, Maryland,
& NW Washington, DC
Let's Start Today