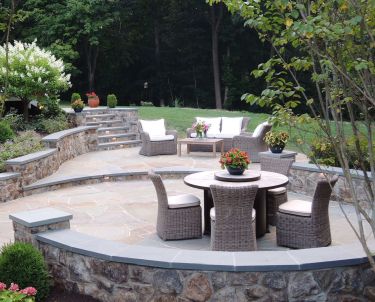 Professional Landscaping Services in Arlington
Everyone wants a landscape that catches attention and is the envy of the neighborhood. In order to have a prized landscape, you need to work with a professional and skilled landscaping company. Wheat's Landscape designs, installs, and maintains landscapes for homeowners in Arlington.
Whether you want a well-designed landscape for your own enjoyment or to entertain guests, let the landscapers at Wheat's give you the yard you've been wanting. Contact us today to discuss your needs with a team member.
*Wheat's is not able to service the entirety of DC, MD, and VA. Please call our office at 703-641-4790 to inquire further if your residence is within our service area.
Full-Service Landscaping in Arlington
From installing your custom landscape to maintaining your yard year-round, you can count on Wheat's to handle all your landscaping needs in Arlington. We've been serving Arlington homeowners since 1978 with our full range of services, including:
Contact us to experience why we're Arlington homeowners' top choice for landscaping.
Landscape Design and Installation
A custom-designed landscape increases your curb appeal and complements the rest of your home, adding a unique touch to your property. You can turn to Wheat's Landscape to design and install a custom, beautiful landscape for your Arlington home. We'll work closely with you to design a functional, affordable, and beautiful landscape.
Our landscape design and installation services include:
Call us at 703-641-4790 to set up a landscaping service in Arlington now.
Lawn Care Services
A lawn that's neglected can cause attention for the wrong reasons. From brown grass to unwanted weeds, you need a professional landscaper to help you care for your lawn year-round. You can rest assured Wheat's will keep your lawn looking its best at all times.
Our lawn care services include:
Organic fertilizer applications
Insect and disease control
And more!
Whatever you need to maintain your lawn, you can depend on Wheat's in Arlington. Contact us to set up a lawn care service now.
Irrigation Services
A professional irrigation system for your landscape is a great way to easily maintain a luscious lawn. The team at Wheat's in Arlington is trained to create and install a custom irrigation system for your lawn. Our automated irrigation systems with a pre-programmed controller manage the watering needs of your property effortlessly.
Our irrigation services include:
System maintenance
Water management
For irrigation services in Arlington, call Wheat's today at 703-641-4790.
Outdoor Lighting Design and Installation Services
Looking for the perfect outdoor lighting system to complement your landscape? Wheat's Landscape in Arlington will work with you to determine the best outdoor lighting to highlight your property. When you hire us for outdoor lighting design and installation, you'll get:
A professional lighting design consultation
Evening demonstration
One year of free system maintenance
Manufacturer's lifetime warranty
Property Maintenance Services
Keeping your property in tiptop shape year-round is essential. You need professional maintenance services to make sure nothing is forgotten. We'll always work directly with you to come up with a customized maintenance plan that fits your property's specific needs to ensure you always get the best results possible.
Our property maintenance services include:
To get started on your customized property maintenance plan, contact Wheat's Landscape in Arlington today.
Schedule Landscaping Services in Arlington
No matter what your landscaping needs are, the team at Wheat's Landscape in Arlington is dedicated to providing you with the outdoor space of your dreams. From landscape installation and routine maintenance, you can count on us to provide you with the results and customer service you need to have the best yard and experience possible.
Experience why we're your above-average landscaping company. Contact Wheat's to set up a landscaping service in Arlington now.
have a project?
Let's Start Today!
Testimonials
"Everything always exceeds our expectations. Everything was done perfectly. Everyone was happy to be there. You have an excellent crew and business."
M.L.
"We were fortunate enough to find a company that has just finished doing a fabulous job in our back yard. Wheat's did exceptionally high quality work, were extremely responsive and wonderful to work with."
D.G.
"I really like the communication, and the responsiveness. It is great to have a company that is there when you need them, and to have the comfort of knowing the property is well-maintained."
M.B.
"Well you all have quite a reputation for the quality of your work in my neighborhood. It's just beautiful! Wheat's is a legend around here."
R.B.
Proudly Serving
Northern Virginia, Maryland,
& NW Washington, DC
Let's Start Today