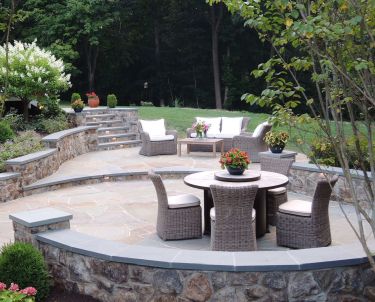 Custom Outdoor Fireplace Design & Installation
Custom-Designed Outdoor Fireplaces in Northern Virginia, Maryland & Washington, DC
What's one of your favorite features of your home? If you love getting cozy in front of the fireplace during winter, extend this feature to the outdoors with a custom fireplace.
Over the past 10 to 15 years, outdoor fireplaces and fire pits have become popular additions to outdoor living spaces. If you're considering enhancing your home's outdoor living space with a fireplace, there's only one name you need to know — Wheat's Landscape.

With personalized customer service and design, we offer attention to detail from conception to completion. By bringing quality, personalized service and design to every project, we are the premier landscape design-build provider in the Northern Virginia, Maryland, and Washington, DC area.
Customize your home's backyard by installing an outdoor fireplace in Northern Virginia, Maryland, or Washington, DC.
Contact Wheat's Landscape to learn what we can do for you!
Types of Outdoor Fireplaces
When installing an outdoor fireplace in your backyard, you must determine which type is the appropriate choice for your family.
Wood-burning fire pits: For a completely natural look and feel, you may gravitate toward a wood-burning fire pit. This is a particularly wise move if you have wood on your land you can use as free fuel.
Propane fire pits: If you prefer something more controlled, a propane fire pit may be best. There's no ash to clean up, no smoky smell, and when you're done enjoying your time in front of the fire, you simply turn a knob. This eliminates the need to wait for wood to burn out or ashes to cool.
Benefits of Custom Fireplaces
There are many advantages to installing an outdoor fireplace in your Northern Virginia home, including:
Improved outdoor living: A fire pit is bound to become the point everyone gravitates toward. Whether your friends are enjoying a few drinks by the fire or roasting marshmallows in the flames, the fireplace becomes the ultimate hangout spot.
Superior entertainment space: You can extend the outdoor entertaining season into the spring and fall with added warmth from the fire pit. The party also doesn't have to shift back inside when the sun goes down. Start the fire for ambient lighting and keep the party going all night.
Enhanced ambiance: Fireplaces are also ideal for you and your significant other to enjoy. A softly crackling fire, a glass of wine, the stars overhead — it doesn't get more romantic than that!
Increased home value: If you ever put your home on the market, the custom outdoor fireplace becomes a major selling point. Potential homebuyers recognize the value of fireplaces and may choose your home because this feature sets it apart.
Fireplace Safety Tips
Keep a few fireplace safety tips in mind to help you enjoy this source of light and heat in your yard:
Check with your fire department for any restrictions on outdoor fireplaces in your area. In some cities, wood-burning fireplaces and fire pits are illegal.
Keep the blaze small to reduce the risk of flying embers that could set grass or other surrounding foliage on fire.
Install the fire pit at least 10 feet away from your home or other structure.
Supervise children hanging out around the fire.
Never leave the fire burning unattended. Make sure it's fully extinguished before heading back inside.
Check the weather forecast and avoid lighting a fire if high winds are expected.
Always keep a water source or a shovel and dirt nearby to douse the fire in an emergency.
Outdoor Fireplace Installation in Northern VA
Our goal is to help you enjoy outdoor living as much as indoor living with relaxing, beautiful, and functional outdoor features. For a total backyard overhaul, count on us to install a stone, concrete, brick, tile, or flagstone patio to complement your new fireplace.
Our licensed and certified landscape design and installation experts are dedicated to making your outdoor area match your dreams. Since 1978, our award-winning team has become a trusted company for landscaping services, including outdoor fireplace installation, in the Northern Virginia, Maryland, and Washington, DC area.
Call the reliable experts at Wheat's Landscape today at 703-641-4790, or contact us online for custom outdoor fireplace design and installation.
Outdoor Fireplace FAQs
How tall does an outdoor fireplace have to be?
The chimney of an outdoor fireplace needs to extend at least 2 feet higher than any nearby structures, such as patio roofs, garages, or pool houses. This provides good airflow for the fire to draft properly and helps keep the smoke up and away from guests.
At Wheat's Landscape, we can design an outdoor fireplace that works well with your yard and surrounding structures.
What are the best materials for an outdoor fireplace?
The best choices for an outdoor fireplace are fire-resistant materials like brick, block, concrete, stucco, tile, and stone. At Wheat's, we will work with you to create an attractive outdoor fireplace design using the best materials available while staying within your budget. Whenever possible, we prefer locally sourced materials.
Where should an outdoor fireplace be built?
An outdoor fireplace needs to be at least 10 feet from any nearby structures, and because it must be 2 feet taller than nearby buildings, it should be placed as far as possible away from your home or other tall buildings. Often the rear of the backyard is ideal for safety and convenience.
At Wheat's Landscape, we can evaluate your property and recommend the best place to build your outdoor fireplace.
Should I get an outdoor fireplace or fire pit?
A fire pit typically sits in the center of the yard, allowing 360-degree seating for more enjoyment of the fire and a better view than an outdoor fireplace. However, it is not as safe as an outdoor fireplace. Because of their enclosed nature, fireplaces will hold the heat better, keep the fire burning longer, direct the smoke away from visitors, and can offer space for cooking.
If you need help deciding between a fire pit and an outdoor fireplace, talk to our experts at Wheat's Landscape to learn more.
Do I need a spark arrestor?
Yes, your outdoor fireplace should have a spark arrestor, which is a mesh covering over the chimney opening that catches sparks, embers, and floating debris, preventing the spread of fire. At Wheat's Landscape, we can add standard or decorative spark arrestors and replace them as needed.
have a project?
Let's Start Today!
Testimonials
"Everything always exceeds our expectations. Everything was done perfectly. Everyone was happy to be there. You have an excellent crew and business."
M.L.
"We were fortunate enough to find a company that has just finished doing a fabulous job in our back yard. Wheat's did exceptionally high quality work, were extremely responsive and wonderful to work with."
D.G.
"I really like the communication, and the responsiveness. It is great to have a company that is there when you need them, and to have the comfort of knowing the property is well-maintained."
M.B.
"Well you all have quite a reputation for the quality of your work in my neighborhood. It's just beautiful! Wheat's is a legend around here."
R.B.
Proudly Serving
Northern Virginia, Maryland,
& NW Washington, DC
Let's Start Today