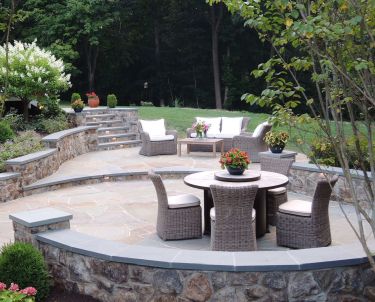 Full-Service Landscaping Company Serving Silver Spring, Maryland
There's nothing better than spending time outdoors with your loved ones when the warm weather hits Silver Spring, and having a properly designed landscape allows you to get more out of your time outdoors! Your yard should act as an oasis, providing you with a well-maintained space that's aesthetically pleasing. Wheat's Landscape specializes in both designing and installing your dream landscape as well as maintaining your existing one!
Wheat's Landscape will give you a yard you can be proud of. Set up an appointment with us today by calling 703-641-4790 or reaching out online!
Property Maintenance Services
Once you've got the landscape of your dreams, you need to keep it maintained so that you can enjoy it for years on end. With our property maintenance services, you can expect our account managers and supervisors to keep in close contact with you to ensure your landscape is always up to high standards. Our property maintenance services include:
Spring & winter cleanup
Lighting service
Snow removal
And more!
Landscape Design & Installation
When you consider us for a custom landscape design & installation service, you attain three major benefits: increased home value, improved curb appeal, and a sense of pride in your home. We've got a team of professional landscape designers who will turn your dream into a reality, giving you the picturesque layout you've always desired! Our professional and creative design services include:
Silver Spring Lawn Care
Don't force your neighbors (or yourself) to look at brown patches in your grass or overgrown weeds! Wheat's Landscape offers a comprehensive list of lawn care services to ensure a lush, eye-catching landscape surrounds your Silver Spring home! Our services include:
Integrated pest management
And more!
Irrigation Services
With our irrigation services, you'll be able to keep your grass watered with low effort, resulting in a fresher, greener lawn! Our team of irrigation professionals will design a custom plan that targets the needs of your specific lawn, and you'll receive an automated system with a preprogrammed controller for easy management. These services include:
Installation of new sprinkler systems
Add-ons & modifications to existing systems
System maintenance of all manufactures including Hunter, Irritrol, Rain Bird, Toro & Weathermatic
Two-hour service windows
Service for all types of sprinkler systems
Water management
Outdoor Lighting
Customized outdoor lighting is often a perfect complement to a beautiful landscape design, and Wheat's Landscape offers an array of lighting options for your choosing. Outdoor lighting not only adds flair to your space but is also a practical option for illuminating the area when it's dark, making it easier for you and your guests to get around. Our lighting services include:
Professional lighting design consultations
Evening demonstration for you to see how exceptional your home could look after dark
One year of free system maintenance to ensure optimum performance
Manufacturer's lifetime warranty on qualifying fixtures
Contact Wheat's Landscape for Landscaping Services in Silver Spring
Regardless of the landscape design you've been picturing, the team at Wheat's Landscape will make it come to life. We will seamlessly transform your space into one that you can cherish for many years to come. Furthermore, we have the necessary tools and resources needed to maintain your landscape, keeping it looking fresh and sleek at all times.
Call us today at 703-641-4790 or hop online to learn more about our offers. We can't wait to give you the idyllic landscape design you deserve!
have a project?
Let's Start Today!
Testimonials
"Everything always exceeds our expectations. Everything was done perfectly. Everyone was happy to be there. You have an excellent crew and business."
M.L.
"We were fortunate enough to find a company that has just finished doing a fabulous job in our back yard. Wheat's did exceptionally high quality work, were extremely responsive and wonderful to work with."
D.G.
"I really like the communication, and the responsiveness. It is great to have a company that is there when you need them, and to have the comfort of knowing the property is well-maintained."
M.B.
"Well you all have quite a reputation for the quality of your work in my neighborhood. It's just beautiful! Wheat's is a legend around here."
R.B.
Proudly Serving
Northern Virginia, Maryland,
& NW Washington, DC
Let's Start Today