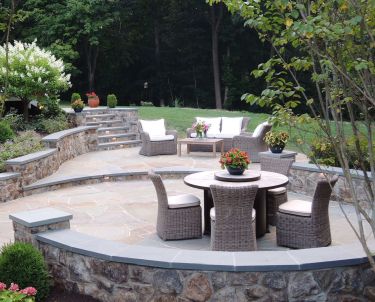 Full-Service Landscaping Company Serving Potomac
As a resident of Potomac, you and your family probably enjoy spending quality time outdoors. However, having a less-than-attractive lawn can make it hard to enjoy spending time in your own backyard. Luckily, you can turn to the landscaping pros at Wheat's Landscape to provide you with a well-designed, beautiful landscape your entire family will enjoy. From enhancing your landscape's design and plants to installing an outdoor entertainment space, we'll work closely with you to make your dream backyard a reality. You can also rely on us to keep your lawn maintained year-round. Whatever your landscape and lawn care needs are, Wheat's Landscape has you covered.
Let our experienced and skilled landscapers transform your Potomac yard. Whether you need design, installation, or maintenance, we'll do whatever it takes to enhance your home's outdoor space. Contact us today to discuss your needs with a Wheat's team member.
Property Maintenance in Potomac
If you want to make sure your lawn continues to leave a good impression on neighbors and guests, let the professionals at Wheat's Landscape maintain your lawn year-round. We provide top-quality property maintenance services designed to help your yard thrive. Our property maintenance specialists will work with you to provide your yard with the exact care it needs during every season. We'll work hard to provide you with outstanding results and unmatched customer service.
Property Maintenance Services From Wheat's Landscape Include:
Spring and winter cleanup
Weed control and perennial care
And more!
We'll tailor your property maintenance plan to coincide with the unique needs of your lawn. To schedule a property maintenance service in Potomac, call 703-641-4790 now.
Landscape Design and Installation in Potomac
Have you been looking for a solution to upgrade your curb appeal and increase your property value? Look no further than Wheat's for landscape design and installation services in Potomac. We'll transform your basic and boring landscape into a beautiful, eye-catching masterpiece. Our team of landscape designers will work directly with you to design the landscape of your dreams. We'll install a unique and affordable landscape that complements your home and is the envy of the neighborhood. Get ready to enjoy a brand-new outdoor living space!
Our Landscape Design and Installation Services Include:
Whether you want to design the perfect landscape for your large property or add functional outdoor living space, our award-winning landscape design staff will work closely with you to create a design that's unique to your property.
Call Wheat's Landscape in Potomac at 703-641-4790 to set up an appointment.
Lawn Care in Potomac
Maintaining a beautiful and healthy lawn can be time-consuming if you try to do it on your own. Get your free time back while also maintaining a beautiful lawn by hiring Wheat's Landscape in Potomac for professional lawn care services. We'll do whatever it takes to provide you with a lawn that remains in top condition year-round, from weed control to lawn renovations. We'll make sure you have the best-looking yard in the neighborhood.
Our Lawn Care Services in Potomac Include:
Insect and disease control
And more!
Whatever your lawn care needs are in Potomac, you can count on the specialists at Wheat's Landscape to take care of your lawn. Contact us to learn how your lawn can benefit from our services.
Irrigation Services in Potomac
Are you having a hard time maintaining a luscious, healthy lawn? Installing an irrigation system is a simple solution to your lawn maintenance problems. At Wheat's Landscape, our irrigation team is trained and certified to meet all your irrigation needs. We'll create a custom irrigation layout based on the special watering needs of your landscape. Our automated irrigation system will come equipped with a pre-programmed controller that will easily manage your entire property's watering needs.
Wheat's Landscape Offers the Following Irrigation Services in Potomac:
Sprinkler system maintenance of all manufacturers including Hunter, Irritrol, Rain Bird, Toro, and Weathermatic
Two-hour service windows and service for all types of sprinkler systems
Water management
For irrigation services, call our Potomac landscapers at 703-641-4790 to set up an appointment today.
Outdoor Lighting Services in Potomac
Have the perfect landscape but feel like something's missing? Install outdoor lighting to have the finishing touch to your home's custom landscape. Adding custom outdoor lighting is an easy way to showcase your property's unique features and improve visibility and accessibility. At Wheat's Landscape, we'll work with you to determine the best solution for your outdoor lighting needs. Our team will work hard to ensure your needs are met, and your outdoor lighting is installed and working correctly.
Our Full-Service Outdoor Lighting Solutions in Potomac Include:
Professional lighting design consultations
Evening demonstration for you to see how exceptional your home could look after dark
One year of free system maintenance to ensure optimum performance
Manufacturers' lifetime warranty on appropriate fixtures
Let us transform your home into the neighborhood's best-lit property with our professional outdoor lighting services in Potomac. Contact us today to set up a consultation.
Contact Wheat's Landscape for Landscape Services in Potomac
Whatever your vision is for your dream landscape, you can trust the team at Wheat's Landscape to create the outdoor living space you've always wanted. We'll transform your average yard into a unique and functional landscape you and your family will enjoy for the years to come. Through our high-quality customer service and giving back to the community, we've established ourselves as a benchmark in the industry. We're dedicated to providing highly personalized services beyond that of your average landscaping company.
For full-service landscape services, including property maintenance, landscape design, lawn care, irrigation services, and outdoor lighting, contact Potomac's leading landscapers at Wheat's Landscape.
have a project?
See If We Serve Your Community!
Testimonials
"Everything always exceeds our expectations. Everything was done perfectly. Everyone was happy to be there. You have an excellent crew and business."
M.L.
"We were fortunate enough to find a company that has just finished doing a fabulous job in our back yard. Wheat's did exceptionally high quality work, were extremely responsive and wonderful to work with."
D.G.
"I really like the communication, and the responsiveness. It is great to have a company that is there when you need them, and to have the comfort of knowing the property is well-maintained."
M.B.
"Well you all have quite a reputation for the quality of your work in my neighborhood. It's just beautiful! Wheat's is a legend around here."
R.B.
Proudly Serving
Northern Virginia, Maryland,
& NW Washington, DC
Let's Start Today