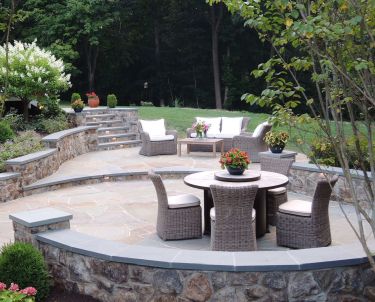 Lawn Care Services in Northwest DC
Being a homeowner is no easy feat as it requires a lot of daily maintenance. With the help of Wheat's Landscape, you can cross off lawn care from your list! Since 1978, we have provided northwest DC with exceptional lawn care services that keep their yards looking picture-perfect year-round. We are dedicated to delivering comprehensive lawn services to our community that will ultimately enrich their lives and make their lawns the talk of their neighborhood.
For full-service lawn care in northwest Washington, DC, contact us online or call us at 703-641-4790 to schedule an appointment!
Lawn Mowing Services
Rather than setting aside time to mow your lawn several times a month, let us tackle the task for you. Our lawn mowing services involve utilizing quality equipment (that will vary depending on the size of your lawn) to perform all-over mowing, edging, blowing debris away, and collecting clippings, leaving you with nothing but an aesthetically pleasing yard.
*Note: Wheat's lawn mowing services and additional landscaping and lawn care services are offered as part of ongoing lawn care contracts. Contact us to learn more!
Lawn Renovations
Over time, your yard may start to show signs of wear and tear from things like heavy foot traffic, pests, weeds, and other natural elements. If you feel as though your yard is beginning to look dull, Wheat's Landscape has got you covered with expert lawn renovations that will have things looking fresh and inviting. Our lawn renovation services include:
Aerating
Dethatching
Replacing dead spots
Leveling bumps and depressions
And more!
Fertilizer Applications
Although frequent watering and regular mowing are essential, it takes more to give you an award-winning lawn. Fertilization is key for your lawn to thrive, and Wheat's Landscape offers balanced and organic fertilization options from an environmentally friendly approach. Our fertilizers are golf course quality and will ensure your lawn is full of nutrients, no matter what's thrown their way. Some of the benefits of our fertilization process include:
Weed reduction
Turf protection
Soil fertility
Broadleaf Weed Control
Weeds can be nothing but a nuisance. When you notice them sprouting left and right across your lawn, you can rest assured knowing broadleaf weed control from Wheat's Landscaping will aid in the prevention and removal of those pesky weeds, leaving your lawn looking well-groomed. Our weed control services target the following types:
Broadleaf plantain
Dandelion
Field bindweed
Honeyvine milkweed
Mayweed
Morning glory
Ragweed
Virginia pepperweed
And more!
Crabgrass Control
Don't let your lawn fall victim to crabgrass! Instead, consider Wheat's Landscape's pre-emergent crabgrass treatment that will kill off the irksome plants before they take root in your yard. Our specialists will treat the areas of your lawn that are most susceptible to crabgrass, including the border of your driveway, walkways, sidewalks, and curbs.
Insect & Disease Control
Residents of northwest DC are no stranger to insect and plant diseases that can and will spread quickly if not addressed ASAP. The best way to ensure your lawn remains a beautiful, eye-catching aspect of your home, let us handle preventing the spread of harmful insects and diseases that may ultimately do damage to your yard. Make sure to schedule regular inspections with us.
Aeration & Seeding
Our aeration process starts with perforating the soil, allowing moisture, nutrients, and oxygen to penetrate and reduce soil compaction, enhance thatch breakdown, and improve water infiltration and soil composition. Furthermore, it also aids in preventing the spread of detrimental insects and diseases! Aeration and seeding help to:
Improve the air exchange between your soil and the atmosphere
Allow the soil to absorb more water and fertilizer
Reduce the number of water puddles and amount of runoff
Increase resiliency and cushioning
Protect your lawn against heat and droughts
Wheat's Mosquito Control & Pest Control Services
The presence of a variety of mosquitos and other pests can make it difficult to keep your northwest Washington, DC lawn looking its best on top of it being an absolutely unpleasant atmosphere to relax in. At Wheat's Landscape, we've developed integrated pest management services that focus on safe and healthy pest control that will identify the pests and determine the best solution for your specific situation.
Lawn Care Specialists in Northwest Washington, DC
At Wheat's Landscape, we've got licensed and certified lawn care professionals that are eager to provide you with the yard of your dreams. With routine site visits and monitoring, our team can maintain your northwest District of Columbia yard by performing treatments and adjustments as needed. Our customized programs have been put in place to meet our clients' needs, no matter how specific and unique they may be.
Put your trust in us, and we will ensure your property is always looking its best. Call today at 703-641-4790 or contact us online to get started!
have a project?
Let's Start Today!
Testimonials
"Everything always exceeds our expectations. Everything was done perfectly. Everyone was happy to be there. You have an excellent crew and business."
M.L.
"We were fortunate enough to find a company that has just finished doing a fabulous job in our back yard. Wheat's did exceptionally high quality work, were extremely responsive and wonderful to work with."
D.G.
"I really like the communication, and the responsiveness. It is great to have a company that is there when you need them, and to have the comfort of knowing the property is well-maintained."
M.B.
"Well you all have quite a reputation for the quality of your work in my neighborhood. It's just beautiful! Wheat's is a legend around here."
R.B.
Proudly Serving
Northern Virginia, Maryland,
& NW Washington, DC
Let's Start Today