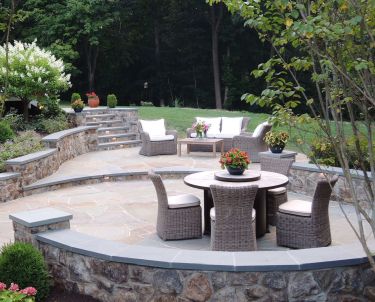 Lawn Care Services in Bethesda, Maryland
As a homeowner, you have a million—and one—things on your to-do list. Cross lawn care off that list by calling Wheat's Landscape to schedule pest management, weed control, lawn renovations, or a multitude of lawn care services offered in Bethesda. Make your yard the talk of the neighborhood—for all the right reasons—with lawn care services from Wheat's Landscape. Since 1978, your Bethesda neighbors have trusted us to keep their landscapes looking picture perfect all year long. We handle all your lawn care needs so you won't have to!
For full-service lawn care in Bethesda, contact us online or call us at 703-641-4790 to schedule an appointment!
Lawn Care Services
At Wheat's Landscape, we provide homeowners throughout the Bethesda area with a suite of lawn care services.
Lawn Renovations
With proper maintenance, most lawns will remain healthy year-round. However, older lawns may begin to show wear and tear from heavy foot traffic from people and pets, weeds, foreign grasses, and the elements. If your lawn is starting to look dull, Wheat's Landscape can help renovate your landscape. Our team will repair your lawn by fixing dead spots in the grass, ridding the yard of weeds, and replanting when necessary. Lawn renovations from Wheat's Landscape include:
Aerating
Dethatching
Replacing dead spots
Leveling bumps and depressions
And more!
Fertilizer Applications
If you want a healthy, green lawn that is a neighborhood showplace, it takes more than watering and mowing it regularly. Fertilization is necessary for your lawn to grow and thrive. Whether you're looking for balanced or organic fertilizer application, Wheat's Landscape can assist you. With our environmentally friendly approach, we only use golf course quality slow-release fertilizers. These fertilizers ensure nutrients are available to your lawn the entire time between our visits and reduce the chance of runoff, protecting the environment. There are many benefits of fertilizer application in Bethesda, including:
Weed reduction
Turf protection
Soil fertility
Broadleaf Weed Control
Have you noticed weeds sprouting from your lawn? Don't let a blemish ruin the curb appeal of your home. With broadleaf weed control from Wheat's Landscape, you can rest assured knowing that you have the weed prevention and removal specialists on your side. Wheat's Landscape offers broadleaf weed control for the following weed types commonly found in Bethesda:
Broadleaf plantain
Dandelion
Field bindweed
Honeyvine milkweed
Mayweed
Morning glory
Ragweed
Virginia pepperweed
And more!
Crabgrass Control
Crabgrass is a nuisance that plagues lawns throughout Maryland, including Bethesda—don't let your lawn fall victim to it! With Wheat's Landscape's pre-emergent crabgrass treatment, you will kill off crabgrass before it has a chance to take root in your soil. Let our landscape specialists treat the areas of your yard that are most susceptible, including the perimeter bordering the driveway, walkways, curb, and sidewalks.
Insect & Disease Control
Every Bethesda homeowner wants a beautiful—and healthy—landscape. Which is why it's important to remember that insects and plant disease can spread quickly. Wheat's Landscape can help prevent and control harmful insects and diseases from damaging your landscape. Our professionals have the knowledge and experience necessary to keep your property looking picture perfect with regular inspections, enabling our landscapers to prevent or remedy disease and insect infestation.
Aeration & Seeding
During aeration, we perforate the soil to allow moisture, oxygen, and nutrients to penetrate. Aeration reduces soil compaction, enhances thatch breakdown, and improves water infiltration and soil composition. Most importantly, it makes a lawn less susceptible to damage from weeds, insects, drought, and disease. Aeration combined with seeding improves turf density. Aeration and seeding in Bethesda:
Improves the air exchange between your soil and the atmosphere
Allows the soil to absorb more water and fertilizer
Reduces that amount of water puddles and runoff
Increases resiliency and cushioning
Protects your lawn against heat and droughts
Integrated Pest Management
As a Bethesda homeowner, you know that a healthy, lush lawn adds beauty and value to your home. However, keeping it beautiful year-round can be difficult a difficult task because of a variety of outdoor pests that invade your property. These pests can cause damage to your plants and make relaxing outside unbearable. Wheat's Landscape's integrated pest management services focuses on safe, healthy pest control to keep your landscape and garden free of unwanted pests. If you have existing pest-related problems, our skilled pest management team can identify the pests and offer pest control solutions before problems get worse.
Bethesda's Lawn Care Specialists
Our licensed and certified lawn care professionals are committed to keeping your yard lush, green, and healthy with quality lawn care services in Maryland, including Bethesda. Regularly scheduled site visits allow our lawn care team to closely monitor your lawn conditions and adjust treatments accordingly. We offer customized programs that suit the various needs of yards throughout Bethesda. You can trust that our lawn care professionals will blow off all hard surfaces including driveways and walks after each visit, ensuring your property looks its best.
For lawn care services in Maryland, including Bethesda, you can trust the professional landscapers at Wheat's Landscape. Contact us today!
have a project?
See If We Serve Your Community!
Testimonials
"Everything always exceeds our expectations. Everything was done perfectly. Everyone was happy to be there. You have an excellent crew and business."
M.L.
"We were fortunate enough to find a company that has just finished doing a fabulous job in our back yard. Wheat's did exceptionally high quality work, were extremely responsive and wonderful to work with."
D.G.
"I really like the communication, and the responsiveness. It is great to have a company that is there when you need them, and to have the comfort of knowing the property is well-maintained."
M.B.
"Well you all have quite a reputation for the quality of your work in my neighborhood. It's just beautiful! Wheat's is a legend around here."
R.B.
Proudly Serving
Northern Virginia, Maryland,
& NW Washington, DC
Let's Start Today