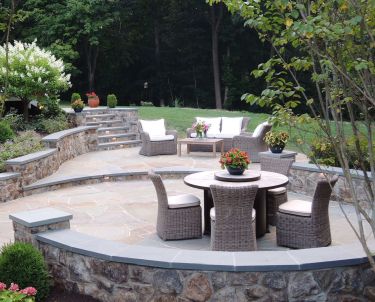 Full-Service Landscaping in Bethesda
Lush, elegant landscaping is a great way to enhance the beauty and value of your Bethesda home while providing outdoor spaces your family can enjoy year-round. Whether you need basic lawn care and maintenance or a complete landscaping redesign, our award-winning team at Wheat's Landscape can help.
We offer top-rated services and products that can make your home stand out, and our quality and expertise are second to none.
Give your home a gorgeous new look and maximize its curb appeal with custom landscape design, maintenance, and more from Wheat's Landscape.
Call our team today at (703) 641-4790 to book an appointment in Bethesda.
Backyard Design & Build
A spacious backyard is ideal for spending time with the family or entertaining guests during nice weather, but if yours is looking a bit drab or uninviting, contact Wheat's Landscape.
Our skilled team can completely transform your yard, making it the perfect space for cookouts, parties, receptions, or a quiet weekend at home. From retaining walls and gardens to outdoor kitchens, we can incorporate many features to make your backyard more useful and attractive.
Our backyard design and build services in Bethesda include:
Walkways and terraces: Protect your lawn in high-traffic areas and divide the yard into functional spaces with attractive walkways or terraces made from stone, concrete, pavers, and more.
Custom patios: Create the ideal spot to relax and entertain with a custom patio that accents your home's unique architecture.
Outdoor kitchens: From barbecues to gourmet meals, create the perfect outdoor kitchen to entertain guests while keeping heat and foot traffic in your home to a minimum.
Outdoor fireplaces: Enjoy a relaxing evening by the fire with a custom-designed outdoor fireplace from Wheat's Landscape.
Swimming pool design: Stay cool in the summer with a luxurious pool that offers plenty of family fun, relaxation, and exercise, and add a pool house to make it convenient for family and guests.
Garden design: Beautify your home with native plants and flowers, or grow your favorite fruits, vegetables, and herbs with our custom garden designs.
Custom carpentry: Put the finishing touches on your backyard design with custom gazebos, decks, arbors, screened porches, and more.
Sportscapes: Have fun and exercise with custom athletic fields and sportscapes, from basketball, badminton, and tennis courts to batting cages, pitching mounds, and more.
Visit our portfolio page to see some of our past projects and get inspiration for your own.
Call Wheat's Landscape at (703) 641-4790 to start designing your new backyard.
Front Yard Landscaping
Create a lasting first impression with neighbors and guests with elegant front yard landscaping that complements your Bethesda home and highlights its beauty.
We can incorporate any of these elements into your front yard design:
Walkways, terraces, and driveways
Retaining walls and raised garden beds
Irrigation and drainage systems
Benches and seating
And more
Create an eye-catching front yard with help from our team at Wheat's Landscape.
Call (703) 641-4790 to schedule a consultation in Bethesda today.
Landscape Maintenance
Keep your lawn healthy and your landscaping in excellent condition with landscape maintenance from Wheat's Landscape. We offer:
Landscape plantings
Snow removal
Sprinkler installation and repair
And more
When you need reliable, quality care for your lawn, garden, and landscaping, trust Wheat's Landscape.
Call (703) 641-4790 to schedule an appointment today.
Schedule Landscaping Service in Bethesda
Let Wheat's Landscape keep your Bethesda home looking its best all year with custom landscaping design and maintenance tailored to your needs. We have over 45 years of experience and offer professional service with top-quality products, competitive pricing, endless creativity, and superb attention to detail.
Count on Wheat's Landscape for all your lawn care and landscaping needs in Bethesda, MD.
Call (703) 641-4790 to schedule landscaping services in Bethesda today.
have a project?
Let's Start Today!
Testimonials
"Everything always exceeds our expectations. Everything was done perfectly. Everyone was happy to be there. You have an excellent crew and business."
M.L.
"We were fortunate enough to find a company that has just finished doing a fabulous job in our back yard. Wheat's did exceptionally high quality work, were extremely responsive and wonderful to work with."
D.G.
"I really like the communication, and the responsiveness. It is great to have a company that is there when you need them, and to have the comfort of knowing the property is well-maintained."
M.B.
"Well you all have quite a reputation for the quality of your work in my neighborhood. It's just beautiful! Wheat's is a legend around here."
R.B.
Proudly Serving
Northern Virginia, Maryland,
& NW Washington, DC
Let's Start Today