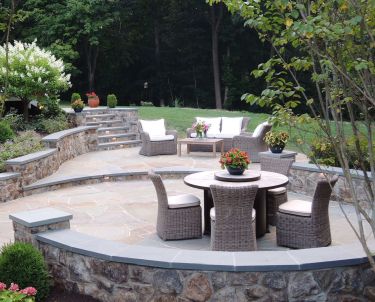 Full-Service Landscaping Company Serving Falls Church, Virginia
Once the winter months have finally passed, Falls Church homeowners are left with warm weather, which means there's only one thing to do—spend time with your family outside in the sunshine. But without a well-designed landscape, you won't be able to fully enjoy those summer nights. With a one-of-a-kind backyard created to fit all your family's needs, you will be able to throw BBQs, watch your child catch fireflies, or roast marshmallows in the comfort of your own home. Whether you're looking for a skilled landscaper to turn your dream backyard into a reality, or you need a lawn care company to help maintain your yard, Wheat's Landscape is the landscaping company you can trust.
Let our Falls Church landscapers keep your home's outdoor living space looking beautiful year-round. We have experience designing, installing, and maintaining landscapes to enhance your home's outdoor living space. Contact us today!
Wheat's Landscape is Falls Church residents' go-to full-service landscaper for:
Property maintenance
Landscape design & installation
Lawn care
Irrigation & outdoor lighting
We have been servicing your Falls Church neighbors with property maintenance, landscape design, and lawn care since 1978. Contact us to learn why Wheat's Landscape is one of the best landscapers in Virginia.
Property Maintenance in Falls Church
There's no place like home, and to keep your home looking sharp you need to perform routine property maintenance. What does this entail? Your personal account managers and supervisors will communicate with you on a regular basis and oversee all aspects of your landscape to ensure complete satisfaction and optimal results.
Property maintenance services from Wheat's Landscape include:
Lawn care
Tree & plant healthcare
Seasonal edging & mulching
Spring & winter cleanup
Professional mowing
Seasonal flower installation
Weeding & perennial care
Trimming & pruning
Leaf removal
Irrigation & lighting service
Snow removal
And more!
Your customized property maintenance program is tailored to coincide with the unique needs of your landscape. To schedule property maintenance in Falls Church, contact Wheat's Landscape today!
Landscape Design & Installation in Virginia
A custom-designed, beautiful landscape provides three major benefits: increased home value, improved curb appeal, and a sense of pride in your home. With Wheat's Landscape, you can watch your outdoor living space transform before your eyes into the picturesque masterpiece you've been dreaming of. Our team of expert landscape designers understand how important the design can be to the look and feel of your property, which is why we work with you to install a functional, affordable, and creative landscape design to maximize your home's outdoor living space.
Our landscape design and installation services include:
Concept, site development & master planning
Pergolas & gazebos
And more!
Whether designing a master plan for a large-scale property or an intricate plan for a small garden, our award winning design staff will work closely with you to create a unique design specifically tailored to your design objective. Call Wheat's Landscape at 703-641-4790!
Lawn Care in Falls Church
Although we're taught not to judge a book by its cover, it's hard to overlook a home with an uncared for lawn. Do you want passersby to point out the brown patches of grass in your front yard or the weeds growing by your driveway? Probably not. With lawn care services from Wheat's Landscape, you can rest easy knowing you'll have one of the best looking yards in the neighborhood. Whether you need simple lawn renovations or insect control, our lawn care team will work hard to ensure you and your family will be able to enjoy your outdoor living space.
Our lawn care services in Falls Church include:
Balanced fertilizer applications
Organic fertilizer applications
Broadleaf weed control
Pre-emergent crabgrass control
And more!
Whatever your lawn care needs in Falls Church, Wheat's Landscape's lawn care specialists are ready to assist you. Contact us to learn how your lawn could benefit from our landscape services.
Irrigation Services
Looking for a simple solution to maintain your yard at the click of a button? At Wheat's Landscape, our irrigation team of trained and certified professionals can create a custom irrigation layout based on the watering needs of your unique landscape. With an automated irrigation system installed throughout your lawn and planting beds, a pre-programmed controller manages the watering needs of your entire property.
Wheat's Landscape offers the following irrigation services in Falls Church:
Installation of new sprinkler systems
Add-ons & modifications to existing systems
System maintenance of all manufactures including Hunter, Irritrol, Rain Bird, Toro & Weathermatic
Two-hour service windows & service for all types of sprinkler systems
Water management
For irrigation services, call our Falls Church landscapers at 703-641-4790!
Outdoor Lighting in Falls Church
Are you looking for the perfect outdoor lighting solution to complement your home's landscape design? Adding a touch of outdoor lighting is an easy way to showcase the most important aspects of your yard—while also improving the accessibility of walkways for your guests. At Wheat's Landscape, we work with you to determine the best way to illuminate your property and accentuate the many features that make it one-of-a-kind. Our team will work hard to ensure your outdoor lighting ideas are seamlessly transformed into a reality.
Our full-service outdoor lighting solutions in Falls Church includes:
Professional lighting design consultations
Evening demonstration for you to see how exceptional your home could look after dark
One year of free system maintenance to ensure optimum performance
Manufacturers lifetime warranty on appropriate fixtures
Let us transform your home into the best lit home in the neighborhood with our outdoor lighting services in Falls Church. Contact us today!
Contact Wheat's Landscape for Landscape Services in Falls Church
No matter your landscape vision, our team at Wheat's Landscape will work tirelessly to create the outdoor living space of your dreams. Let us transform your average landscape into a magnificent space your neighbors will envy. Through quality customer service and giving back to the community, Wheat's Landscape has established itself as a benchmark in the industry, providing highly personalized service beyond that of your average landscaping company.
For full-service landscape services, including property maintenance, landscape design, lawn care, irrigation services, and outdoor lighting, contact Falls Church's leading landscapers at Wheat's Landscape!
have a project?
Let's Start Today!
Testimonials
"Everything always exceeds our expectations. Everything was done perfectly. Everyone was happy to be there. You have an excellent crew and business."
M.L.
"We were fortunate enough to find a company that has just finished doing a fabulous job in our back yard. Wheat's did exceptionally high quality work, were extremely responsive and wonderful to work with."
D.G.
"I really like the communication, and the responsiveness. It is great to have a company that is there when you need them, and to have the comfort of knowing the property is well-maintained."
M.B.
"Well you all have quite a reputation for the quality of your work in my neighborhood. It's just beautiful! Wheat's is a legend around here."
R.B.
Proudly Serving
Northern Virginia, Maryland,
& NW Washington, DC
Let's Start Today