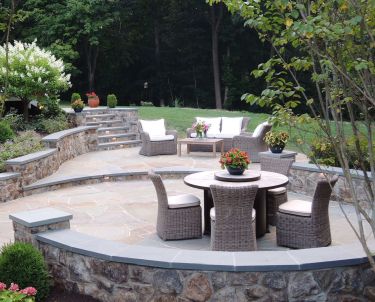 Chevy Chase Landscape Design Services
Landscape Design-Build Company Serving Chevy Chase
Have you been hoping to bring your dream lawn to life? At Wheat's Landscape, we offer a variety of custom designs to make your vision a reality. Whether you're interested in an outdoor kitchen, outdoor patio, a swimming pool, or any other landscape design feature, the skilled landscape designers at Wheat's Landscape can help you plan and execute your outdoor area dreams.
Our team of landscape architects, landscape designers, certified horticulturalists, experienced project managers, and skilled craftsmen will give your landscape design project the attention it deserves.
Are you interested in starting your landscape design and installation projects for your Chevy Chase, MD home? Contact the professionals at Wheat's Landscape today!
Landscape Design & Installation Services in Chevy Chase
Chevy Chase Outdoor Lighting Design & Installation
Illuminate your landscape with the addition of outdoor lighting. Whether you want to add security lighting to protect your home or landscape lighting to highlight a design feature, our outdoor lighting specialists can help.
Learn more about our outdoor lighting services in Chevy Chase »
Outdoor Kitchens, Grills & Outdoor Fireplaces in Chevy Chase
When the warmer months roll around, nothing is better than a home cooked meal outside. If your family loves eating outdoors, consider the aesthetic and functional use an outdoor kitchen could offer! We offer outdoor kitchen design, grills, and outdoor fireplaces.
Learn more about our Chevy Chase outdoor kitchen and outdoor fireplace design services »
Inground Swimming Pools, Hot Tubs & Spas in Chevy Chase
Nothing quite beats jumping in your own personal inground pool or hot tub right in your backyard. We can install a plethora of swimming pool designs to fit your family's desires and budget.
Learn more about our inground pool and spa design services in Chevy Chase »
Chevy Chase Garden Design
Whether you're hoping to add potted plants, create a charming vegetable garden, or grow a bright garden of flowers, the designers at Wheat's Landscape can help you plan the perfect garden for your yard.
Learn more about our garden design services in Chevy Chase »
Outdoor Patio Design & Installation
Incorporate a spacious new patio into your home. We've designed a wide variety of patios and terraces, and can help you choose the perfect look for your home, style, and budget needs.
Learn more about our Chevy Chase patio design and terrace design services »
Walkway & Driveway Installation for Chevy Chase Homes
Perhaps you've been pining for a cobblestone walkway. Maybe you want a simple brick look for your new path. Both walkways and driveways add a truly welcoming touch while making your home more accessible to visitors.
Learn more about our walkway design and driveway installation services in Chevy Chase »
Pergolas, Gazebos & Other Custom Carpentry in Chevy Chase
And a touch of sophistication to your yard with a gazebo or pergola. Our Chevy Chase pergola and gazebo builders can install an array of designs to truly match your vision. Our team of expert landscapers offers custom carpentry including decks, screened porches, front porticos, arbors, pergolas, and more.
Learn more about our Chevy Chase pergola and terrace design services »
Retaining & Seating Walls in Chevy Chase
Often times, a wall can define your landscape more clearly while creating privacy and comfort for your home. Whether entertaining friends or enjoying family time, a retaining or seating wall can create an intimate atmosphere for your household.
Learn more about our Chevy Chase retaining or seating wall design services »
Athletic Field Design & Maintenance in Chevy Chase
For athletic fields, our services extend from the initial design and implementation of your fields, all the way to the routine maintenance and care it deserves! Our attention to detail and dedication to meeting your every need is guaranteed to satisfy your needs—no matter how small or large.
Learn more about our Chevy Chase athletic field design services »
Chevy Chase's Landscape Design Experts
Our licensed and certified landscape design and installation experts are dedicated to making your outdoor area match your dreams. Since 1978, our award-winning team has become a trusted company for landscape maintenance and design services in Chevy Chase and nearby areas in Maryland.
If you're looking for the best landscape architects in Chevy Chase or another nearby city in Maryland, Washington, DC, or Virginia, Wheat's is the company to know! Call us today at 703-641-4790.
have a project?
See If We Serve Your Community!
Testimonials
"Everything always exceeds our expectations. Everything was done perfectly. Everyone was happy to be there. You have an excellent crew and business."
M.L.
"We were fortunate enough to find a company that has just finished doing a fabulous job in our back yard. Wheat's did exceptionally high quality work, were extremely responsive and wonderful to work with."
D.G.
"I really like the communication, and the responsiveness. It is great to have a company that is there when you need them, and to have the comfort of knowing the property is well-maintained."
M.B.
"Well you all have quite a reputation for the quality of your work in my neighborhood. It's just beautiful! Wheat's is a legend around here."
R.B.
Proudly Serving
Northern Virginia, Maryland,
& NW Washington, DC
Let's Start Today