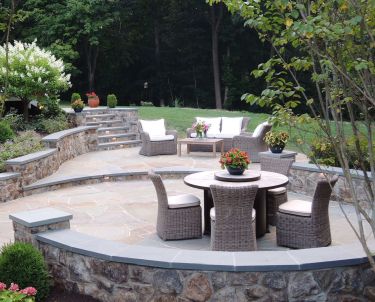 Full-Service Landscaping Design in Vienna
Wheat's Landscape is a full-service in-house design, build, and maintenance landscape company serving high-end residences throughout the greater Vienna, VA, area. We specialize in:
Architectural drawings, sketches, and space planning
Planting consultation and design
Drought- and pest-resistant and low-maintenance native plant solutions
Various garden types ranging from traditional to formal and everything in between
We've provided outstanding landscaping services in Vienna since 1978 and are experts at designing outdoor spaces that reflect your aesthetic and property layout. Our focus on lasting quality ensures your outdoor space is beautiful and socially, economically, and ecologically sustainable.
Ready to transform your outdoor space into the oasis of your dreams? Contact us today at (703) 641-4790 to get started.
Custom Landscaping Design for Your Vienna Home
Our expert design-build services transform your home's outdoor space, honing its style and elevating its comfort.
Garden Design
Wheat's offers upscale landscaping and garden design, installation, and maintenance and is known as the one-stop shop for creative landscapes, fine gardening, and outdoor living. Our gardens captivate from afar and create a lasting connection between people and nature.
Our skilled crew executes every aspect of planting and preserving plantings, water features, garden accents, and more.
Discuss your garden vision with our experts. Contact us today at (703) 641-4790.
Outdoor Patio & Terrace Design & Installation
There's no easier way to bring beauty and elegance to your Vienna outdoor living area than with a new patio or terrace. Our terrace and patio design and installation complement your home's style, add value to your property, and increase the enjoyment of your exterior space.
Pergolas, Gazebos & Custom Builds
Is there anything more enjoyable than relaxing outside under a pergola or gazebo? Custom-built gazebos shelter you from the weather and provide a variety of uses, including entertaining guests. Pergolas make a great addition to any yard or patio, providing relief from the heat and improved air circulation.
Wheat's will tailor-design a pergola or gazebo to suit your family's unique needs.
Start your custom-built outdoor entertainment area today by contacting us at (703) 641-4790.
Outdoor Kitchens, Grills & Fireplaces
Few summer pastimes are as enjoyable as cooking outdoors. Whether you want a built-in BBQ island with bar seating and wine cooler or a grill and food-prep station on wheels, Wheat's can design and build the outdoor kitchen of your dreams.
Traditional, contemporary, or anywhere in between, we do everything from pizza ovens to storage benches and outdoor appliances.
---
---
Swimming Pools, Spa & Hot Tub Design
Swimming pools, spas, and hot tubs provide everything you need for a healthy and relaxing lifestyle. The swimming pools we design blend beautifully with the surrounding landscape, and our spas and hot tubs offer a terrific way to bring people together for drinks and conversation.
From design to permitting and landscape planting, Wheat's delivers backyard oases that enhance your lifestyle.
Outdoor Lighting
Wheat's outdoor lighting solutions replace existing lights with creative fixtures that extend your living space, enhance the outdoor ambiance, and keep everyone safe. Our landscape lighting services complement your home and let you take advantage of all your outdoor spaces, including patios, terraces, and pool areas.
Liven up your outdoor living area with our outdoor lighting solutions. Contact us at (703) 641-4790 today to get started.
Retaining & Seating Wall Design
Retaining walls are often installed to elevate patios above the surrounding landscape. You can double the value of your retaining wall by turning it into a seating wall. Wheat's designs retaining walls and seating areas that provide a more permanent seating solution than outdoor furniture.
Drainage Systems
No one wants their beautiful landscape washed away due to poor drainage. Our exterior drainage services prevent stagnant water accumulation, muddy pools, and eroded gardens by integrating the proper drainage for your landscape. They're perfect for driveways, patios, retaining walls, and swimming pool areas.
Walkways & Driveways
Enhance your front-yard landscaping with custom-designed walkways and driveways from Wheat's. We can design and construct a new driveway as simple or intricate as you desire or extend your existing driveway to make it large enough for three-point turns.
Reliable Landscapers in Vienna
Your Vienna home's landscaping provides beautiful curb appeal and improves your quality of life. Award-winning Wheat's has designed and built quality landscapes for over 40 years and has a wealth of creative ideas for your entire property.
Need some inspiration? View our portfolio and then contact us or call (703) 641-4790 to schedule a consultation.
have a project?
Let's Start Today!
Testimonials
"Everything always exceeds our expectations. Everything was done perfectly. Everyone was happy to be there. You have an excellent crew and business."
M.L.
"We were fortunate enough to find a company that has just finished doing a fabulous job in our back yard. Wheat's did exceptionally high quality work, were extremely responsive and wonderful to work with."
D.G.
"I really like the communication, and the responsiveness. It is great to have a company that is there when you need them, and to have the comfort of knowing the property is well-maintained."
M.B.
"Well you all have quite a reputation for the quality of your work in my neighborhood. It's just beautiful! Wheat's is a legend around here."
R.B.
Proudly Serving
Northern Virginia, Maryland,
& NW Washington, DC
Let's Start Today