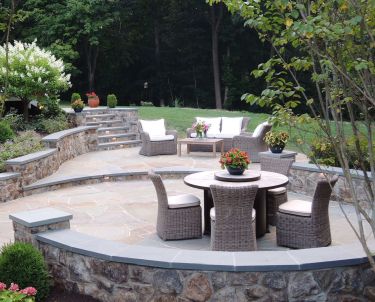 Screened Porch Design & Installation in Northern Virginia, Maryland & Washington, DC
Spring and summer in Northern Virginia offer the perfect opportunity to enjoy the beauty and sounds of the great outdoors. Unfortunately, unrelenting sun and pesky mosquitoes will eventually chase the hardiest of souls back indoors. Don't miss out on gazing at another beautiful sunset with your family. The Landscape Architecture & Design team at Wheat's Landscape is ready to design and build a screened-in porch for your Northern Virginia home that will add beauty and protect you from the elements all season long.
Are you ready to learn more about screened-in porch construction for your Northern Virginia, Maryland, or Washington, DC home? Contact the professionals at Wheat's Landscape today for a design consultation.
Screened-in Outdoor Living Spaces
Installing a screened-in porch is the perfect solution to add more functional living space to your Northern Virginia home at a fraction of the cost of building a new addition. A screened porch provides protection from glaring sun and biting insects, allowing you to enjoy warm summer breezes while sipping your morning cup of coffee or a glass of wine in the evening.
At Wheat's Landscape, we specialize in the construction of top-quality outdoor living spaces. Whether you have a vague idea of the kind of space you want or have your screened-in porch sketched out in detail, the landscape designers and architects at Wheat's Landscape have the know-how to build your custom porch exactly the way you want it. From drawing plans, acquiring permits, and choosing the perfect spot to build your outdoor enclosure, Wheat's Landscape does it all. Our expertise in landscape design and the artful use of lighting will ensure you'll reap the biggest rewards from your new outdoor retreat.
For expert screened porch installation in Northern Virginia, call Wheat's Landscape at 703-641-4790 today.
Benefits of Installing a Screened Porch for Your VA, MD, or DC Home
You'll enjoy a variety of benefits that outdoor living has to offer with a screened-in porch. Those benefits include:
Expanded living area – Add valuable living space for your growing family or provide the perfect retreat to entertain guests all season long.
Increased outdoor access – Spring and summer are fun, but bugs and sunburn aren't. Spend your summer evenings in your screened-in porch with a cool drink in your hands—not a fly swatter.
Increased curb appeal – A screened-in porch adds market value to your home and will make it the envy of the neighborhood.
You'll appreciate these benefits and more when you install a screened-in porch at your Northern Virginia home. Call Wheat's Landscape for more information on the right design for you at 703-641-4790.
Make Outdoor Living a Reality at Your Northern Virginia Home
Installing a beautiful, well-designed screened-in porch is an excellent way to expand the outdoor living space for your Northern Virginia home. When you choose the expert design team at Wheat's Landscape to oversee the job, we'll ensure you get the porch of your dreams at a price that fits your budget. Our Landscape Architecture & Design team can make a screened porch a reality or offer alternative plans for porticos, pergolas, verandas, and more if a screened option isn't best for you. Regardless of the design you choose, you can rest assured your porch will be finely crafted and offer you many years of enjoyment.
Ready to get started on your screened-in porch project for your Washington, DC area home? Call Wheat's Landscape at 703-641-4790 today.
Additional Landscape Design Build Services
Interested in a custom inground swimming pool or outdoor kitchen? Need to transform your entire backyard? The Landscape Architecture & Design Team at Wheat's can help you with any landscape design project you have in mind. Some of our services include:
Pool house design and installation
have a project?
Let's Start Today!
Testimonials
"Everything always exceeds our expectations. Everything was done perfectly. Everyone was happy to be there. You have an excellent crew and business."
M.L.
"We were fortunate enough to find a company that has just finished doing a fabulous job in our back yard. Wheat's did exceptionally high quality work, were extremely responsive and wonderful to work with."
D.G.
"I really like the communication, and the responsiveness. It is great to have a company that is there when you need them, and to have the comfort of knowing the property is well-maintained."
M.B.
"Well you all have quite a reputation for the quality of your work in my neighborhood. It's just beautiful! Wheat's is a legend around here."
R.B.
Proudly Serving
Northern Virginia, Maryland,
& NW Washington, DC
Let's Start Today