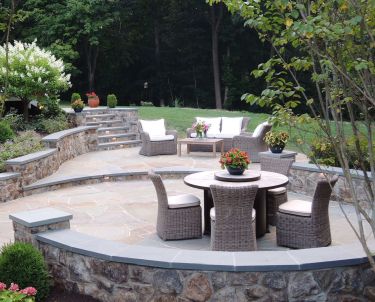 Fall Landscape Maintenance
LANDSCAPERS SERVING NORTHERN VIRGINIA, MARYLAND & WASHINGTON, DC
Nature puts on a showy display for each season, with crisp snow in the winter, leaf buds and flowers in the spring, green grass and blooms throughout the summer, and gorgeous foliage in the fall. Alongside the natural changes to your landscape, plant materials need to undergo fall landscape maintenance to ensure their beauty, health, and safety year after year. Since 1978, Wheat's Landscape has been providing fall landscape maintenance service to homeowners throughout Northern Virginia, helping to protect their investment while beautifying their surroundings.
Call Wheat's today, at 703-641-4790 to schedule fall landscape maintenance, or book your appointment online.
Fall Landscape Maintenance Services
Our team of skilled professionals will help prepare your lawn, trees, shrubs, and bedding plants for the cooler temperatures ahead, providing invaluable services which include the following.:
Aeration is the act of perforating your lawn with a series of small holes to loosen compacted soil to allow air, nutrients, and water to reach the roots and cut down on thatch. Aeration promotes deep root growth, resulting in a stronger, healthier lawn. Fall is the ideal time, while the air is cool and the soil is still warm.
Fertilization
Grass thrives on cool temperatures, sunshine, and morning dew. Applying a slow-release fertilizer during a time when your grass is thriving, further encourages root growth and strength, increases soil fertility, and lowers the production of weeds.
The last mowing of the season is an important one, as the length can determine the health of your lawn in the spring. Left too long, grass can become matted, grow mold, and become infected by other diseases. If cut too short, your lawn and soil are left exposed to the elements.
This step is crucial, as leaf cover prevents light from reaching your grass, while promoting mold, fungus, and disease from trapped moisture.
Planting
Shrubs planted in the early fall get a much needed head start establishing their root systems in moist, cool soil conditions.
Pruning
Deadheading and pruning perennials, trimming shrubs, and pruning deadwood from trees and shrubs helps plants to maintain their health and vigor.
A fresh layer of mulch which is laid after a light frost—but before the ground freezes—helps to retain the warmth of the soil for new plants, while reducing soil erosion and controlling water runoff.
It is important to remove all traces of water from pipes, sprinkler heads, and valves before temperatures fall below freezing to avoid damage.
The Benefits of Landscape Maintenance
Fall landscape maintenance service from Wheat's Landscape is the best way to ensure that all the elements of your landscaping are prepared for winter and will come back strong each spring. The benefits of landscape maintenance include:
Save time. Spend your time celebrating all that fall has to offer and leave the rest to Wheat's.
Protect your investment. Professional landscape maintenance in the fall is the best way to protect plants from the winter elements and ensure lush, healthy growth in the spring.
Curb appeal. Be the envy of the neighborhood with a clean, manicured lawn, and pristine foliage.
Healthy yard, healthy you. Landscape maintenance is back breaking work—leave the heavy lifting to Wheat's.
Fall Landscape Maintenance Services in Northern Virginia
Shorter days, cooler temperatures, and harsh winter conditions can wreak havoc on your lawn, trees, shrubs, and bedding plants. The certified, licensed team of professionals at Wheat's can help to protect your investment and ensure the health and safety of all your plants through the winter, and all year round. We offer customized programs that suit the various needs of yards throughout Northern Virginia. Whether you're looking for potted plants, leaf removal, or professional mulching, we're the landscaping company to call!
For seasonal fall landscape maintenance in Washington, DC, Maryland, and Northern Virginia, including McLean, Arlington, Reston, Annandale, and surrounding areas, you can trust the professional landscapers at Wheat's Landscape. Contact us today!
have a project?
Let's Start Today!
Testimonials
"Everything always exceeds our expectations. Everything was done perfectly. Everyone was happy to be there. You have an excellent crew and business."
M.L.
"We were fortunate enough to find a company that has just finished doing a fabulous job in our back yard. Wheat's did exceptionally high quality work, were extremely responsive and wonderful to work with."
D.G.
"I really like the communication, and the responsiveness. It is great to have a company that is there when you need them, and to have the comfort of knowing the property is well-maintained."
M.B.
"Well you all have quite a reputation for the quality of your work in my neighborhood. It's just beautiful! Wheat's is a legend around here."
R.B.
Proudly Serving
Northern Virginia, Maryland,
& NW Washington, DC
Let's Start Today