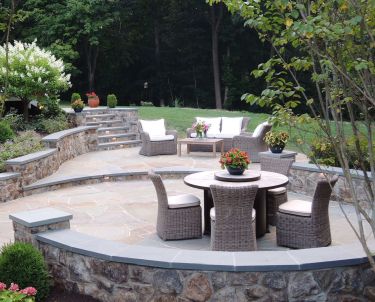 Full-Service Landscaping Company in Reston, Virginia
No matter what time of year it is, you always want to put your best foot forward when it comes to your home's landscaping. If you're looking for a skilled landscaping company in Reston, VA, look no further than Wheat's Landscape. You probably know our name already; plenty of your neighbors trust us to turn their landscape dreams into a reality. From designing an eye-catching landscape to maintaining your lawn year-round, we're the landscaping company you can rely on.
Contact Wheat's Landscape today to discuss your Reston, VA home's landscaping needs with a team member. We'll be happy to set up an appointment for you.
Property Maintenance in Reston, VA
To keep your lawn looking sharp you need to set up routine landscape maintenance service. When you work with Wheat's Landscape, your personal account managers and supervisors will communicate with you on a regular basis and oversee all aspects of your yard maintenance services to ensure complete satisfaction and optimal results.
Our property maintenance services include:
Contact Wheat's Landscape in Reston, VA to discuss your unique landscape needs today. A team member will be happy to set up an appointment for you and work together to come up with a custom plan that'll make your lawn the envy of the entire neighborhood.
Landscape Design in Reston, VA
A beautifully designed landscape does wonders for boosting curb appeal, increasing your property's value, and giving you a sense of pride in your lawn. You can completely transform your outdoor space by hiring Wheat's Landscape in Reston, VA to design the landscape of your dreams. Our team of skilled landscape designers understands the important of design and knows how to carefully complement your property with unique features.
Our landscape design and installation services include:
To get started on your custom landscape design for your Reston home, call Wheat's Landscape today at 703-641-4790 to set up an appointment.
Full Lawn Care Services in Reston, VA
After your new landscape has been installed, it will require regular maintenance to maintain its appearance and health. You can effortlessly maintain your lawn by hiring Wheat's Landscape for regular lawn care services in Reston, VA.
Our professional lawn care includes:
Lawn renovations
Crabgrass control
And more!
Whatever you need to keep your yard healthy and thriving, you can count on us to provide it for you. Contact Wheat's Landscape today to set up a lawn care service in Reston, VA.
Schedule Professional Landscape Services in Reston, VA
No matter what your landscaping and lawn care needs are, Wheat's Landscape will work with you to provide you with the yard you've always wanted. Let us transform your dull landscape into an outdoor space you'll love. Our quality customer service, top-rated work and community service have made a name for us in the Reston, VA area. For full landscaping and lawn care services, contact Reston's leading landscapers at Wheat's Landscape now.
have a project?
See If We Serve Your Community!
Testimonials
"Everything always exceeds our expectations. Everything was done perfectly. Everyone was happy to be there. You have an excellent crew and business."
M.L.
"We were fortunate enough to find a company that has just finished doing a fabulous job in our back yard. Wheat's did exceptionally high quality work, were extremely responsive and wonderful to work with."
D.G.
"I really like the communication, and the responsiveness. It is great to have a company that is there when you need them, and to have the comfort of knowing the property is well-maintained."
M.B.
"Well you all have quite a reputation for the quality of your work in my neighborhood. It's just beautiful! Wheat's is a legend around here."
R.B.
Proudly Serving
Northern Virginia, Maryland,
& NW Washington, DC
Let's Start Today