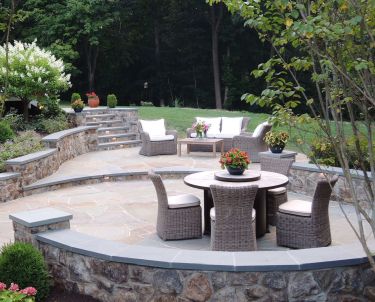 Outdoor Patio Design & Installation in Arlington, Virginia
Landscape Design/Build Services
Wheat's Landscape builds and designs dozens of custom residential outdoor patios for homeowners in the Northern Virginia, Maryland, and Washington, DC, areas every year. You can build a patio with plenty of shade so you can enjoy it even on hot, sunny days; or install an outdoor fireplace or built-in heater so you can enjoy the space during cooler weather. Whatever you're craving: It's possible!
With over four decades of experience, our award-winning service design/build and maintenance landscape company has established a distinctive reputation for creating sustainable outdoor spaces for a discerning clientele. Let the designers at Wheat's Landscape help turn your Arlington dream patio into a reality. Contact us for outdoor patio design and installation services!
*Wheat's is not able to service the entirety of DC, MD, and VA. Please call our office at 703-641-4790 to inquire further if your residence is within our service area.
Outdoor Patio Surface Options
Concrete Patios, Concrete Pavers & More
Patios are a great choice for outdoor living spaces. While Arlington residents envision how they will enjoy their new outdoor space, however, many do not know quite as much about the material options available on the market and the difference they make to their outdoor spaces.
When designing your custom patio, Wheat's Landscape builds outdoor patios out of several types of materials you can choose from, including:
Poured concrete: Made up of cement, sand, gravel, and water, poured concrete can be used to build a patio of any shape or size. Its versatility and durability are both affordable and low maintenance and will enhance the look and feel of your property all year long.
Brick: Brick brings a distinct look to your backyard as it comes in a variety of shapes, colors, and finishes. This option also allows you to create patterns such as herringbone (alternating bricks on a 90-degree angle) or a pinwheel, which forms a square with four regular-sized bricks and a half-brick in the middle.
Tile: If you're looking for something with a unique sense of beauty, both ceramic and porcelain tiles can create a distinctive patio for your Arlington home.
Concrete pavers: Paver patios comprise individual pieces of dense concrete placed together to form the patio surface. The pavers themselves are made of a concrete material that can be finished with a smooth or rough and rustic texture that mimics brick or stone — but for a lower price.
Stone: Stone displays the beauty and quality of nature. Earthy shades that include brown, red, gray, and blue hues give stone surfaces a beautiful natural appearance outdoors. This patio flooring option is also one of the most durable and can last for many years, especially when designed and built by our experts.
Learn more about how we can customize your patio space and schedule an estimate by calling us today at 703-641-4790.
Benefits Of Installing an Outdoor Patio
A new patio installation can help you make the most of the outdoors this summer.
Patios increase your home's value: Without a doubt, installing an outdoor patio can add significant value to your home, especially if you ever decide to sell your property.
Patios can extend your living area: Patios extend the living space of your home and allow you to enjoy the outdoors comfortably. An outdoor kitchen or garden design are ways to enjoy your home and spend quality time with family and friends.
Patios can help reduce energy costs: Patio spaces can save on your summer energy bills. After all, you're not adding all that cooking heat to the interior of your home since you'll be outside grilling.
Patios are low-maintenance: Patios are fairly easy to keep clean and are designed to withstand the harsh weather that we tend to get in the Arlington area.
Create a Custom Outdoor Patio in Arlington, VA
Imagine having your friends over and gathered around an outdoor fire pit on cool evenings. From outdoor kitchens to patio designs, Wheat's Landscape focuses on the details in every project we build throughout the Arlington area.
In addition to outdoor patio design and installation, we also install:
Outdoor kitchens
Outdoor bars
Outdoor fireplaces
Landscape lighting
Pergolas and gazebos
And more!
Choose Wheat's Landscape for Your Outdoor Patio Design & Installation
If you are ready to add a patio to your backyard deck, porch, or pergola, but you don't know where to start, Wheat's Landscape can guide you through the process every step of the way. We know how overwhelming the entire process can be, and that's why we are the expert outdoor patio contractor for custom backyard patios in the Arlington, Virginia, area.
Whether you want to add an outdoor patio, outdoor kitchen, or an outdoor fireplace, Wheat's Landscape can help with all your outdoor design/build needs! Let us take your patio design ideas and turn them into reality. Contact us online or call us at 703-641-4790;to schedule an appointment.
have a project?
Let's Start Today!
Testimonials
"Everything always exceeds our expectations. Everything was done perfectly. Everyone was happy to be there. You have an excellent crew and business."
M.L.
"We were fortunate enough to find a company that has just finished doing a fabulous job in our back yard. Wheat's did exceptionally high quality work, were extremely responsive and wonderful to work with."
D.G.
"I really like the communication, and the responsiveness. It is great to have a company that is there when you need them, and to have the comfort of knowing the property is well-maintained."
M.B.
"Well you all have quite a reputation for the quality of your work in my neighborhood. It's just beautiful! Wheat's is a legend around here."
R.B.
Proudly Serving
Northern Virginia, Maryland,
& NW Washington, DC
Let's Start Today