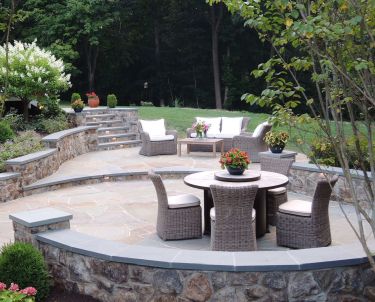 Landscaping Services in McLean, VA
Your home is your pride and joy, but not everyone has the time, know-how, or equipment to keep exterior spaces looking their best. Your home's curb appeal and even its value can be hugely influenced by what people see when they glance at your property's landscaping, and first impressions make a world of difference.
If your McLean, VA, home could use landscaping services, call Wheat's Landscape to get the job done. Whether it's routine maintenance or a full-scale transformation, Wheat's has you covered.
Call 703-641-4790 or contact us online to get started with a complimentary consultation.
Property and Lawn Maintenance Services in McLean
It's more complicated than you might think to keep a property and lawn looking manicured and ready for anything. It's not enough to mow the lawn and sprinkle some fertilizer around, especially if your property has a variety of trees, plants, and flowers alongside the grass.
Wheat's Landscape does so much more than keep your lawn green and good-looking: We do the work to keep every element of your lawn healthy with regular maintenance. That includes weeding, trimming, and pruning, snow removal, weed control, and insect and disease control.
Other yard maintenance and lawn care services include:
Grading
Soil, sand, mulch, and rock installation
Seasonal edging and mulching
Irrigation and lighting
Crabgrass control
Aeration and seeding
And more!
Want to keep your McLean property clean-cut and eye-catching? Call Wheat's Landscape at 703-641-4790 to discuss your needs, or contact us online for a free consultation.
Landscape Design and Installation in McLean
There are many reasons you might be unhappy with the current state of your McLean property, and Wheat's Landscape is here to help. A sloped yard, poor drainage, or lack of healthy and attractive plant selection can all mean your yard is not living up to its full potential.
Our design team has the expertise to transform your property into a space that's delightful and as functional as you need it to be. Our design and installation services include:
Whether you want to add a few plants or completely overhaul your outdoor living space through landscaping design, Wheat's Landscape is prepared to deliver excellence every step of the way.
Why Choose Wheat's?
There are plenty of landscaping companies in McLean, but Wheat's is one of the only companies that has been around for over 40 years. Our thousands of VA customers have seen first-hand how our years of experience contribute to a reputation for professionalism and exceptional work quality.
Don't wait to enjoy the property of your dreams. Request a free consultation online or call Wheat's Landscape at 703-641-4790 to bring your vision to life.
Not Looking for Landscaping Contractors in McLean, VA?
Looking for a landscaping company that serves a different city in the Northern Virginia, Maryland, or Washington, DC area? We serve the following cities in addition to McLean:
have a project?
Let's Start Today!
Testimonials
"Everything always exceeds our expectations. Everything was done perfectly. Everyone was happy to be there. You have an excellent crew and business."
M.L.
"We were fortunate enough to find a company that has just finished doing a fabulous job in our back yard. Wheat's did exceptionally high quality work, were extremely responsive and wonderful to work with."
D.G.
"I really like the communication, and the responsiveness. It is great to have a company that is there when you need them, and to have the comfort of knowing the property is well-maintained."
M.B.
"Well you all have quite a reputation for the quality of your work in my neighborhood. It's just beautiful! Wheat's is a legend around here."
R.B.
Proudly Serving
Northern Virginia, Maryland,
& NW Washington, DC
Let's Start Today