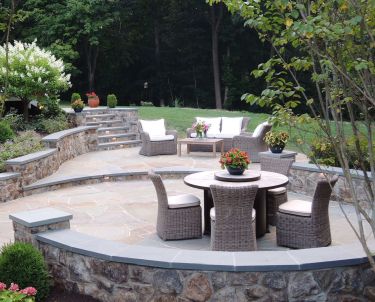 Tree Trunk Injection Services in Northern Virginia, Maryland, and Washington, DC
Keep your trees looking healthy and beautiful by protecting them from pests and promoting growth with our tree trunk injection services. During tree trunk injections, insect control formulas are injected directly into the tree's vascular system to prevent damage from the Northern Virginia, Maryland, and Washington, DC area's most common insects.

Protect your trees before it's too late. Contact your local tree care experts at Wheat's Landscape for the best in tree trunk injection pest control.
Why Choose Tree Truck Injections for Pest Control?
Quick & Effective
Since the pest control formula is injected directly into the tree's trunk, the formula can spread quickly throughout the tree's vascular system to reach its branches and leaves.
Environmentally Friendly
Tree trunk injections have a low environmental impact compared to other pesticide application methods. Injection is also safer for your family and pets since the pest control formula is not sprayed into the air but instead injected into the trunk of the tree.
Protect Against Northern Virginia, Maryland, and Washington, DC's Most Common Pests
In this region, the most common pests that harm trees include gypsy moths, aphids, and elm leaf beetles. These insects can be detrimental to your tree's health if allowed to access the tree.
Gypsy moths
While these pests do not kill trees directly, gypsy moths do severely defoliate or strip the leaves from the tree. This heavy defoliation causes stress to the tree, leaving it more likely to contract a disease or attract further pest infestation. The stress can also lead to the eventual death of the tree.
Aphids
Aphids are insects that can cause a variety of issues for your trees. These insects can turn the tree's leaves yellow and leave behind a sticky sap called "honeydew" that attracts mold. While these pests won't necessarily kill your tree, they will cause unsightly damage, ruining your tree's beauty along with its health.
Elm leaf beetles
Similar to gypsy months, elm leaf beetles won't directly kill a tree; rather, they will defoliate the tree. This defoliation causes the leaves to turn brown and fall off, sometimes as early as mid-summer. This weakens the tree severely, leaving it vulnerable to disease and other attacks.
Learn more about Wheat's pest control services >>
Service Areas for Tree Trunk Injection
McLean, VA
Great Falls, VA
Vienna, VA
Tysons, VA
Oakton, VA
Arlington, VA
Northwest/Southwest Washington, DC
Chevy Chase, MD
Bethesda, MD
Learn more about our specialty tree care services >>
Don't wait until pests have overrun your trees—contact us today for safe and effective pest control in Northern VA, Maryland, or Washington, DC.
have a project?
Let's Start Today!
Testimonials
"Everything always exceeds our expectations. Everything was done perfectly. Everyone was happy to be there. You have an excellent crew and business."
M.L.
"We were fortunate enough to find a company that has just finished doing a fabulous job in our back yard. Wheat's did exceptionally high quality work, were extremely responsive and wonderful to work with."
D.G.
"I really like the communication, and the responsiveness. It is great to have a company that is there when you need them, and to have the comfort of knowing the property is well-maintained."
M.B.
"Well you all have quite a reputation for the quality of your work in my neighborhood. It's just beautiful! Wheat's is a legend around here."
R.B.
Proudly Serving
Northern Virginia, Maryland,
& NW Washington, DC
Let's Start Today