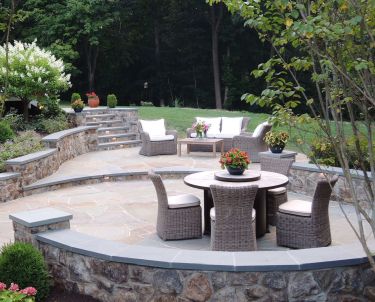 Bee Control Services in Northern VA, MD & DC
Wasps, Hornets, & Yellow Jackets
Bees are an essential component of our ecosystem, but as important as they are to the life cycle of numerous crops, plants, and flowers, bee control is needed when the presence of a nest infringes on the safety and wellbeing of humans.
If you are experiencing a bee problem at your Northern Virginia home, you can trust the experts at Wheat's Landscape for professional, reliable bee removal services designed to protect your home and family.
Contact us to learn more or call 703-641-4790 to schedule an appointment for pest control today! 
Bee Identification
There are over 4,000 different species of bees residing in North America, but those that are most commonly found in the Northern Virginia area include:
Andrenid Bees –  A ground-nesting bee which hovers at ground level, rising up only when humans approach. They resemble a darker version of a honey bee and are only active for a few weeks in the early spring.
Bumble Bees – A bumble bee is relatively large and hairy in comparison to a honey bee. They are industrious pollinators who are extremely beneficial and are typically harmless unless people or pets attack them or their nests.
Honey Bees –  Honey bees have a narrow, oval-shaped body with brown and yellow bands of color. They are attracted by large, flowering gardens and may decide to nest nearby due to the plentiful supply of food.
Andrenid bees, bumble bees, and honey bees usually cause minimal, if any, harm to humans, pets, and property. However, the types of bees below may require bee removal services:
Carpenter Bees – These black and yellow insects bore into wood siding, decks, doors, sills, and other wooded areas to make their nests, causing damage to your home.
Hornets, Yellow Jackets & Wasps – These are all varieties of wasps and each one can sting multiple times during an attack causing pain, discomfort, or an allergic reaction. They are most prevalent in the autumn months and can be distinguished from other bees by their narrow bodies and shiny appearance.
Bee Control & Removal
Bees can be found in peak numbers between the months of April and June, although most are active through mid-September. If your landscape includes flowering plants, trees, or shrubs, you will likely see any number of bees throughout the growing season—but if the numbers should increase or you see a bee hive, bee nest, or wasps nest, it's important to contact the team at Wheat's for effective, efficient bee removal service.
While you may be tempted to try any number of DIY solutions in an effort to save time and money, the extermination process can be difficult and dangerous and should only be handled by a professional. The licensed pest control specialists at Wheat's will determine the type and source of your bee infestation and choose a targeted course of action to resolve the issue using a safe, humane approach that prevents harm to your family while protecting the bee population in our area.
Bee Infestation Prevention Tips
Bee stings are painful, and for those who are allergic, they can be deadly. You can significantly reduce the likelihood of an infestation with the following steps:
Limit the number of flowers and flowering plants around your home.
Make sure all garbage cans have tight-fitting lids.
Schedule routine pest control services with Wheat's Pest Control.
Perform regular inspections of your property to look for nests and activity.
Avoid walking barefoot in the grass.
Don't leave food or beverages outdoors for extended periods of time.
Schedule Bee Control Services in Northern Virginia
Your search for a "bee exterminator near me" ends with Wheat's Pest Control. Our company has served the Northern Virginia area for over 45 years.
Contact us online or call 703-641-4790 to get started today! 
have a project?
Let's Start Today!
Testimonials
"Everything always exceeds our expectations. Everything was done perfectly. Everyone was happy to be there. You have an excellent crew and business."
M.L.
"We were fortunate enough to find a company that has just finished doing a fabulous job in our back yard. Wheat's did exceptionally high quality work, were extremely responsive and wonderful to work with."
D.G.
"I really like the communication, and the responsiveness. It is great to have a company that is there when you need them, and to have the comfort of knowing the property is well-maintained."
M.B.
"Well you all have quite a reputation for the quality of your work in my neighborhood. It's just beautiful! Wheat's is a legend around here."
R.B.
Proudly Serving
Northern Virginia, Maryland,
& NW Washington, DC
Let's Start Today