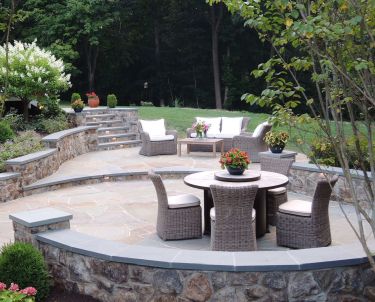 How to Plan an Outdoor Kitchen Project
At Wheat's Landscape, we love to blur the lines between home and garden. We believe your outdoor space is an extension of the style and aesthetic choices you make inside your home. One of the most important elements of any home is the kitchen. It represents a space where families come together and friends share good times.
So maybe you're asking yourself: how can I make my outdoor space more cohesive, and really bring out all it has to offer? The solution could be an outdoor kitchen. By combining the peaceful outdoors with the warmth and familiarity of a kitchen setting, an outdoor kitchen project creates a perfect area for relaxing or entertaining guests.
If you've already decided to pursue an outdoor kitchen project in Northern Virginia, make sure you contact Wheat's Landscape online or call 703-641-4790. We've been designing and installing outdoor kitchens since 1978, and our expertise can help you enjoy an outdoor amenity for years to come.
Outdoor Kitchen Installation
Not every backyard or patio area was built the same. Two important aspects to consider while planning your outdoor kitchen project are size and budget. For some families, a grill with built in cabinets and storage space may be all they need to create the outdoor kitchen space they require.
Other times, clients want to create a massive extension of their indoor kitchen, a full-fledged eatery they can operate outdoors. It's important to research and plan which of these types of projects best suits your needs. Outdoor kitchen installation is not a one size fits all operation. Professionals can create custom plans that fit your budget and space.
To determine what sort of outdoor kitchen design is best for you, consider some of these steps:
Measure your outdoor space to see how limited you should be in your planning
Outline a budget so you can intelligently decide on outdoor kitchen features
Determine what the space will be primarily used for to narrow down design ideas
Research different outdoor kitchen projects online
View some of the custom backyard escapes Wheat's Landscape has created in the Northern Virginia, Maryland, and Washington, DC area.
Ideas for Outdoor Kitchen Design
Of course, the most important aspect of planning your outdoor kitchen is deciding what appliances will be included! The outdoor kitchen is meant to create a one stop shop for all your kitchen needs, conveniently located outdoors. Keeping this in mind, there is a multitude of different types of equipment and amenities you could choose to include in your outdoor kitchen project.
Grill – An essential for outdoor cooking. Consider if a fixed grill or something more mobile would be best for your space.
Countertops and cabinets – These elements are imperative when it comes to storing kitchen supplies and having an area to prep food.
Refrigerator – Having a refrigerator in your outside kitchen means you have access to all ingredients and food without having to retreat back inside your home.
Sink – Water on tap is convenient for cooking, cleaning, and more.
Luxury items – These are things you may not necessarily need in your outdoor kitchen, but things you may want! These include wine coolers, a cocktail station, and more.
Outdoor Kitchen Projects in Northern Virginia, Maryland & Washington, DC
This post should help you get an idea of how to plan your next outdoor kitchen project. If you feel ready to take the next step or have questions  talk to our experts online or call 703-641-4790. We offer quality kitchen remodeling services and can help turn your project into a wonderful space for you and your family.
have a project?
See If We Serve Your Community!
Testimonials
"Everything always exceeds our expectations. Everything was done perfectly. Everyone was happy to be there. You have an excellent crew and business."
M.L.
"We were fortunate enough to find a company that has just finished doing a fabulous job in our back yard. Wheat's did exceptionally high quality work, were extremely responsive and wonderful to work with."
D.G.
"I really like the communication, and the responsiveness. It is great to have a company that is there when you need them, and to have the comfort of knowing the property is well-maintained."
M.B.
"Well you all have quite a reputation for the quality of your work in my neighborhood. It's just beautiful! Wheat's is a legend around here."
R.B.