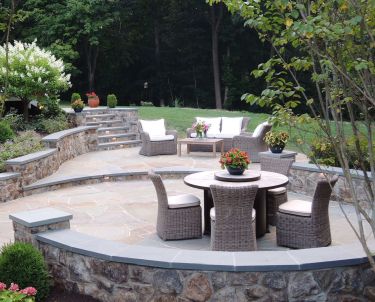 Landscaping Company in Vienna, VA
Wheat's Landscape is an award-winning full service Northern Virginia landscape company, providing exterior solutions to discerning homeowners who desire personalized attention, creativity, quality craftsmanship and lasting relationships. Wheat's provides the highest quality products at a great price to clients in Vienna and beyond.
If you're looking for quality, expertise, and service at its finest, there's only one company to call: Wheat's Landscape! To learn more about our landscape design and lawn care services in the Vienna area, give us a call today at 703-641-4790.
Landscape Maintenance & Lawn Care in Vienna
Taking care of your lawn can be a chore—which is why you should make your life easier and leave the hard work to us. Wheat's offers expert lawn care services and other property maintenance services in Vienna including:
Crabgrass control
Seasonal edging and mulching
Trimming and pruning
And more!
If you want our expert team to visit your property regularly so you don't have to worry, our landscape maintenance contract might be right for you. These plans are meant to provide an easy, stress-free solution for homeowners looking for consistent professional landscape care.
Click here to see our gallery of property maintenance photos >>>
To learn more about our landscape maintenance plans or to schedule a service, give us a call today at 703-641-4790.
Vienna Area Landscape Design Company
While some landscaping companies draw the line at lawn care and maintenance, Wheat's does it all. Whether you want something specific like a swimming pool, retaining wall, or water feature or you want a complete outdoor redesign, we can help. Our landscape design build services in Vienna include:
Pergolas and gazebos
Athletic fields and SportScapes, including pitching mounds, batting cages, basketball courts, tennis courts, and more.
No matter what your vision is for your outdoor oasis, the landscape designers at Wheat's can turn your dream into reality.
Click here to see our gallery of landscape design-build projects >>>
Ready to get started on your dream outdoor space? Contact us today!
Wheat's Pest Control for Vienna Residents
Periplaneta linnaeius, camponotus ferrugineus, and coptotermes forosanus—don't recognize these names? Maybe "cockroach," "carpenter ant," and "termite" ring some bells? We thought you should get to know these creature's official names—after all, you're living with them!
At Wheat's, we know no one wants to have these pests creeping around their floors or living in their walls—especially ones like termites that can do real damage to your home. That's why we offer Vienna homeowners the Wheat's Pest Control program.
When you sign up for services with Wheat's Pest Control, you can choose from a one-time visit or schedule bi-monthly inspections and treatments. During your initial visit, we can work with you to determine what's best for your home's needs.
Learn more about our pest control services, or call today at 703-641-4790 to sign up!
Wheat's Mosquito Control for Vienna Homeowners
Mosquitoes aren't just annoying—they can be harmful to anyone who comes in contact with them! As a Vienna homeowner, you should be able to enjoy your backyard during the warm summer months, but if your yard is infested with mosquitoes you may find it hard to relax outdoors. Don't let pesky mosquitoes keep you inside. Mosquitoes are responsible for over one million cases of serious illness and death every year, over one thousand of those cases being in the United States. While these facts can seem daunting, there are various tried and true ways to protect you and your family from these nuisances. With the Wheat's Mosquito Control program, you can rid your backyard of pests using safe, natural products and enjoy quality time with your family day or night in the backyard.
Learn more about our mosquito control services, or contact us online to schedule your mosquito extermination service today.
Lawn Care & Landscape Design in Vienna from Wheat's Landscape
Whether you need regular lawn mowing, a complete backyard overhaul, or anything in between, Wheat's Landscape has the team for the job. We pride ourselves on providing custom landscape design and maintenance services to fit any homeowner's needs. We know that you want a reliable and knowledgeable landscaping team, which is why our experts always show up on time, treat you and your home with respect, and listen to your concerns. No matter what landscaping service you need in the Vienna area, contact us today to get started!
have a project?
See If We Serve Your Community!
Testimonials
"Everything always exceeds our expectations. Everything was done perfectly. Everyone was happy to be there. You have an excellent crew and business."
M.L.
"We were fortunate enough to find a company that has just finished doing a fabulous job in our back yard. Wheat's did exceptionally high quality work, were extremely responsive and wonderful to work with."
D.G.
"I really like the communication, and the responsiveness. It is great to have a company that is there when you need them, and to have the comfort of knowing the property is well-maintained."
M.B.
"Well you all have quite a reputation for the quality of your work in my neighborhood. It's just beautiful! Wheat's is a legend around here."
R.B.
Proudly Serving
Northern Virginia, Maryland,
& NW Washington, DC
Let's Start Today