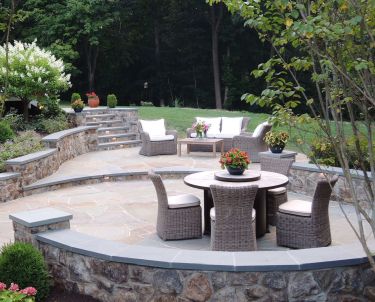 Swimming Pool Design & Installation in Potomac, MD
The beauty of a swimming pool or hot tub lies in its ability to comfortably complement the architectural style of the home and the surrounding environment—and artful landscaping plays a vital role in creating a stunning outdoor living environment. The award-winning team of landscape architects and designers at Wheat's Landscape can transform your outdoor space into a luxurious oasis. Wheat's will design your custom swimming pool, taking into account all of the details such as permitting, grading, drainage, patios, landscape planting, lighting, sound systems, and irrigation.
Wheat's offers a wide variety of luxury stainless steel swimming pool and spa designs from Bradford Products. Bradford spas and pools are the perfect solution for clients who want to avoid the excavation and long construction times associated with traditional swimming pools. Whether your project is a custom swimming pool or a modern-looking hot tub, the experts at Wheat's Landscape will guide you through the process.
When homeowners in the Potomac, MD area want to install a luxury swimming pool or hot tub, they contact the leading swimming pool design team at Wheat's Landscape. Contact us today to learn more!
Designing Your Potomac, MD Swimming Pool or Spa
The key to creating an impressive inground pool and overall landscape design is to always consider the total picture, particularly when designing individual components. It's about making every square foot of the available land functional so you get more enjoyment and usage out of your surroundings. Many styles of swimming pools can suit your outdoor space. Here are a few ideas:
A combination of curves and straight lines connect to create a classic Roman-style swimming pool.
Free-form pools allow the designers (and you) free reign when creating a pool unique to your style and geography.
The sharp lines of geometric pools are often softened by the careful placement of plantings.
A retro-styled Figure 8 pool easily accepts the addition of a natural stone waterfall.
Rectangular or lap pools can be custom designed to fit any size backyard.
Once you communicate your ideas, our landscape designers will perform a complete site evaluation and survey analysis, obtaining local municipal codes and standards. From there, our team will work with you to develop a pool and landscape design that suits your Potomac property, offering a range of options on pool designs, area lighting, fire or moving water accents, and entertaining and seating areas.
Complement Your Swimming Pool with Luxury Finishes & Features
When deciding on the design of your swimming pool, you might think of the shape and size of your pool as the most important design elements. But have you considered the materials, finishes, and extra features you want to include? From the paving surrounding your pool to the tiles inside it, there are many individual decisions to make!
Some of our most popular products include:
PebbleTec® aggregate pool finish: This durable, non-slip, and stain-resistant surface offers an earthy, textured finish to your swimming pool. You can add a shimmering or luminous quality to any of PebbleTec®'s colors to help your pool glisten. Visit PebbleTec®'s website to view each finish!
River Rok™ natural pebble pool finish: Mixing natural aggregates and fortified natural cement, River Rok™ finishes are extremely durable and are available in a variety of colors. See all the color options for River Rok™ finishes here.
Lightstreams Glass Tile: If you're looking for a truly extraordinary feature for your new swimming pool or hot tub, Lightstreams Glass Tile might be the answer. Made with American-produced raw materials, these iridescent tiles provide a unique and eye-catching style. Visit the Lightstreams website to see for yourself!
Marmiro Stones® travertine pavers: For an elegant, classic look, you might consider adding smooth travertine paving around your pool (see below for a recent hot tub project that used travertine paving!). These beautiful natural stone pavers have an "aged" look that will give your pool an aura of timeless sophistication.
These are just a few of the many high-quality, luxury products we can use to create the swimming pool or spa of your dreams at your Potomac home. For more design ideas and to get started, contact Wheat's Landscape today!
Looking for Luxury Pool Companies In Potomac, MD?
Our landscaping team's main priority is to help you create your dream landscape—whether that includes a custom-designed deck, hot tub, or swimming pool. We understand that nothing quite beats jumping in your own personal pool or hot tub right in your backyard, which is why we install a plethora of pool designs to fit your family's desires and budget. Our licensed and certified landscape design and installation experts are dedicated to making your outdoor area match your dreams. Since 1978, our award-winning team has become a trusted company for landscaping services in Potomac, MD and elsewhere in Northern Virginia, Maryland, and Washington, DC.
No matter what your swimming pool vision involves, our team can make it a reality. Contact us online or call us at 703-641-4790 to find out more about our spa and swimming pool building services!
have a project?
Let's Start Today!
Testimonials
"Everything always exceeds our expectations. Everything was done perfectly. Everyone was happy to be there. You have an excellent crew and business."
M.L.
"We were fortunate enough to find a company that has just finished doing a fabulous job in our back yard. Wheat's did exceptionally high quality work, were extremely responsive and wonderful to work with."
D.G.
"I really like the communication, and the responsiveness. It is great to have a company that is there when you need them, and to have the comfort of knowing the property is well-maintained."
M.B.
"Well you all have quite a reputation for the quality of your work in my neighborhood. It's just beautiful! Wheat's is a legend around here."
R.B.
Proudly Serving
Northern Virginia, Maryland,
& NW Washington, DC
Let's Start Today