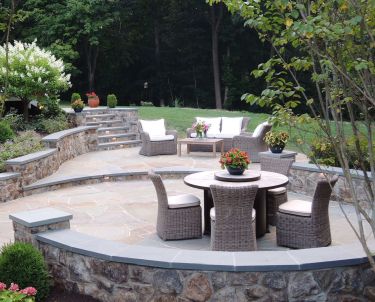 Outdoor Patio Design & Installation in Great Falls, VA
At Wheat's Landscape, our teams will help you create a comfortable outdoor space that blends into your landscape so you can enjoy your patio throughout the year.
Our design specialists can create a custom-designed patio to turn your vision into a reality. Whether you dream of an outdoor kitchen or a stunning fireplace, you can count on Wheat's Landscape to transform your outdoor living area.
---
---
Outdoor Patios for Your Great Falls Home
A beautiful outdoor patio starts with the right choice of materials. Our design specialists carefully select the options we offer for their durability and ability to enhance your landscape. Our customized patio options include:
Brick: Bricks make it easy to create beautiful patterns, including herringbone, 90-degree alternating angles, pinwheels, and more.
Tile: Ceramic and porcelain tiles are durable, beautiful, and ideal for creating a distinctive appearance unique to your design tastes and reflecting your interests.
Poured concrete: Poured concrete can be formed into practically any shape or design. Versatile and well-suited for our climate, concrete is ideal for patios in Great Falls and surrounding areas.
Concrete pavers: Concrete pavers are dense and durable. Similar to poured concrete and brick, these preformed shapes are nearly identical but less expensive than stone or brick.
Stone: Stone is ideal for creating a picture-perfect patio in Great Falls. Stone's natural hues and rugged appearance help it blend into the landscape seamlessly when used as patio flooring.
Contact Wheat's Landscape at 703-641-4790 to learn more about your custom patio options and schedule a complimentary consultation.
Benefits of Installing an Outdoor Patio
Our outdoor patios offer many advantages for homeowners in Great Falls. When you add a professionally designed patio to your outdoor living area, you'll experience:
Increase property value: Patios are a desirable feature for homebuyers in Great Falls. A well-designed, well-maintained patio that enhances the comfort and appearance of the landscape is popular among homebuyers.
Increased living space: Outdoor patios are ideal for entertaining guests and enjoying the outdoors. An outdoor patio is essentially an open-air extension of your home.
Reduced utility bills: When taking advantage of your outdoor living space for entertaining, your HVAC and electrical systems won't have to work as hard.
Customize Your Outdoor Patio
The perfect patio is the patio that's customized to meet your needs. Our patio design specialists will help you incorporate these features into your patio so you can maximize your comfort and enjoyment:
Looking for design inspiration? Review our portfolio and contact us at 703-641-4790 to discuss your ideas with our design specialists.
Schedule Your Outdoor Patio Design Consultation
Wheat's Landscape offers over 40 years of award-winning design experience. We use high-quality materials and products combined with exceptional work that provides long-lasting, breathtaking results.
Contact Wheat's Landscape at 703-641-4790 for a complimentary consultation and discuss how we can bring your dream patio to life.
have a project?
Let's Start Today!
Testimonials
"Everything always exceeds our expectations. Everything was done perfectly. Everyone was happy to be there. You have an excellent crew and business."
M.L.
"We were fortunate enough to find a company that has just finished doing a fabulous job in our back yard. Wheat's did exceptionally high quality work, were extremely responsive and wonderful to work with."
D.G.
"I really like the communication, and the responsiveness. It is great to have a company that is there when you need them, and to have the comfort of knowing the property is well-maintained."
M.B.
"Well you all have quite a reputation for the quality of your work in my neighborhood. It's just beautiful! Wheat's is a legend around here."
R.B.
Proudly Serving
Northern Virginia, Maryland,
& NW Washington, DC
Let's Start Today