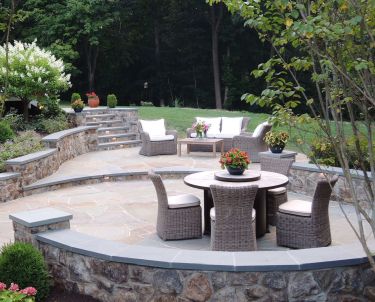 Landscape Maintenance Contracts
Providing Routine Landscape Maintenance for Homeowners in Northern Virginia, Maryland & Washington, DC
Attaining the perfect landscape requires a lot of commitment. In the end, the diligence and skill of your chosen professionals should reflect your personal wants and needs, leaving you with the landscape of your dreams. But once you've attained it, there's the issue if retaining it! The extensive lawn care and maintenance required to keep your ideal landscape looking its best can be a drain on any homeowner. Luckily, the experts at Wheat's Landscape are up to the task!
Our landscape maintenance contracts were constructed with the idea of perfect, consistent care and service. This goes for you, the homeowner, and your landscape as well! Our service agreements are guaranteed to provide everything needed to keep your landscape as gorgeous as it looked on the day it was finished. And with our professional and personalized care, we can guarantee that our team will exceed all expectations.
Ready to get started with a landscape maintenance contract with Wheat's Landscape, or looking to learn more? Contact our experts today!
What Is a Maintenance Contract?
Also called a maintenance agreement, or even simply routine care, these contracts were created to provide homeowners with surety. Surety that they'll be getting all of the quality service and personalized care necessary to ensure a perfectly groomed and tended landscape. Put simply, these plans are meant to provide an easy, stress-free solution for homeowners looking for consistent professional landscape care.
These plans are tailor-made to meet your unique needs. You can opt for the all-out complete care our experts are capable of, or simply choose services that meet your needs. Whether big or small, we can take care of it all with:
Weed and undesired growth control. We deal with a lot of weeds and unwanted growth in Virginia and the surrounding areas. With our experts on the case, you'll never have trouble with crabgrass, dandelions, ragweed, or any other broadleaf weeds.
Routine mowing and trim services. Do you need professional lawn care services weekly, bi-weekly, even just monthly? Our experts are there to meet your needs, providing mowing, trimming, landscape cleanup, and clipping collection.
Disease and insect infestation control. Insects and disease can spoil the best of landscapes in a hurry. Our control systems will handle any problem that may come your way, and prevent them from happening in the future!
Aeration and seeding. Having trouble with compaction or water runoff? Our aeration services can revitalize your landscape, ensuring healthy, lush growth all year long. Coupled with our overseeding service, you'll have the healthiest lawn possible, and it will always look gorgeous, guaranteed.
Fertilizer application and plant nutrition monitoring. A healthy, green landscape is a well-fed landscape. The availability of nutrients, or a lack thereof, is one of the most often neglected and most critical aspects of routine lawn care. We can ensure your landscape has everything it needs to grow uniformly, and beautifully.
And more!
Looking for a service we didn't mention? This is just the tip of the iceberg! Wheat's Landscape is proud to provide comprehensive property maintenance to meet any and every need. Our agreements are meant to provide you with easy access to the best, and it is our endless goal to ensure you get exactly that.
See What Our Satisfied Maintenance Agreement Holders Are Saying
Curious about what your peers have to say about Wheat's Landscape and our services? We proudly display client testimonials from our satisfied patrons!
"We decided to renew our Maintenance Contract with you because you do a GREAT job on our property. Your crews are always very nice and polite." – D.U.
Why Choose Wheat's Landscape?
Your personal account managers and supervisors will communicate with you on a regular basis and oversee all aspects of your landscape to ensure complete satisfaction and optimal results. Your customized program is tailored to coincide with the unique needs of your landscape.
Wheat's was established by Mike Wheat in McLean, Virginia in 1978. The business has evolved from a family lawn care service to a full service design/build, and landscape maintenance company serving high-end residences. Having grown up in the area that now supports their business, Wheat's is committed to improving and giving back to the community through a number of different volunteer projects and yearly Student Volunteer Scholarships.
Landscape Maintenance Agreements in Northern Virginia
Our licensed and certified property maintenance professionals are committed to keeping your yard lush, green, and healthy with quality landscape services in Northern Virginia and the entire DC area. Regularly scheduled site visits allow our lawn care team to closely monitor your lawn conditions and adjust treatments accordingly. We offer customized programs that suit the various needs of yards throughout Northern Virginia. Whether you're looking for potted plants, leaf removal, or professional mulching, we're the landscaping company to call!
For a landscape maintenance contract in Washington, DC, Maryland, and Northern Virginia, including McLean, Arlington, Reston, Annandale, and surrounding areas, you can trust the professional landscapers at Wheat's Landscape. Contact us today!
have a project?
Let's Start Today!
Testimonials
"Everything always exceeds our expectations. Everything was done perfectly. Everyone was happy to be there. You have an excellent crew and business."
M.L.
"We were fortunate enough to find a company that has just finished doing a fabulous job in our back yard. Wheat's did exceptionally high quality work, were extremely responsive and wonderful to work with."
D.G.
"I really like the communication, and the responsiveness. It is great to have a company that is there when you need them, and to have the comfort of knowing the property is well-maintained."
M.B.
"Well you all have quite a reputation for the quality of your work in my neighborhood. It's just beautiful! Wheat's is a legend around here."
R.B.
Proudly Serving
Northern Virginia, Maryland,
& NW Washington, DC
Let's Start Today