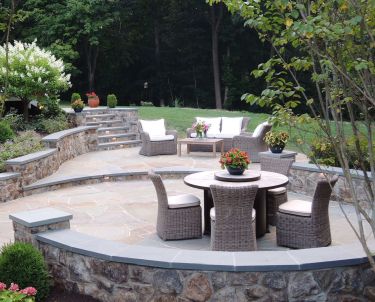 Ant Control Services in Northern VA, MD & DC
Rid Your Home of Ants!
As one of the world's strongest creatures in relation to its size, an ant can carry up to 50 times its own weight. Unfortunately, these insects also find strength in numbers and where there is one, there are often hundreds or even thousands more. While there are countless products on the market today that are designed to repel or kill these pests, the secret to successful ant removal is to address the entire colony instead of just the ones you can see.
In addition to our vast array of landscape maintenance and design-build services, Wheat's Landscape is pleased to offer comprehensive pest control to homeowners throughout the Northern Virginia area. With over 40 years of experience, you can count on our dedicated team of experts to help you take control of your ant problem and restore balance to your indoor and outdoor environments.
Contact us today to schedule a consultation for ant pest control, or call us at 703-641-4790 and let us know how we can help.
Signs You Have an Ant Infestation
Your landscape is teeming with insect life, much of which is beneficial to the eco-system including certain species of ants. However, once ants enter your home, they can become a major nuisance and cause damage to your structure and interior. Watch for these warning signs and call Wheat's for effective, efficient pest control services:
The pest control specialists at Wheat's can quickly identify the source of the infestation and offer you the most cost-effective solution for ant removal, using products that are safe for your family members and pets.
Ant Control Problems & Solutions
Whether ants have made a nest inside or outside your home, it's important to act quickly before damage can occur. While the best way to get rid of ants permanently is to hire a trained ant exterminator, there are a number of DIY products you may be tempted to try first, including:
Essential oils
Diatomaceous earth
Boric acid
Bait traps
All-natural sprays
Pesticides
Many of these options may work to repel or kill ants, but each one is a temporary solution and none address the root of the problem. Carpenter ants can be particularly hard to find and eradicate since they tunnel through wood to make their nests and require specialized treatment solutions from an experienced professional.
Schedule Pest Control in Northern Virginia, Maryland, or Washington, DC
Wheat's Landscape offers comprehensive pest control solutions including the removal of house ants, carpenter ants, and fire ants*. When you sign up for our pest control program, we'll thoroughly inspect your property to identify problem areas and set up the best pest control services for you. These include:
Visiting your home as needed to tackle infestations
Sealing entry points where pests get into your home
Setting up bi-monthly service calls to keep your home and lawn free of harmful pests
Using natural methods for mosquito control to reduce chemical exposure to people, pets, and the environment
If you are looking for reliable pest control services for your Northern Virginia home, call the experts at Wheat's at 703-641-4790 or contact us online today!
*House ants are included as part of our basic pest control package. Additional fees may apply for removal of carpenter ants or fire ants.
have a project?
Let's Start Today!
Testimonials
"Everything always exceeds our expectations. Everything was done perfectly. Everyone was happy to be there. You have an excellent crew and business."
M.L.
"We were fortunate enough to find a company that has just finished doing a fabulous job in our back yard. Wheat's did exceptionally high quality work, were extremely responsive and wonderful to work with."
D.G.
"I really like the communication, and the responsiveness. It is great to have a company that is there when you need them, and to have the comfort of knowing the property is well-maintained."
M.B.
"Well you all have quite a reputation for the quality of your work in my neighborhood. It's just beautiful! Wheat's is a legend around here."
R.B.
Proudly Serving
Northern Virginia, Maryland,
& NW Washington, DC
Let's Start Today