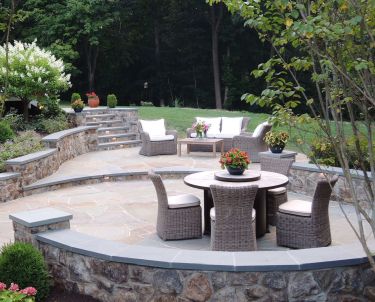 Driveway Design & Installation
Landscapers Serving Northern Virginia, Maryland & Washington, DC
As an integral part of your landscape, your driveway is equal parts form and function. Great design doesn't happen by chance, requiring thoughtful planning, a trained eye, knowledge of materials, and years of experience. The driveway design and installation experts at Wheat's Landscape possess all the necessary skills and experience to provide you with an aesthetically pleasing, professionally installed driveway, guaranteed to enhance the look and feel of your property.
Wheat's Landscape can assist you with the design and installation of your new driveway with expert design and quality finishes to last a lifetime. Contact us today to learn more.
Driveway Design & Installation
There are a number of variables that can affect the functionality and appeal of your driveway, which deserve careful consideration.
Curb Appeal
In addition to providing a pathway to your home and garage, your driveway reflects the look and feel of your entire property. During the planning and design phase, it's important to consider how the driveway will tie in with existing features, exterior finishes, and the natural lay of the land.
Shape
Your options are limited by the distance from the street to your garage, but the shape your driveway takes may also depend on obstructions on the property, such as a large tree. While straight may be considered boring, it may be the only option for short distances or if the accessibility from the curbside is in direct alignment with your garage. If you have room however, you may want to consider adding more visual interest and functionality with a curved, circular, or teardrop shaped driveway.
Slope
Drainage is a key factor of driveway design and installation to avoid the pooling of water. Whether your property allows for a natural slope or one must be built in during installation, consideration must be given to runoff and any necessary adjustments made.
Types of Driveway Materials
Budget, practicality, weather, style, and preference should all be considered before choosing your driveway material from among these common options.
Asphalt – Durability, low cost, versatility, and weather resistance make asphalt a popular choice among homeowners. Regular maintenance, including sealing, is recommended every three to five years.
Brick – Enjoy old world charm and elegance with a brick driveway, while increasing the curb appeal and value of your home.
Concrete – This low maintenance material works well in northern climates and can be customized to add visual interest with various colors or textures.
Gravel – Though popular throughout the U.S., gravel is a high maintenance material, not exceptionally well suited for regions that experience snow.
Pavers – If you're looking for that "wow" factor, pavers can deliver. An endless array of design choices, low maintenance, exceptional drainage properties, and a lifespan upwards of 40 years, offset the higher upfront cost of materials.
Benefits of Professional Driveway Services
There are a number of do-it-yourself projects which can lend value and appeal to your home, but when it comes to your driveway, there are significant benefits to professional design and installation.
Scope – Even the smallest driveway installation is a massive undertaking, requiring hours of planning, preparation, and labor.
Property Value – Professional installation by Wheat's Landscape will serve to increase the value of your property.
Satisfaction – Complications can arise from shoddy or amateur workmanship, which can affect the look and function of your driveway. Avoid drainage and condition issues with professional design and installation.
Driveway Design & Installation in Northern Virginia
Welcome guests and family to your home with a custom driveway by Wheat's Landscape. Your professionally installed driveway will add value, enhance curb appeal, and transform the look and feel of your home.
Contact Wheat's Landscape to learn more about our driveway design and installation services throughout Northern Virginia, Maryland, and Washington, DC.
have a project?
Let's Start Today!
Testimonials
"Everything always exceeds our expectations. Everything was done perfectly. Everyone was happy to be there. You have an excellent crew and business."
M.L.
"We were fortunate enough to find a company that has just finished doing a fabulous job in our back yard. Wheat's did exceptionally high quality work, were extremely responsive and wonderful to work with."
D.G.
"I really like the communication, and the responsiveness. It is great to have a company that is there when you need them, and to have the comfort of knowing the property is well-maintained."
M.B.
"Well you all have quite a reputation for the quality of your work in my neighborhood. It's just beautiful! Wheat's is a legend around here."
R.B.
Proudly Serving
Northern Virginia, Maryland,
& NW Washington, DC
Let's Start Today