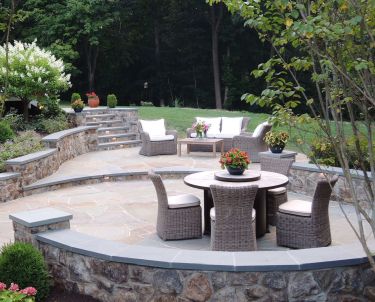 Landscaping for Beginners: 5 Basic Landscaping Tips
Your landscaping sets the foundation for the impression your home makes. Your landscaping not only works to improve the aesthetics of your home, it provides added comfort and enjoyment to your daily life. The possibilities can sometimes get overwhelming when it comes to the potential of your outdoor space – especially if you are new to the landscaping process.
When you are finally ready to take the plunge and give your landscape the look your home deserves, there are a few things to keep in mind as you renovate. Here are some helpful tips to make landscaping for beginners simple.
Create a Solid Foundation
Perhaps the most important thing beginners in landscaping should keep in mind is: creating a solid foundation for landscaping is essential for healthy growth and added value. Making sure your lawn receives the proper fundamental lawn care and maintenance is of the utmost importance for successful landscaping.
Discover New Ideas
Before your grab the shovels, it's important to consider what you envision doing in the space. Make a list of what you need in your new space to accommodate those needs. Do you need a bigger play space for the kids? Perhaps a small sitting area nestled amidst a myriad of plants and flowers, or an added open entertainment space for family and friends? Jot down ideas of where you want things to go, like added walkways or seating areas.
Designate a Focal Point
A great landscaping design plan will offer a series of focal points to help the natural flow of your landscaping. The possibilities are endless and can be tailored to work for your specific space. You can choose to showcase a stunning plant, gorgeous tree, or sculpture along meandering walkways and landings in your landscaping design to draw the eye and allow it to move naturally up to your home.
Pace It Out
This is perhaps the toughest fundamental in landscaping for beginners. Your landscaping will include features of varying sizes, so it's important to pay attention to the pace and scale of your landscaping project.
Some elements of your design should appear throughout your entire space, like a specific plant, color, or even the same shape. This will keep the space from taking on a monotonous look and create a well-thought-out, cohesive look throughout your landscaping.
Work with Trusted Professionals
When delving into the world of landscape design, the most beneficial decision is perhaps the decision to work with a professional landscaper to help you turn your visions into reality. No matter what your landscaping needs are, Wheat's Landscape can help you create and maintain a gorgeous, functional outdoor space for your home. Contact us today for all your landscaping needs.
Trust Wheat's Landscape for quality service year-round throughout Maryland, Northern Virginia, and Washington, DC. Contact us today to learn more, or give us a call at 703-641-4790 to schedule your free consultation. 
have a project?
See If We Serve Your Community!
Testimonials
"Everything always exceeds our expectations. Everything was done perfectly. Everyone was happy to be there. You have an excellent crew and business."
M.L.
"We were fortunate enough to find a company that has just finished doing a fabulous job in our back yard. Wheat's did exceptionally high quality work, were extremely responsive and wonderful to work with."
D.G.
"I really like the communication, and the responsiveness. It is great to have a company that is there when you need them, and to have the comfort of knowing the property is well-maintained."
M.B.
"Well you all have quite a reputation for the quality of your work in my neighborhood. It's just beautiful! Wheat's is a legend around here."
R.B.