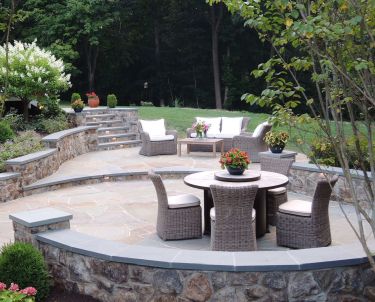 What Is Landscape Architecture?
Landscape architecture is the extensive implementation of master planning, site planning, landscape designing, and project management used to create everything from very small to extremely large landscaping projects. From industrial, educational, and environmental projects to golf courses, neighborhood parks, and residential projects—the beauty of landscape architecture can be seen far and wide.
Landscape architecture often includes the collaboration of a variety of professionals, including engineers, surveyors, community planners, and more that oversee theses projects to ensure everything is going according to plan. Wheat's team of landscape architects have worked tirelessly in our community in collaboration with other professionals to bring beauty and sustainability to our local parks and neighborhoods.
What is a Landscape Architect?
A landscape architect is specifically trained and licensed to use their skills and talent to offer an elevated look, feel, and functionality to outdoor spaces. No matter how large or small the project, a landscape architect has the ability, understanding, and know-how to work with both residential and commercial applications of their skills.
A landscape architect will use their skills and talent to working diligently with clients, helping to bring their visions to life. Regardless of whether it's a commercial or residential application, a landscape architect will use their training to design an outdoor space that is truly something unique and special for their clients—making sure every inch is able to be used just as their client has envisioned.
Once the designs are drawn, a landscape architect will generally build a model of the proposed space in order to show clients an up-close, highly detailed structure including each and every component of the design from trees to walkways and water features. This gives both sides the change to make any necessary, or desired, last-minute changes to the design before the actual construction starts.
See What a Landscape Architect Can Do For You!
Here at Wheat's, our expert landscape architect and design team have worked tirelessly to create countless custom landscape designs throughout Washington, DC, Northern Virginia, and Maryland. We take pride in our work and it shows! Our entire team of professionals work hard to maintain our reputation as one of the area's leading landscaping and design companies. From concept and design to implementation and final walkthrough, we want to help you turn the outdoor space of your dreams into a reality.
If you are ready to get started on the outdoor space you've always been dreaming of, be sure to contact us today and arrange your complimentary consultation to see how our licensed landscape architects and designers can help! We can't wait to listen to your landscaping ideas and needs and work together to find a cohesive and comprehensive design that suits your needs, budget, and style.
have a project?
See If We Serve Your Community!
Testimonials
"Everything always exceeds our expectations. Everything was done perfectly. Everyone was happy to be there. You have an excellent crew and business."
M.L.
"We were fortunate enough to find a company that has just finished doing a fabulous job in our back yard. Wheat's did exceptionally high quality work, were extremely responsive and wonderful to work with."
D.G.
"I really like the communication, and the responsiveness. It is great to have a company that is there when you need them, and to have the comfort of knowing the property is well-maintained."
M.B.
"Well you all have quite a reputation for the quality of your work in my neighborhood. It's just beautiful! Wheat's is a legend around here."
R.B.