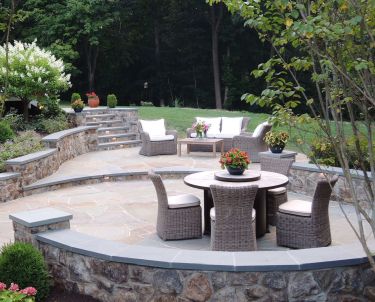 10 Landscaping Mistakes to Avoid This Winter
The best way to guarantee the health and beauty of your landscaping next spring is by focusing your endeavors towards care and maintenance throughout the fall and winter. Just because you've raked up the last of the fallen leaves doesn't mean it's time to turn your back on your yard. It's important that you concentrate your efforts in the right places, avoiding these common landscaping mistakes along the way.
Trust Wheat's Landscape for quality service year-round throughout Maryland, Northern Virginia, and Washington, DC. Contact us today to learn more, or give us a call at 703-641-4790 to schedule your free consultation. 
Winter Landscaping Mistakes
Turning off the water. Don't count on Mother Nature to water your plants during the cooler months. In the absence of rain, a green lawn should be watered periodically, while hedges, fruit trees, shrubs, and other outdoor plants should be regularly watered right up until it freezes, to ward off disease, and prevent dehydration.
Cutting it short. Depending on the variety of grass you have, the recommended length of your last seasonal cut can vary, but as a general rule of thumb, it should fall between two and three inches. Certain varieties can be damaged if cut too low, and grass that is left too long can become matted, encouraging snow mold or disease.
Not raking. The act of raking is tedious, back breaking work, but it's imperative that you remove the last of your leaves from your lawn in a timely manner, as mold and fungus can form underneath them. Better yet, call Wheat's Landscaping, and we'll take care of leaf removal for you.
Ignoring pests. Don't assume cold winter temperatures will wipe out pests over the winter. Most species have learned to adapt, and will burrow themselves below the soil, taking nourishment from your plants, and returning with a vengeance in the spring.
Not planting for spring. Fall and early winter are the ideal time to plant spring bulbs, to provide a brilliant burst of color as the temperatures begin to warm.
Neglecting your tools. Clean and dry your gardening tools before storing them for the winter, to prevent rust, and keep them looking and working like new. Winter is also a great time to replace any worn or damaged items, as prices tend to drop at the end of the season.
Using weed killer. Pesticides and weed killers require a temperature above 60 degrees to be effective, and when used in colder temperatures can be harmful to your plants.
Forgetting to fertilize. Continue to fertilize your plants until the first snowfall, though a spray application, rather than granular fertilizer is recommended in cooler temperatures, as it dissolves, and is absorbed more rapidly.
Purchasing low quality mulch. You may be tempted to buy the least expensive mulch you can find, assuming one type is as good as the next, but this misinformation can cost you more in the long run. Low grade mulches may contain toxins, or other hazardous materials, that can leach in to the soil, and damage plants.
Not calling Wheat's Landscaping. The experienced, knowledgeable, professionals at Wheat's, can help you prepare your lawn, trees, shrubs, and other outdoor plants for the winter ahead, avoiding these, and other costly and harmful landscaping mistakes.
Winter Landscaping in NoVa
Our licensed and certified property maintenance professionals are committed to keeping your yard healthy with quality landscape services in Northern Virginia and the entire DC area. Regularly scheduled site visits allow our lawn care team to closely monitor your lawn conditions and adjust treatments accordingly. We offer customized programs that suit the various needs of yards throughout Northern Virginia.
For winter property maintenance in Washington, DC, Maryland, and Northern Virginia, including McLean, Arlington, Reston, Annandale, and surrounding areas, you can trust the professional landscapers at Wheat's Landscape. Contact us today!
have a project?
See If We Serve Your Community!
Testimonials
"Everything always exceeds our expectations. Everything was done perfectly. Everyone was happy to be there. You have an excellent crew and business."
M.L.
"We were fortunate enough to find a company that has just finished doing a fabulous job in our back yard. Wheat's did exceptionally high quality work, were extremely responsive and wonderful to work with."
D.G.
"I really like the communication, and the responsiveness. It is great to have a company that is there when you need them, and to have the comfort of knowing the property is well-maintained."
M.B.
"Well you all have quite a reputation for the quality of your work in my neighborhood. It's just beautiful! Wheat's is a legend around here."
R.B.