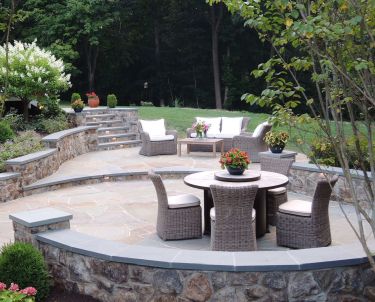 Do I Need a Sprinkler System?
We can all appreciate the gorgeous aesthetics that luscious green grass and thriving trees, plants, and flowers bring to our Northern VA, Maryland, and Washington, D.C. homes. But watering can be such a pain, and if you forget to water your lawn, you could be left with dead, parched grass that will take even more work to bring it back to life. Overwatering can also cause damages to your grass.
So what can you do for improved efficiency and convenience? Installing a new sprinkler system could be the perfect solution!
Trust Wheat's Landscape for quality service year-round throughout Maryland, Northern Virginia, and Washington, DC. Contact us today to learn more, or give us a call at 703-641-4790 to schedule your free consultation. 
Do I Need a Sprinkler System?
Sprinkler system installation can offer a variety of benefits for homeowners. No longer are the days where you need to drag around a hose and stand outside watering your lawn wondering if you've given your landscaping enough, or too much, water. All the while, you could be wasting water and money. Some of the benefits of sprinkler systems include:
Shallow grass roots and weed growth. Watering your landscaping each day with a garden hose promotes shallow grass roots and weed growth.
No overwatering. Brown patches in your lawn can also indicate fungus growth, which can be caused by overwatering. Installation of a sprinkler system for your landscaping can help reduce water usage, taking the guesswork (and hard work) out of your lawn care and maintenance.
Convenience. Sprinkler systems can also be beneficial while you and your family are on vacation or away for holidays and special occasions. You will no longer have to worry about your plants and landscaping while you are away!
With an automated system, you can pre-program a watering schedule for your entire Northern Virginia property. New advances in modern technology have created fantastic additions available for your sprinkler system including improved sprinkler head design, helping to further reduce water waste. You can even include rain and moisture sensors, to prevent your system from watering when it isn't needed, as well as, automatic drip irrigation zones for added water efficiency!
Wheat's Landscape for Sprinkler System Installation
Our highly-trained and certified professionals can create a custom sprinkler system for your unique landscaping and watering needs. With over 30 years in business, we remain dedicated to providing our customers with superior service and high-quality workmanship with each and every project. We take great pride in our work and it shows!
Give Wheat's Landscape a call at 703-641-4790 or click here for answers to all your sprinkler system questions. Schedule your no cost, no obligation sprinkler system consultation and discover your path to a greener, healthier landscape today! 
have a project?
See If We Serve Your Community!
Testimonials
"Everything always exceeds our expectations. Everything was done perfectly. Everyone was happy to be there. You have an excellent crew and business."
M.L.
"We were fortunate enough to find a company that has just finished doing a fabulous job in our back yard. Wheat's did exceptionally high quality work, were extremely responsive and wonderful to work with."
D.G.
"I really like the communication, and the responsiveness. It is great to have a company that is there when you need them, and to have the comfort of knowing the property is well-maintained."
M.B.
"Well you all have quite a reputation for the quality of your work in my neighborhood. It's just beautiful! Wheat's is a legend around here."
R.B.