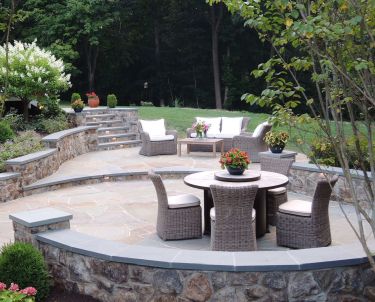 5 Ways To Prepare Your Virginia Yard for Summer
The lazy, hazy days of summer are moving into Northern Virginia. Many families are opting for staycations in their own homes to beat the crowds and crazy airfare prices. Is your yard ready and safe for keeping your children occupied or entertaining friends and family?
It's time to start sprucing up your yard now, so you have time to enjoy it before the season ends. Prepare your yard for summer with these five suggestions:
#1. Clean Patio Furniture
Whether your patio furniture has been sitting under fitted covers or tarps outside or stored in your shed, it's been collecting dust all winter. Now is the time to give it a thorough rinse with a gentle outdoor cleaner to get it ready for summer lounging and entertaining. Cleaning your patio furniture will also help prolong its life.
If you have teak or wood furniture, give it a good cleaning and conditioning with a cleaner and oil recommended by its manufacturer. Don't forget to give your cushions a good dusting, and wash the slipcovers in the washing machine when possible.
#2. Clean and Maintain Your Lawn
Winter storms can leave your yard a little messy. Now is the time to pick up and get rid of any debris like branches and leaves that may have accumulated around your yard. By now, your lawn is probably going through its spring growth spurt and needs some attention.
The earlier you catch lawn disease, insect infestations, nutrient deficiencies, or irrigation issues, the better. Wheat's offers all the maintenance services your lawn could need to keep it looking its healthiest and best.
#3. Replace Your Worn-Out Grill
Unless you have a high-quality grill, you're lucky to get a couple of years out of it before parts start to wear out. With holiday weekends and entertaining, you don't want to find out at the last minute that your grill isn't up to the task. Now's the time to check out your grill and decide if it's time to replace it.
Even better, it might be time to get that outdoor kitchen you've been dreaming about. Wheat's offers design and installation services for outdoor kitchens that can make your dream a reality.
#4. Make Your Home Into Your Own Resort With a Pool
Are you tired of dealing with the drive and crowds at the beach or community pool? Maybe it's time to make your home into your own private resort with your own pool. Wheat's offers swimming pool design and pool house design services to turn your backyard into your private oasis.
#5. Create Memories With Fire Pit Nights
Do you have happy memories of sitting by an outdoor fire toasting marshmallows, making s'mores, and maybe sharing a scary ghost story or two? Think of how much fun it would be to create some of those same memories with your family by having fire pit nights.
Wheat's can help with our custom-designed outdoor fireplaces and firepit areas that can also help you extend the use of your patio into the fall and winter.
Make this the summer that you take your yard to the next level. Wheat's, your landscape company, can help make your vision a reality.
Call (703) 641-4790 or contact us online to get started.
have a project?
See If We Serve Your Community!
Testimonials
"Everything always exceeds our expectations. Everything was done perfectly. Everyone was happy to be there. You have an excellent crew and business."
M.L.
"We were fortunate enough to find a company that has just finished doing a fabulous job in our back yard. Wheat's did exceptionally high quality work, were extremely responsive and wonderful to work with."
D.G.
"I really like the communication, and the responsiveness. It is great to have a company that is there when you need them, and to have the comfort of knowing the property is well-maintained."
M.B.
"Well you all have quite a reputation for the quality of your work in my neighborhood. It's just beautiful! Wheat's is a legend around here."
R.B.