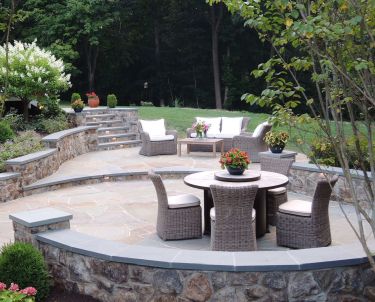 Outdoor Patio Design & Installation in Washington, DC
Landscape Design/Build Services
Northwest DC residents know that our summers are hot and winters are cold — this means that having a versatile, sophisticated patio space for late-night barbecues or fireside hangouts is crucial! Since 1978, Wheat's Landscape has offered custom-made patio design and installation services that instantly enhance any outdoor living space. With a patio from us, you'll be able to make lasting memories with your loved ones, and our team of professionals can't wait to make this dream a reality for you.
Contact us today online or by calling 703-641-4790, and we'll get started on your dream patio project ASAP!
Types Of Outdoor Patios
Concrete Patios, Concrete Pavers & More
We offer a few materials for you to consider when the time comes to design your custom patio, including:
Brick – A traditional brick option allows you to play around with your design. Play it safe with a traditional staggered pattern, add an old-world touch with a herringbone pattern, or go custom with a pinwheel (a square made of four regular-sized bricks and a half brick in the middle).
Tile – We have both ceramic and porcelain tile options that will deliver a heightened sense of beauty and elegance, making for a unique and prominent patio space you'll love.
Poured concrete – Poured concrete is formed by combining cement, sand, gravel, and water, making it a manipulative semiliquid that can be formed into just about any shape or size. Because of this, poured concrete is a wonderful option if you're looking to create a specifically sized or shaped patio at your northwest DC home.
Concrete pavers – Similar to a mix of poured concrete and brick, concrete pavers are made of dense concrete that is compacted to form individual pieces that imitate brick or stone but are available at a lower price!
Stone – Often a popular choice amongst homeowners, stone tiles are chock-full of natural hues that pair seamlessly with the outdoors. They are also the perfect choice for withstanding the elements, as they are one of the most durable options out there!
Benefits of Installing an Outdoor Patio in Northwest DC
While having a beautifully crafted, custom-designed patio at your home is a wonderful way to spend some time outdoors with your loved ones, that's not all it's good for! Some other benefits outdoor patios offer include:
Expanded living space – If you begin to feel too cramped or cooped up inside your home, an outdoor patio can offer relief. They are also ideal for things like larger gatherings, so you can avoid too many people cramming into your home at once.
Increased property value – Our outdoor patios are crafted with care and pristine workmanship, and since they are custom-designed, you'll get the very look you've always dreamt of; beautiful exterior patios will inevitably increase the value and curb appeal of your home!
Lower energy costs – By using your outdoor patio, especially in the summer, you will inevitably reduce your monthly energy bill. Time spent outside hanging out and grilling is less heat used for cooking or AC used to cool down you and your home!
Create a Custom Outdoor Patio in Northwest DC
Designing a custom outdoor patio with Wheat's Landscape is the perfect time to let your creative juices run wild. We offer a range of products and resources that have been developed to allow you to achieve your sought-after look. On top of our outdoor patio design and installation, we offer the following:
Outdoor bars
Outdoor fireplaces
Landscape lighting
Pergolas and gazebos
And more!
Choose the Experts at Wheat's Landscape for Astounding Patio Services in Northwest DC
Investing in a custom-designed outdoor patio from Wheat's Landscape is a gift that will keep on giving for years on end. Our patios not only offer a sweet escape from the everyday, but they will also enrich your home with beautiful aesthetics, ultimately raising the property value. Our design and installation team will be there to transform your space quickly professionally, so you can spend more time enjoying your new patio.
Ready to get started? Call us at your earliest convenience at 703-641-4790 or contact us online to learn more!
have a project?
Let's Start Today!
Testimonials
"Everything always exceeds our expectations. Everything was done perfectly. Everyone was happy to be there. You have an excellent crew and business."
M.L.
"We were fortunate enough to find a company that has just finished doing a fabulous job in our back yard. Wheat's did exceptionally high quality work, were extremely responsive and wonderful to work with."
D.G.
"I really like the communication, and the responsiveness. It is great to have a company that is there when you need them, and to have the comfort of knowing the property is well-maintained."
M.B.
"Well you all have quite a reputation for the quality of your work in my neighborhood. It's just beautiful! Wheat's is a legend around here."
R.B.
Proudly Serving
Northern Virginia, Maryland,
& NW Washington, DC
Let's Start Today