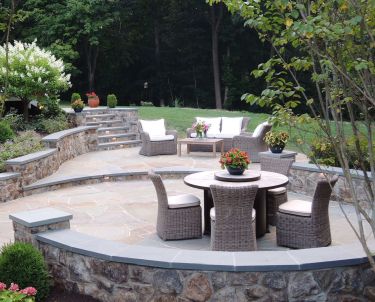 Outdoor Kitchen Design & Installation in Great Falls, VA
With its abundance of parks, nature preserves, and hiking trails, Great Falls, Virginia, is ideal for anyone who enjoys the great outdoors. To take advantage of the outdoor spaces your home offers and its impressive views, consider adding an outdoor kitchen.
During nice weather, an outdoor kitchen can provide a cool, relaxing place to cook and entertain guests without heating your entire home.
At Wheat's Landscape, we can design and build the ultimate outdoor kitchen for your Great Falls home, complete with all the amenities you'd expect in a modern kitchen, plus more. Our team has served Great Falls and surrounding communities since 1978.
Our full-service landscaping company can help with anything from lawn maintenance and landscaping design to patio, pool, and outdoor kitchen builds. Our skilled designers can capture and enhance the natural beauty of your surroundings, extending your living space into the great outdoors.
---
---
Customize Your Outdoor Kitchen Design
At Wheat's, we can work with you to create virtually any kitchen design you can imagine. Whether you want a space to have a backyard barbecue with the family or you want the flexibility and features to create gourmet meals in the great outdoors, we can help.
Our team can add any of these features and more to your outdoor kitchen design:
Grills & stoves: Maximize your cooking options with grills, griddles, and extra burners, or add appliances like pizza ovens for specialty foods.
Custom cabinets & countertops: Provide plenty of prep area and storage with custom cabinets and counters that are attractive and built solidly for outdoor use.
Sinks: Make prep and cleanup easy with built-in sinks that eliminate countless trips indoors.
Refrigerators: Keep meal ingredients fresh and at hand, store beverages, or chill your favorite bottle of wine with built-in refrigerators.
Lighting: Keep your work area well-lit and your patio illuminated with custom outdoor lighting that makes it easy to enjoy your outdoor kitchen after dark.
Custom flooring: Make your outdoor kitchen functional and attractive with the ideal flooring for the space, from natural stone or decorative pavers to high-end tile.
To explore other features and design ideas, stop by our online portfolio to view our previous projects or contact our experts at 703-641-4790 today.
Benefits of An Outdoor Kitchen for Your Great Falls Home
An outdoor kitchen can be a valuable addition to your Great Falls home, providing the ideal space to create lasting memories with family and friends. Its benefits include:
Extra space for entertaining: Make family gatherings, parties, and celebrations more enjoyable with a comfortable, relaxing space with great outdoor views.
More living space: Use your patio and outdoor kitchen like an extension of your home during nice weather, from enjoying your morning coffee outdoors to sharing a quiet dinner with family.
Reduced energy costs: When summer temperatures soar, reduce the load on your cooling system and lower your energy costs by cooking outside.
Added home value: A well-appointed outdoor kitchen can add to the resale value of your home.
Schedule Your Great Falls Outdoor Kitchen Design & Installation
Trust your outdoor kitchen installation in the Great Falls area to our design/build specialists at Wheat's Landscape. With over 40 years of creating innovative, award-winning designs for outdoor kitchens, patios, pool houses, and other outdoor spaces, we have the eye for detail and the experience you need for beautiful, breathtaking results.
We offer long-lasting, quality work, exceptional value, and great communication throughout the process, from design and permitting to the finished product.
Ready to design the perfect outdoor kitchen for your Great Falls home? Call 703-641-4790 or contact us online to get started.
have a project?
See If We Serve Your Community!
Testimonials
"Everything always exceeds our expectations. Everything was done perfectly. Everyone was happy to be there. You have an excellent crew and business."
M.L.
"We were fortunate enough to find a company that has just finished doing a fabulous job in our back yard. Wheat's did exceptionally high quality work, were extremely responsive and wonderful to work with."
D.G.
"I really like the communication, and the responsiveness. It is great to have a company that is there when you need them, and to have the comfort of knowing the property is well-maintained."
M.B.
"Well you all have quite a reputation for the quality of your work in my neighborhood. It's just beautiful! Wheat's is a legend around here."
R.B.
Proudly Serving
Northern Virginia, Maryland,
& NW Washington, DC
Let's Start Today