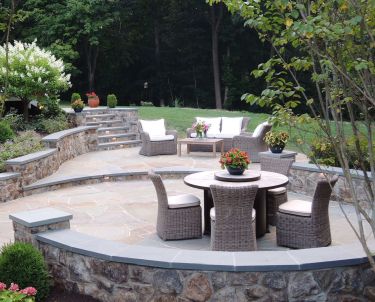 Potted Plants in Northern Virginia
Are you tired of your dull yard? Does it feel like something is missing when you look at your shrubbery? Have you been looking for a way to enhance the entryway to your home? If you answered "yes" to any of these questions, Wheat's Landscape has a solution—potted plants! We understand that not everyone has the knack, or desire, to garden. This is why potted plants are the perfect solution!
When you want lively and full potted plants for your Northern Virginia home, contact Wheat's Landscape. We provide homeowners with beautiful floral arrangements that wow their neighbors!
Seasonal Planting Options
At Wheat's Landscape, we offer all types of flowers. You name it, we can grow it. There are many flowers to choose from which allows you to determine the flowers that suit your landscape best. The current season is also a way to choose the flowers for your home.
Annuals
Annuals are great to use in anywhere in your garden, on your patio, or by the entryway to your home. You can expect these to grow, bloom, and produce seeds all in one year. Once they reach their goal of producing seeds, their life cycle is complete and they won't return the following year. Whether you're looking for an annual to complement the flowers in your garden or spruce up your walkway with some color, Wheat's Landscape has a variety of annuals to choose from.
Some of our most popular annuals include:
Marigolds
Geraniums
Impatients
Flowering tobacco
Gerbera daisy
Sweet peas
Cosmos
Morning glory
Sunflowers
Zinnias
Perennials
Perennials are another option you can use to spruce up your Northern Virginia landscape. Unlike annuals, these may only produce foliage the first year, building a strong structure and root system, and then bloom the second year. If grown in a proper climate zone where it can survive the winter, a perennial will either endure or return year after year.
Some of the most common types of perennials are:
Perennial sage
Asters
Purple coneflower
Peonies
Siberian iris
Daffodils
Black-eyed Susan
Hardy hibiscus
Daylily
Chrysanthemum
Don't see what you're looking for? These are just a few of the potted plants options we offer to Northern Virginia homeowners. Contact us to learn more about our potted plants.
Benefits of Incorporating Potted Plants in Your Landscape
Sometimes potted plants make the perfect addition to a landscape. Not everyone has time to get down and dirty while planting their flowers. With potted plants, you receive the beauty without all the work. Apart from being quick, mobile, and easy solution, there are many advantages to incorporating potted plants into your home's landscape.
Mobility
Have you ever attempted to plant something, but the seeds got knocked around and caused an unwanted plant to grow elsewhere? With a potted plant, you'll never have to worry. You can easily readjust the plant or move it to a new location if it gets in the way!
Focus
Floral arrangements have been used to capture the focus of your guests for years. Not only are they eye catching, but they create a sense of interest. With potted plants, you can amaze your neighbors with both the plant and the pot. You can make the pot a specific color that contrasts, or complements, the plant—creating a colorful masterpieces.
Flexibility
As the seasons change, you may want to adjust the types of flowers being showcased in your yard. Instead of digging up the old ones and replacing them, you can simply replace the pot and plant. Another great feature of potted plants is that you have the option to relocate them indoors!
Potted Plant Sales in Northern Virginia
Keep your yard looking magnificent by adding potted plants to the mix! It's an easy way to spruce things up without the hassle that can come along with gardening. Your Northern Virginia neighbors have incorporated our potted plants into their outdoor living spaces since 1978—find out why they've continued to choose us!
Contact Wheat's Landscape to learn more about our potted plants in Northern Virginia, including McLean, Arlington, Reston, Fairfax, and more!
have a project?
Let's Start Today!
Testimonials
"Everything always exceeds our expectations. Everything was done perfectly. Everyone was happy to be there. You have an excellent crew and business."
M.L.
"We were fortunate enough to find a company that has just finished doing a fabulous job in our back yard. Wheat's did exceptionally high quality work, were extremely responsive and wonderful to work with."
D.G.
"I really like the communication, and the responsiveness. It is great to have a company that is there when you need them, and to have the comfort of knowing the property is well-maintained."
M.B.
"Well you all have quite a reputation for the quality of your work in my neighborhood. It's just beautiful! Wheat's is a legend around here."
R.B.
Proudly Serving
Northern Virginia, Maryland,
& NW Washington, DC
Let's Start Today